Every success story has a beginning, most times, humble beginnings. While many poker players rake in millions of dollars every year, it wasn't all rosy when they started. Big names like Justin Bonomo, Daniel Negreanu, and David Peters had to grind it from bottom to top. Today, they are an inspiration to a new generation of up and coming poker stars. Let's take a closer look at how it all began for these players.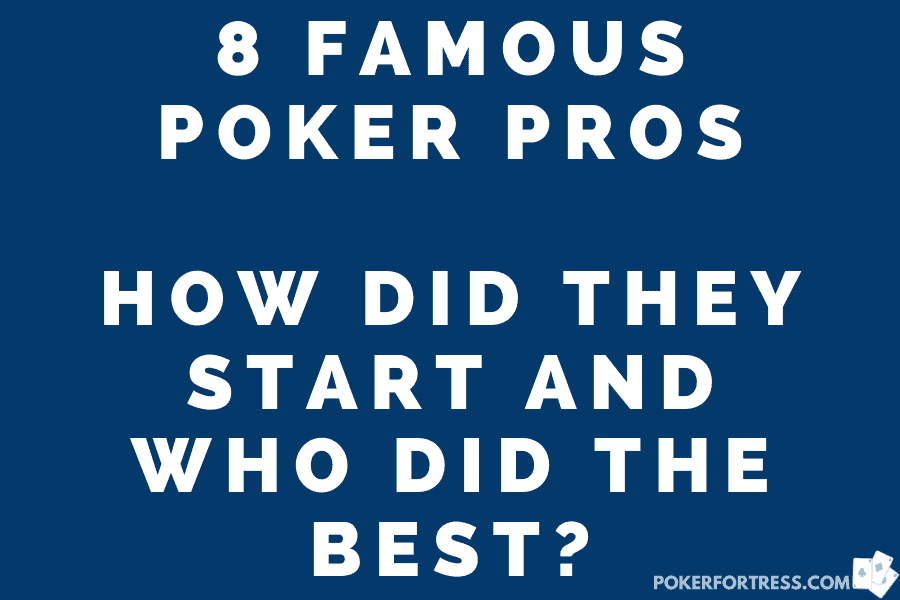 How They Got Started
For the sake of this article, we'll be looking at 8 of the top poker stars who have dominated the Poker world over the last two decades. They are:
Justin Bonomo
played Magic the gathering at age 9

3 WSOP bracelets

made a $500 deposit and built $10,000 bankroll

At age of 19 gets a spot at EPT, youngest to get to final table
Justin Bonomo is well known for his successes in poker tournaments and online poker. With 3 World Series of Poker bracelets and 55 money finishes, Bonomo is one of his generation's best poker players. Bonomo began his romance with card games at an early age. At age 9, he was already playing Magic the Gathering, and by the time he was 12yrs old, he was good enough to compete in various tournaments.
Four years later, Bonomo was ready to test his card skills with a step up to poker. Starting on Paradise Poker with a $500 deposit, Bonomo built a $10,000 bankroll soon after. At age 19, his fame had spread far enough in the poker world to earn him a spot at the European Poker Tour. Eventually making the final table. He was the youngest to achieve that feat ending up in fourth place and taking home $40,815.
Like most poker stars, Bonomo enjoyed success in online poker as well. He has enjoyed successes at Party Poker, Full Tilt, and Pokerstars. With online poker taking a hit from the events of Black Friday, Bonomo decided to place his focus on live tournaments. The World Series of Poker is one tournament that has been particularly kind to Justin Bonomo.
He participated in his first WSOP tournament in 2007 and has since achieved 55 money finishes and about $14,292,554 in earnings. He won his first WSOP bracelet in 2014 and has won 2 additional bracelets in 2018.
WSOP Bracelets
| | | |
| --- | --- | --- |
| Year | Prize Money | Event |
| 2014 | $449,980 | $1500 six-handed no limit hold'em |
| 2018 | $185,965 | $10,000 Championship heads up no limit hold'em |
| 2018 | $10,000,000 | $1,000,000 the big one for one drop no limit hold'em |
Justin Bonomo WSOP bracelets.
Justin Bonomo's rise to fame came early, and he has managed to sustain it.
Daniel Negreanu
already playing poker at age 16

moved to Las Vegas when 21, went broke and returned home

continue going to Las Vegas and losing his bankroll several times

1998 first WSOP debut and already wins the bracelet in PLO tournament

6 bracelets so far, most likely more to come

2 World Poker Tour titles

Poker hall of fame in 2014

named best poker player of the decade
Born in Toronto, Canada, on the 26th of July 1974, Daniel Negreanu was already playing poker at age 16, albeit for recreational purposes. Shortly after high school, Daniel was good enough to play against much older players in gambling halls and charity casinos. He wasn't just a curious young player.
At such a young age, Daniel was already making a sizeable profit from what started as a hobby. As time went on, he garnered an impressive bankroll. Impressive enough to get him to move to Las Vegas immediately, he turned 21. Not prepared for the rude shock that awaited him in Las Vegas casinos, Daniel soon lost his bankroll as he couldn't cope with the huge step up from Toronto's charity casinos.
Like the prodigal son, Daniel Negreanu returned home to lick his wounds and rebuild his lost bankroll. Whenever he did manage to build his bankroll, Daniel went straight back to Vegas to lose it all again. Another man would have figured out that Vegas probably wasn't the best place for him, but not Daniel. Instead of quitting, he studied the game critically and figured out how to beat Vegas's tables and soon became one of the best poker players in the world.
Where it indeed came together for Daniel was at the Foxwoods' World Poker Final in 1997, where he was named the best all-around player. The next year, Daniel was ready to have his first taste of WSOP action. On his debut, he made history as the youngest player to win a WSOP bracelet after capturing $169,460 prize money in the $2,000 pot-limit hold'em. He has since won 5 other bracelets and achieved 132 money finishes.
He's also won 2 World Poker Tour titles, achieved 23 money finishes at the WPT, and 4 money finishes at the EPT. He was inducted into the poker hall of fame in 2014 and named the best poker player of the decade.
WSOP Bracelets
| | | |
| --- | --- | --- |
| Year | Prize money | Event |
| 1998 | $ 169,460 | $ 2,000 Pot Limit |
| 2003 | $100,440 | $2,000 S.H.O.E. |
| 2004 | $169,100 | $2,000 Limit Hold'em |
| 2008 | $204,874 | $2,000 Limit Hold'em |
| 2013 | $ 1,038,825 | A$ 10,000 No Limit Hold'em |
| 2013 | € 725,000 | € 25,600 No Limit Hold'em |
Negreanu has 6 WSOP bracelets.
Bryn Kenney
convinced to be a poker pro when he was 16

played poker actively while in college and dropped out of college

created first poker account on his mom's name

first WSOP bracelet in 2014

went broke several times after having a $1,000,000 bankroll
Like many other poker players, the love for the card game came early for Bryn. Having played Magic the gathering, Bryn eased himself into poker. At age 16, he was already sure he'd grow up to become a professional poker player. But teenagers don't always get what they want. So, Bryn had to finish high school and go to college, with the weight of his parents' expectations weighing him down.
While in college, Bryn still actively played poker. He soon realized that his dreams were far more critical than a college degree and soon dropped out. Starting from online poker, Bryn created his first online poker account with his mother's name. Shortly afterward, he got an account with his name and began his online poker career in full throttle. He would soon go on to participate in live tournaments, a move that changed his career for good.
He captured his first WSOP bracelet in 2014 after coming tops in the $1,500 10 Game mix six-handed events. He took home $153,220 from that win. Kenny has also achieved 23 money finishes in his WSOP career. In 2016, he won a heads up battle against Joe Mckeheen in the Caribbean Adventure $100K Super High Roller event.
His total earning from that tournament stood at $1,687,800. He topped that performance in 2019 at the Triton Million for Charity Event. He captured a record $20,563,324 prize money after coming second in the £1,050,000 No-limit hold'em event. That win doubled his total live tournament earnings taking him above Daniel Negreanu as the most profitable poker player. Bryn Kenney is one of the few poker players who threw caution to the wind when it comes to bankroll management.
In an interview, he confirmed he had gone broke after amassing a $1m bankroll several times in his poker career. Luckily, he's able to make up for his losses with big wins like many other successful high rollers.
WSOP Bracelet
| | | |
| --- | --- | --- |
| Year | Event | Prize money |
| 2014 | $1,500 10-Game Mix | $153,220 |
1 WSOP bracelet for Kenney so far.
Erik Seidel
was a professional backgammon player

became a stockbroker

soon after became a poker player

1988 plays his first WSOP and comes second in the main event

goes back to being a stockbroker and plays tournaments in spare time

8 WSOP bracelets
Born in New York on the 6th of November 1959,  Erik Seidel is another successful poker player who managed to enjoy massive success in his career. You've read the stories of the guys who quit college to play poker professionally. Like these guys, Seidel left college to play the game he fell in love with while growing up only that it wasn't poker.
Erik Seidel was a professional backgammon player, and he was quite good at it. He played backgammon well into his late 20s, traveling for tournaments around the country and playing against other famous card players at the legendary Mayfair club.
 It was on those travels he began to take an interest in poker. However, a career in either poker or backgammon was placed on hold as Erik Seidel sort out to lead a stable life with a regular paycheck. He became a stockbroker, although that only lasted for all of 2 years. His short stint as a stockbroker was primarily due to the 1987 stock market crash.
 With the economy in ruins and 9 to 5 jobs hard to come by, Erik Seidel went back to the Mayfair club, but this time as a poker player. It turned out he was great at poker. Good enough to get the backing of his poker buddies to get him into the 1988 WSOP. Erik Seidel proved his backers right when he finished second in the $10k Main Event.
Still seeking the regular paycheck, Erik returned to Wall Street a year later but continued to take part in local tournaments. Luckily, Erik's poker skills meant he didn't have to worry about going broke. Since he became a professional poker player, he has won 8 WSOP bracelets and achieved an astonishing 92 money finishes. He has also won the World Poker Tour once as well as a European Poker Tour. Below is a table of Erik's 8 WSOP bracelets.
WSOP Bracelets
| | | |
| --- | --- | --- |
| Year | Prize Money | Event |
| 1992 | $2,500 Limit Hold'em | $168,000 |
| 1993 | $2,500 Omaha | $94,000 |
| 1994 | $5,000 Limit Hold'em | $210,000 |
| 1998 | $5,000 Deuce to Seven Draw | $132,700 |
| 2001 | $3,000 No Limit | $411,300 |
| 2003 | $1,500 Pot Limit Omaha | $146,100 |
| 2005 | $2,000 No Limit Hold'em | $611,795 |
| 2007 | $5,000 World Championship No-Limit | $538,835 |
8 WSOP bracelets for Seidel.
Fedor Holz
grow up in a poor neighborhood

at 18 he was already a winner in online games, in one year climbs to high stakes

born in 1993 and already amassed millions in winnings from poker
 Fedor is a German poker player who has enjoyed huge successes in both online poker and live tournaments. Born on 25th July 1993, Fedor had a difficult upbringing as his mom was just 17yrs old when she gave birth to him. Raised in a poor neighborhood, he was often bullied and as a result, he regularly skipped school.
After high school, he went on to study informatics at the university. With little interest in his education, Fedor used his free time to play poker with his buddies. Losing often, Fedor didn't necessarily back down but was impressed by how much some of his friends made from playing poker. Like every other successful player, Fedor began to put in his time and energy into studying poker and becoming extremely good at it.
By the time he turned 18, he was already enjoying relative success in online poker earning between $350 to $450 every month. A year later, he had already made the transition to high stakes.
He met an MTT player who coached him and made him a much better player. His hard work was finally rewarded when he won his first big payday at the €500 No-Limit Hold'em GPT II Deepstack Series Main Event. He took home €15,320 after finishing second.
In 2013, Fedor followed in the footsteps of other top poker players who quit school to focus on the game. He moved to Vienna in Austria and established himself as one of the world's best poker players.
That same year, he took home a whopping $1.3 million after winning the World Championship of Online Poker. Since then, Fedor Holz has been raking in millions every year as a hugely successful online MTT player and a specialist in high roller tournaments. He has won a WSOP bracelet and achieved 12 money finishes.  He is regarded as one of the best German poker players in history with more  $32,500,000 in live tournament winnings to show for it.
WSOP Bracelet
| | | |
| --- | --- | --- |
| Year | Event | Prize money |
| 2016 | $111,111 High Roller for One-Drop | $ 4,981,775 |
Biggest single cash for Fedor.
David Peters
got inspired by Moneymaker's win at the WSOP in 2003

won a $600 freeroll after studied the game on his own

two years later already has bankroll to enter big buyin tournaments

9 wins bigger than $1,000,000
Born on the 16th of April, 1987 in Ohio, David Peters is one of the many players who were inspired by Chris Moneymaker's feat in 2003.  After catching the wave of the "Moneymaker effect," David began to learn the game all on his own. With lots of hard work and time spent studying, he made his breakthrough when he won a $600 freeroll.
His efforts were particularly impressive, seeing as he was still in high school when he decided to teach himself how to play poker. This move would later prove to be the start of something special for the American poker player. In just two years, he already had a bankroll big enough to enter big buy-in tournaments.
David won his first WSOP bracelet in 2016, claiming the $1,500 No-Limit Hold'em. That win made him $412,557 richer. He has enjoyed money finishes on 47 occasions while making eight final tables at the WSOP. He has always enjoyed successes at the World Poker Tour with $2,800,000 in career earnings. His WPT stats include 17 money finishes and three final tables.
He earned his single largest payday at the WPT after taking home a whopping $2,309,000 in $200,000 WPT National – Philippines event in 2016. In the European Poker Tour, he has earned $600,000 from 5 money finishes and a sole final table.
Having been successful in online poker and live tournaments, David Peters has amassed over $32,800,000 in career earnings. He has also enjoyed about 9 wins above the million-dollar mark, making him one of the most successful poker players in the world. His quiet nature and sleek poker skills have earned him the nickname "silent assassin."
WSOP Bracelet
| | | |
| --- | --- | --- |
| Year | Event | Prize money |
| 2016 | $1,500 No-Limit Hold'em | $412,557 |
One WSOP bracelet for David so far.
Daniel Colman
did sports betting before poker

his gambling nature caused him to lose his bankroll several times

banned from PokerStars in 2013 for running multiple accounts

winner of Big One for one Drop

total career winnings of around $30,000,000
Daniel Colman was born on July 11, 1990, in Massachusetts. He is predominantly an online poker player playing under the names riyyc225 and mrGR33N13. Daniel is what you'd call a traditional gambler. Before he found poker, he was deeply engrossed in sports betting. It was the leftovers from what he made from the bets that got him started in poker.
After seeing how profitable poker could be, Daniel Colman began to learn how to play poker from online sources until he was good enough to kickstart his career. He soon fell in love with heads up tournaments and would go-ahead to become quite successful in the games he played. His first tournament was the Heartland Poker Tour, where he finished in the 4th position.
While success wasn't hard to come by, Daniel's gambling history meant he had a problem managing his bankroll. There were many occasions where he lost his entire bankroll due to poor management skills. The American poker player admitted he'd been broke several times and didn't learn his lessons until 2013 when Pokerstars banned him for running multi accounts.
Ever since Daniel's career has blossomed, he earned his first six-figure win in 2013 before going on to enjoy the biggest rush in poker history in 2014. It all started with his $2.1m win at the Monte Carlo Super High Roller. He got a six-figure payout in the $10,000 Heads Up NLH event at the WSOP before capturing his first WSOP bracelet.
He went home with a massive $15,306,668 prize money after winning the big one for one drop. David Colman wasn't done yet. He earned $1.1m after coming second at the Barcelona Super High Roller. 10 days later, he was back to winning ways claiming $1.4m at the Seminole Hard Rock Poker Open. He enjoyed more success in the following years, with his total career earnings standing at an impressive $28,743,713.
WSOP Bracelet
| | | |
| --- | --- | --- |
| Year | Event | Prize Money |
| 2014 | Big One for One Drop | $15,306,668 |
Cates won the big one for one drop.
Antonio Esfandiari
started selling marijuana and spent some time in jail

became magician afterward

3 WSOP bracelets

won a tournament for $18,346,673
Antonio was born on the 8th of December, 1978, in Iran. He was only 9 years old when his parents moved to the United States in search of greener pastures. Antonio quickly learned English and would soon establish himself as an exceptional student in school.
After graduating from high school, Antonio soon began to live alone and got heavily involved with the partying lifestyle and other teenage misdemeanors. Needing money to fund his lifestyle and pay rent, Antonio soon began selling marijuana. It wasn't long before he was caught and sent to jail.
After he got out, he decided to become a magician and changed his name from Amir to Antonio because he thought the name Amir wasn't befitting for a magician. He later moved in with a roommate who was a poker player and soon became interested in poker. Spending most of his free time studying the game, Antonio was quickly cashing in on his poker skills.
It all began to come together for him when he finished 3rd at the  WPT 49′er Gold Rush Bonanza in 2002. He went home with $44,000 and the bragging rights of finishing above Phil Hellmuth in the competition. His next major tournament was the WSOP in 2003, where he finished 5th and made the final table. It was after this incredible feat he decided to move to Las Vegas to join the big leagues.
The move proved to be a masterstroke as Antonio enjoyed his best year in 2004. It began with his  $1.4 million prize money at the Poker Classics in LA. He enjoyed another successful campaign at the Poker classics beating Phil Nguyen for $184,860 in the $2,000 Pot-Limit Event. He got his first WSOP bracelet that same year after besting Phil Hellmuth once again winning the $2,000 Pot-Limit Hold'em event.
A week after that victory, he made the final table twice at the WPT, taking home around $1.4 million. Antonio has won a total of 3 WSOP bracelets and achieved 28 money finishes. He won the tournament with the largest buy-in history in 2012, trumping 47 other players to take home $18,346,673 in the $1,000,000 Big One for One Drop.
 Apart from being a successful pro, he wrote poker books, played video games, and made instructional DVDs. He's still very much interested in magic and hopes to open a magic-themed restaurant in the near future.
WSOP Bracelets
| | | |
| --- | --- | --- |
| Year | Event | Prize Money |
| 2004 | $2,000 Pot Limit Hold'em | $184,860 |
| 2012 | $1,000,000 Big One for One Drop | $18,346,673 |
| 2012 | €1,100 No Limit Hold'em | €126,207 |
3 wsop bracelets.
How you too can Become a Successful Pro Poker player
If you've read this post till this point, no doubt, you're inspired by the success story of the pros named above. The question, however, is can you be just as successful as these guys?  If yes, then how?
The answer to the first question is yes. You can forge a successful poker career for yourself and become a millionaire while at it. The guys who are at the very top today were ordinary guys like everyone else. If they can do it, there's no reason why you can't. This brings me to the question, how can you do it? Below are the steps to take to make you a better poker player.
There's No Better Time than now:  Many of the guys who are enjoying a successful professional career today started pretty early. Some were still in high school when they began to play poker.

There's no such thing as being too young. Get started now and become better over time. If you're an adult, then it's never too late. No rule says you need to play poker from a young age. Make the decision and get your career started.
Get Books: Poker players read! Many of them dumped their college books in favor of poker books. While I'm not saying you need to put a stop to your education, you also need to create time to study poker books.

You can check here to learn more about poker books and how to choose a book that can help you get better. If you're new to poker, you may want to start with books about the fundamentals of the game. When you've got a grasp of what the game is all about, you can then move on to books about strategies that should teach you how to forge a winning formula.
Hire a Coach: One of the best ways to become a better poker player is to hire a poker coach. While reading and practicing are good, sometimes, it can be hard to tell which aspects of your game you need to work on.

A coach can help with that. He can monitor the hands you play and help make your weaknesses your strengths. Many of the top pros today once had coaches; in fact, some of them still do. In poker, the learning curve never ends. It is, therefore, essential to get a good poker coach that can help take your game to the next level.

Caution! A lot of poker coaches aren't worth the money. I have a detailed article, to let you know how to make the coaching worth it, and how to choose the right poker coach
Hard work: If you thought poker was your short cut to make some easy money, you might just give up the dream now. While many pros win millions every week, their success is a result of the time and energy they have put into improving their game.
These guys work their butts off to become the best, and it shows when it's game day. If you're hoping to enjoy such success, you need to put in all you've to make your dreams come true.
Be Ready to Invest in Yourself: The last thing you need to do to become like the pros who are enjoying an exceptional career is to invest in yourself. This could come in the form of buying poker books, paying for coaching, or funding poker games on a regular so you can get better. If you can't invest in yourself, you may find it hard to get to the heights you dream of.
Final Thoughts
Every pro who's having it good today started from somewhere. Some of these guys had poor bankroll management, little skills, and minimal knowledge of the game when they started. But with hard work and a willingness to get better, they were able to achieve their dreams and shoot themselves to the pinnacle of poker success.
 If you want to become like these guys, you should adopt the same hands-on approach to getting your career started. While these guys are success stories, many players have tried and failed.
This is not to scare you.
Hard work will get you to the promised land, a lack of effort will destroy the chances of achieving your dreams even before you begin.
So, make that decision today, and get your poker career started on a positive note.
Related Articles