Get advantage of the promotion: You can get a 20% lifetime discount (automatically applied at checkout) on this link: Crush Live Poker.
It is an unwritten rule that playing live games is the easiest way to make serious money in poker. But to win, you must have a solid preflop and postflop strategy. In a market beaming with promise and profit, Crush Live Poker offers a learning opportunity for players, both beginners, and experts.
For every player serious about getting profit from live poker, the place of training cannot be relegated to the background. In fact, with the intricate details that characterize live poker, learning from experienced players has never been this important.
Crush Live Poker is the best training site for learning how to play live poker in 2023. With training in almost every single detail, Crush Live Poker has established itself as a knowledge powerhouse in the poker industry for live poker games.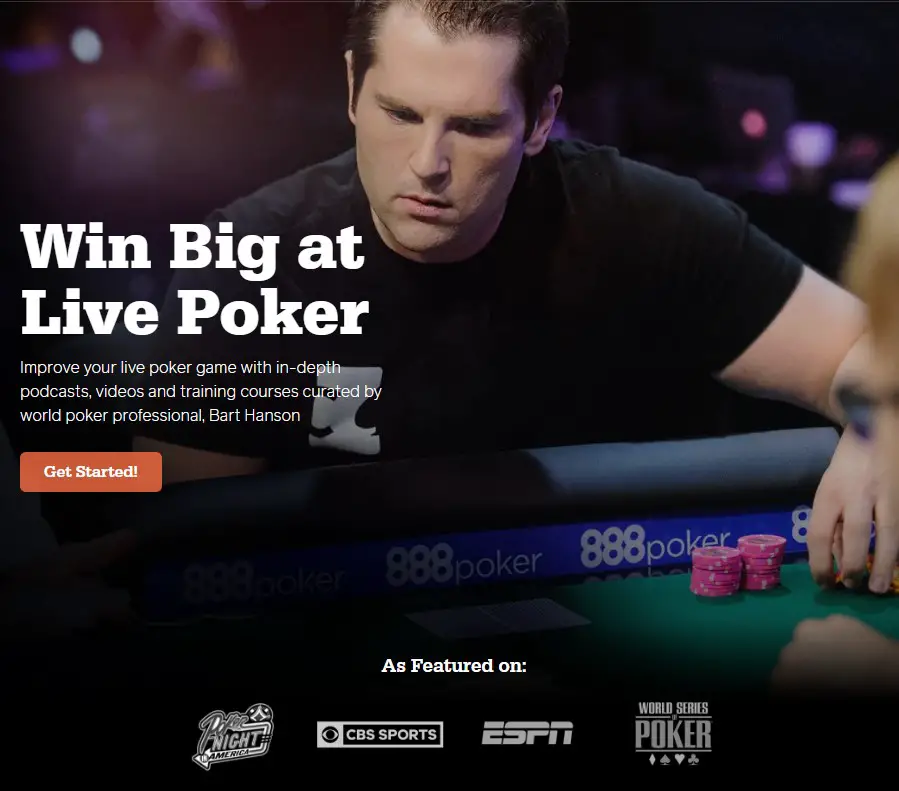 You get access to all of their content with just one (very modest) monthly subscription fee. 
Online poker in 2023 is tough, with lots of competition, and it can take you a while to become a winner. On the other hand, live poker offers substantially softer tables, and it is a perfect place if you want to earn serious money in poker.
While live and online poker play differently, the same core principles apply. Live poker involves mathematical problems, and this can get overwhelming. With Crush Live Poker, you will be trained on faster ways to solve these mathematical problems. And the good thing is this: you do not need to be a mathematical genius to understand this. All you have to do is pay attention, and all the mathematics used will be explained to you in simple, less-technical terms.
But Crush Live Poker isn't about just helping you solve mathematical problems; it comes with other beautiful features, which will be discussed in this article.
Crush Live Poker is a great resource if you want to start dominating live poker games.
In a hurry? Here is a quick overview of the pros and cons of a CPL subscription :
Pros
Cheap
Podcasts, engaged discord community
A free hand review
NLHE and PLO
Easiest way to mid 4 figures per month in poker
Cons
Focuses only on cash games, content for tournaments is minimal
What is Crush Live Poker
Crush Live Poker is an online platform – consisting of podcasts, theory videos, written articles, Discord discussions, hand reviews, play and explains, and so on – which focuses on training newbies and experts on the dynamics of Live Poker.
The platform was started and is currently run by Bart Hanson, a poker and live cash game specialist. Bart has been producing training content for poker players at every level since 2007. This should tell you that he is not one of the new guys but one of the experts who have watched the game grow, expand, and become what it is today.
Starting with Pokerroad in 2007, Bart moved to Deuces Cracked. Since then, he has been releasing a weekly podcast on poker strategies. Asides from being a Podcast host, he has been featured on other poker shows like the WSOP Final Tables and regularly appears on Live at the Bike. He also releases a series of articles for Card Player and strategy/tips on his Twitter account.
Now that we can at least agree that Bart Hanson is not a novice when it comes to Live Poker, and teaching other players, let's move forward.
What Does Crush Live Poker Offer
 Crush Live Poker offers several training contents for subscribers, all put in place to make you a winning live poker player. Here are Crush Live Poker training offers:
Podcasts: If you learn faster by listening to someone speak, then you can easily plug into this option. Also, these Podcasts are usually held live, and this allows listeners to call into the show with questions, queries, advice, and so on. Subscribers also have the opportunity to get their hands reviewed by Bart Hanson.

Videos: If watching is your thing, then you can go for the videos. You can watch hundreds of videos for players of every level. Also, you can access older videos if you need certain information.

Courses: Fast Track Poker, Crushing Live NL Hold'em (2023 and Beyond), PLO Battle Plan, and Crushing Live PLO are the courses that will teach you new poker concepts in a structured step-by-step approach. You start at the basics and gradually build up your knowledge of different poker concepts.

Discord Community: What better way to learn than from a group of like-minded players? The discussions are snowballing, and their Discord has taken off. For a good reason, I also include it in my article about the Best poker discord channels. You can share tips, give and take advice, ask questions from players like you, and help each other grow. Bart and other experienced trainers also belong to this community and are active in helping you with answers. Most importantly, you can keep track of your improvement by checking out how other players are doing.

Articles: This is for the readers or those who find it easier to learn from written text. Crush Live Poker has hundreds of articles that focus on different aspects of Live poker. Every subscriber is advised to go through these articles weekly, which will help you learn faster.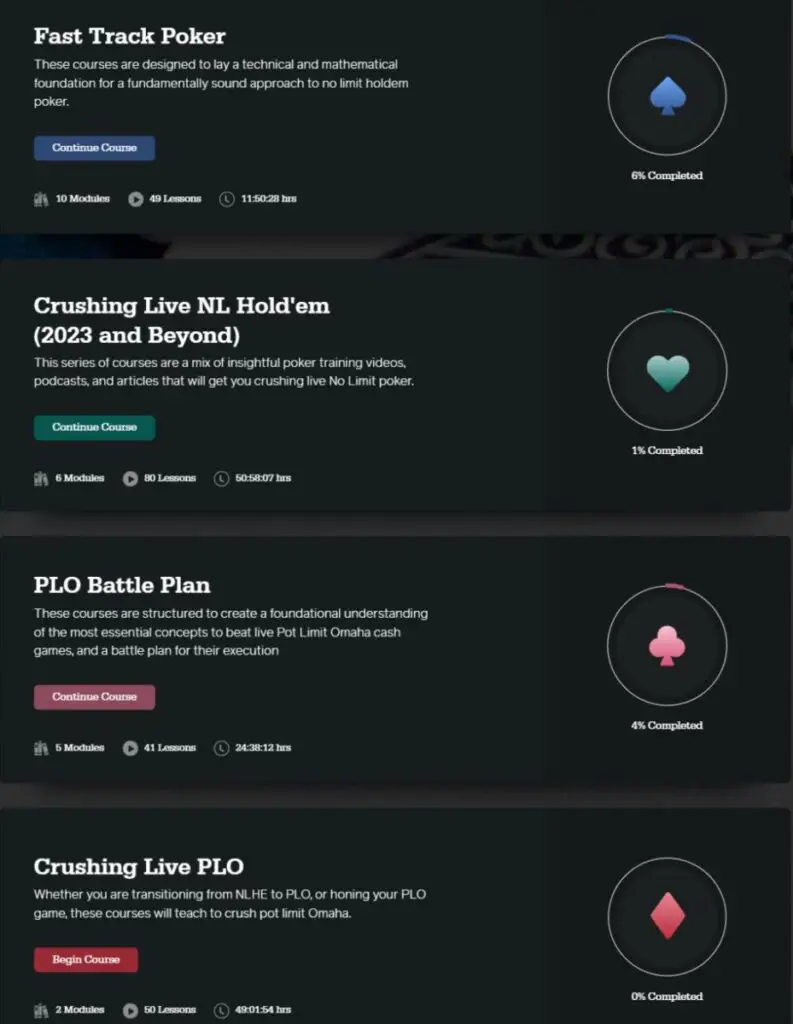 Why Crush Live Poker Is Worth It
Subscribing to Crush Live Poker cannot be deemed too expensive because poker is not a game for the faint-hearted. Even the strong at heart must be fully prepared before going into live poker.
Here are several reasons why Crush Live Poker is worth it:
Crush Live Poker Offers Top-Notch Training
There is no doubt that Crush Live Poker offers excellent lessons on myriad poker subjects, and with the constant-evolving nature of the poker game, it is more than important to learn as much as possible. With adequate training, you can take advantage of new trends rather than these new trends causing you loss.
This training also gives you a clue into what other players in the game are doing, which will help you improve your play better while developing your strategy. As mentioned earlier, Crush Live Poker will also show you more straightforward ways to solve mathematical problems without being a mathematics prodigy.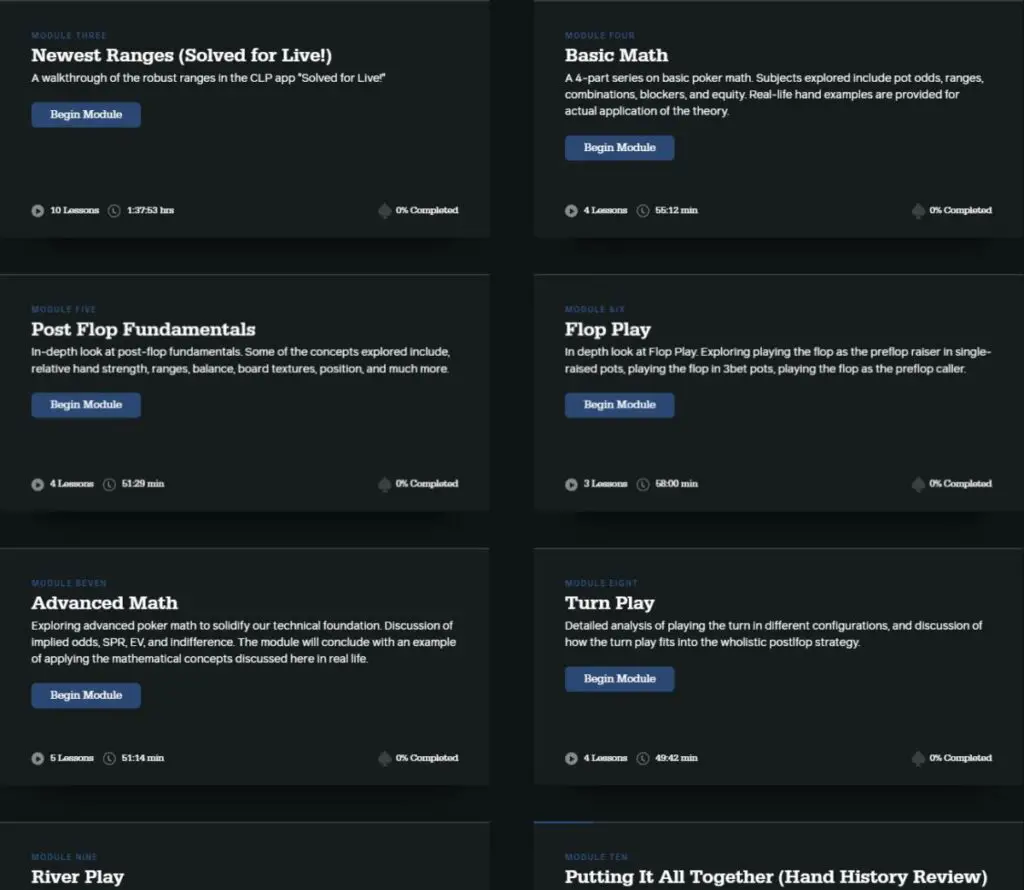 Crush Live Poker Has Something For Every Player
While Crush Live Poker (CLP) might be commonly used by professionals because of its in-depth training, they also understand that new players are joining the game every day. 
I like that they teach you the complete basics of poker, so even a person who just barely learned the rules of poker could start learning with them.
I checked many training sites, and most assume that you already know the essentials of poker, which would cause problems for new players.
At CLP however, training is available to help new players understand the fundamental dynamics of live poker. The topics in this category include:
Equity
 Preflop ranges
 Pot Odds Math
 Responding to limpers and so on.
Crush Live Poker also focuses on advanced poker content. Higher Stakes players, playing 5-10 (NL1000) and above, will have a bunch of content to go through as well. Coaches are experts with experience in those games, and you can find Bart Hanson and others discussing the strategies of mid and high-stakes with other expert players. The discussion includes the following:
How to use PIO solver
 Brilliant betting strategies
 Exploiting whales at the highest stakes
 Strategies for Blockers
 The intricacies of picking overbet spots and so on.
Crush Live Poker offers many different ways of teaching poker
CPL offers different courses, videos, podcasts, articles, quizzes, and a discord community.

Courses
Fast Track Poker – perfect if you are new to poker
Crushing Live NL Hold'em (2023 and Beyond) – to start winning more in live cash games
PLO Battle Plan – foundations of being a good PLO live poker player
Crushing Live PLO – you would be surprised – to take your live PLO game to the next level
Videos
In this section, you can find videos about many different poker topics. These aren't as structured as the courses section, but they are still very valuable.
Videos are about PLO, Omaha Hi/Low, No Limit Holdem, Live Tournaments, and a bunch of videos where coaches focus on a particular poker topic. The library is extensive, with hundreds of videos.
Podcasts
CLP has been doing podcasts for a long time. And because live games aren't changing as fast as online games, even the earliest podcasts will bring you much value.
Crush Live Poker podcast has over 500 sessions. Then there are around 100 sessions of the Crush Live PLO podcast and Crush Live Call Ins podcast with over 400 sessions. Let us not forget about the Third Man Walking podcast. In total, more than 1000 podcast sessions are included in any subscription plan.
Articles
If reading is your thing, then you will find plenty of strategy articles in this section that will improve your winnings in poker. Articles are not my favorite though. I much prefer learning from video material.
Quizzes
A great way to check how much you learned and test your poker skills is through the quizzes section. Over 50 quizzes in total.
Those are mostly short, so even a few minutes are enough to go through one. It is a great way to refresh the concepts you learned weeks or months ago.
Doing quizzes is beneficial, and you shouldn't ignore them. They have similar benefits to having flashcards for learning at college. It forces your brain to think about the topic, but at the same time, it doesn't take much of your time.
Crush Live Poker offers No-limit Holdem (NLHE) and Pot limit Omaha (PLO) training
Crush Live Poker doesn't just teach you how to play NLHE. It also has dozens of hours of focused videos teaching you how to beat live PLO games. Furthermore, it tells you how to transition from NLHE to PLO games.
Live NLHE games are soft, but live PLO games are an absolute goldmine (if you are ok with bigger swings and less consistent winning sessions).
Note: recently CLP also started adding some tournament strategy videos and Omaha Hi/Low, but no course on those yet. You can find them in the 'Videos' section.
Crush Live Poker focuses on players who specialize in small stakes
A lot of content, from articles to videos and Discord chat, is focused on small stakes. Bart shows players how to improve their game by watching the high-stakes players.
Probably the biggest percent of members are the ones that want to become winners at small stakes first. This is where you can learn to be good enough to start making consistent winning months. From fundamentals to the proper flop turn and river plays.
CLP does very well at explaining different styles of opponents and how to exploit their mistakes. This way you are sure to make as much money as possible from them.
Crush Live Poker also introduces players to various psychological concepts that can be used to extract money from your opponent:
Personal note:

For me, the section about live poker tells was an eye-opener. I am mainly an online poker player and have always struggled to adapt to live poker. While players play worse and tables are easier, the games play differently.
Finally, with the help of CPL, I have become confident in my live games as well. Not just the videos, the Discord community is where I have picked up some gold nuggets as well.

This time I am actually looking forward to some live sessions in my local card room.
You can subscribe to Crush Live poker here and receive a 20% discount (the discount is automatically applied at checkout).
If you are still not sure about getting a subscription to CPL, then you can check them out on YouTube first:

Crush Live poker offers hand reviews of your play
I have been a member of many poker training sites so far. And I don't remember any of them offering what Crush Live poker offers: A free hand review if you are a premium member. Bart himself will respond to your hand or question about it in his podcast.
Testimonials
Crush Live Poker has many positive testimonials. It has changed the financial situation of many poker players.
Imagine making $55/hour playing poker part-time, just like user 'Cbtobe', after he has been a member for some months.
The one that especially struck me was a testimonial from 'SLORowe'. He went from a marginal winner at 1-2 games (NL200) to a solid winner at 5-5 and 5-10 (NL1000) and made over $60,000 a year while playing 2-3 nights a week. A life-changing sum of money indeed. It allowed him to leave the job and spend precious time with his daughter.
User 'Geoff Lay' mentions how a recreational player like himself found the content extremely useful, and a monthly subscription is a steal if you want to improve at poker.
Final Thoughts
If you want the fastest and easiest way to start making mid 4 figures or low 5 figures per month in poker, your best bet is to play live poker. But to learn the proper strategies, you must choose the best.
Getting a Crush Live Poker membership isn't just about the cost, but the benefits that come with it. Think about it; what do you have to lose? Nothing! But what do you stand to gain? A lot!
Also, if you pay for the first month's subscription, the knowledge you gain can make you money, which will cover for the next month. A single wrong flop or turn call can cost you more than a month's subscription. Sounds great, right?
You might be considering free online lessons – which would of course, be hard to find – but the in-depth training provided at a paid lesson will undoubtedly be different from that which is free.
FREQUENTLY ASKED QUESTIONS:
Is the subscription fee for Crush Live Poker refundable?
Unfortunately, the subscription fee is non-refundable.
How much is the subscription fee?
Several packages are available; the basic package costs $22.99, while the Premium package costs $49.99 monthly. There is also a yearly Elite package, which costs $499.99 yearly.
But if you join through this link, you receive a 20% lifetime discount (code is automatically applied at checkout).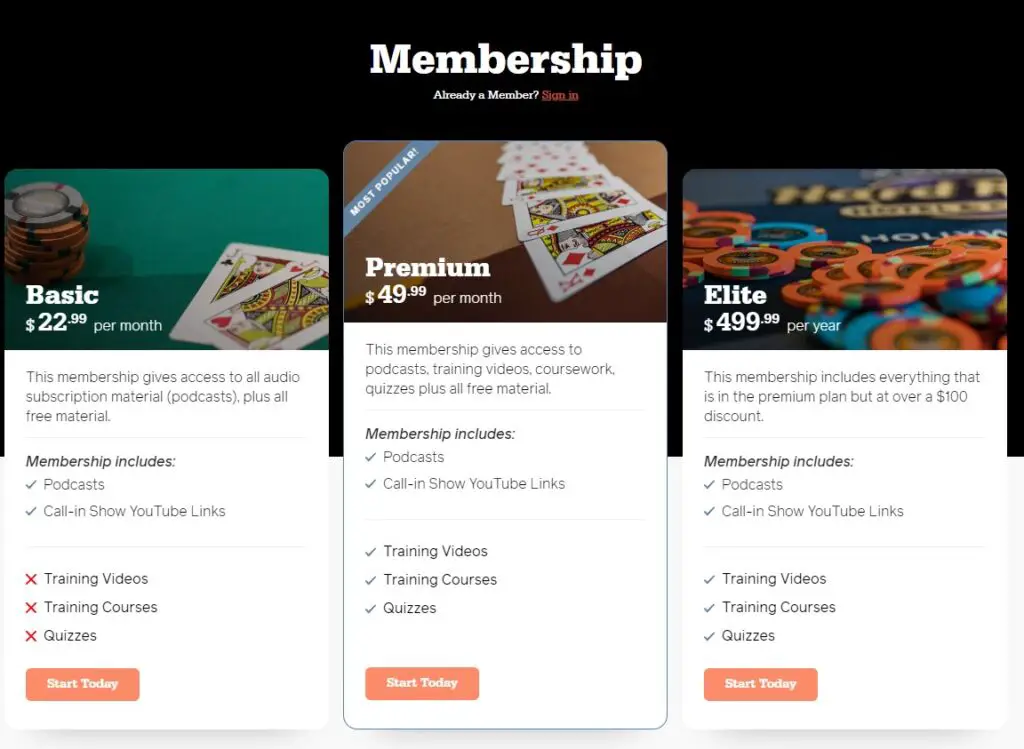 Which games does Crush Live Poker Teach?
Crush Live Poker teaches you the cash games only for the following poker variants:
No Limit Holdem
Pot Limit Omaha
How many hours of content is there?
There are more than 125 hours of content for you to learn from. 
Related Articles