The World Series of Poker is a string of poker tournaments that determines the World Champion of Poker. In addition to the money, winners of each WSOP main event are awarded a gold bracelet and for smaller tournaments, a gold ring. Lately, there has been some debate over the legitimacy of these prizes, and whether or not they are actually made of gold.
WSOP rings are made of real gold, so long as they are authentic. The value of WSOP jewelry varies as it depends on the tournament in which players won them. Main event winners are given much more expensive and coveted bracelets and rings than those awarded in smaller competitions, for example.
This article will go over what WSOP jewelry is made of, how much it is worth, and why some people may be cautious about the authenticity of these accolades. Keep reading to learn more!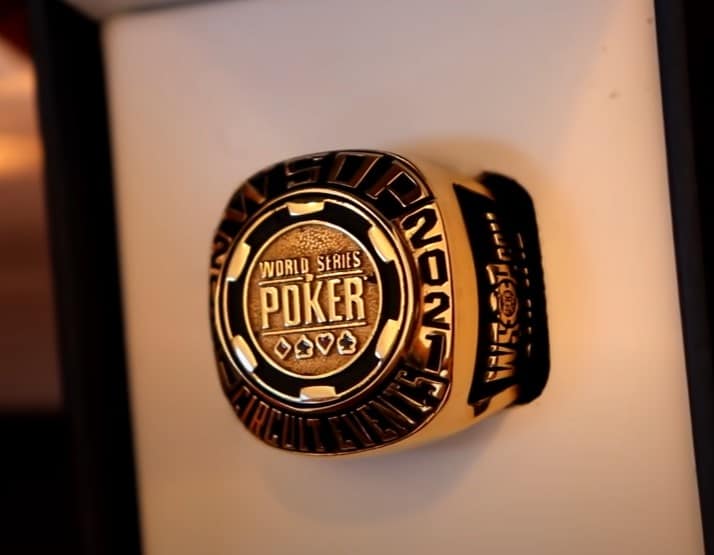 What Are Poker Bracelets and Rings Made Of?
Genuine WSOP bracelets and rings contain gold and diamonds, which make them valuable as is, but that value increases when you consider the status surrounding them.
Several different companies have manufactured jewelry for the WSOP, usually making both bracelets and rings. In fact, the company usually switches every few years, hence why the design changes so often. 
Sometimes, it is a celebrity designer rather than a major company making WSOP jewelry. Such was the case in 2013 when Jason Arasheben was chosen as the official creator of the WSOP bracelet. His design featured 28 carats of white diamonds within 220 grams (7.76 oz) of 14-carat gold. It is safe to say that this is a 6-figure bracelet, and the value continues to increase yearly.
Jostens is a company that has been working with the WSOP for the past couple of years. They are known for manufacturing sports jewelry and class rings, and in 2019 created the special 50th-anniversary edition WSOP gold bracelet. Weighing a whole pound (.45 kg) of 10k gold, it consists of 2175 diamonds and 77 rubies. 
How Much Are WSOP Rings Worth?
It is important to keep in mind while considering the value of WSOP jewelry that rings and bracelets are not mere pieces of jewelry to avid poker players and fans. Symbolically, they are coveted medal or trophy, such as the kind players in any other professional sport strive to win. 
Therefore, the actual value of such tokens largely depends on how much someone is willing to pay for them. Even rings and bracelets made more cheaply because players won them at a lesser-known tournament than the WSOP are worth something due to their sentimentality and prestige.
Though value is determined by what people will pay, WSOP rings could be worth as much as $50,000 or more. Generally, the more well-known the poker champion, the higher their jewelry will sell for. 
Poker champion Jamie Gold sold his 2006 bracelet on an auctioning website for $65,725.
Poker jewelry is also unique in that it is meant to be worn on your wrist or finger. This detail sets WSOP prizes apart from those obtained in other sports because looking at your opponent's hands is part of the game. If they are adorned with a flashy ring or bracelet, you know who you are up against.
WSOP Gold Bracelets vs. Rings
The World Series of Poker Circuit is a series of tournaments leading up to the WSOP. The winners of events within this circuit are given gold rings instead of bracelets since it is not the main event. 
Rings are more common to win than bracelets, as preliminary events also award them. There is even a slogan within the poker community used to draw in more players that goes, "first the ring, then the bracelet." 
Mentioning the accolades is alluring for players keen on earning these striking pieces of jewelry.
Do People Doubt the Authenticity of Poker Jewelry?
Nowadays, making cheap replicas of any kind of prized jewelry is common, and WSOP rings and bracelets are no exception. Looking up 'WSOP rings' on the internet will unearth dozens of rings for sale. These usually go for a couple of hundred dollars, but rings also sell for thousands. 
Many potential buyers are skeptical about this jewelry's authenticity, reasonably so. Replicas of poker bracelets and rings are more or less costume jewelry, made with materials like nickel and brass but designed to look expensive. Oftentimes, it is gold plated, meaning the base metal is something like copper or silver that is then painted over with a thin layer of gold. 
This method may make the jewelry look like real gold, but it actually has very little value. One sure way to check if a WSOP ring or bracelet you purchased from someone is legitimate or not is to take it to a pawn shop and have them test it for real gold.
WSOP Rings and Bracelets Are More Common Than They Used To Be
There are many more opportunities to win rings and bracelets in poker than there used to be. Smaller tournaments not within the WSOP offer chances to obtain this memorabilia – as mentioned previously, rings are a prize within the WSOP Circuit, not the WSOP. When gambling icon Benny Binion introduced bracelets in the 1970s, only WSOP champions won them. 
However, this is far from the case today. Worldwide, over 1,000 bracelets are given to winners of various poker competitions. While this expands the opportunity for more players to possess this wearable trophy, the value also decreases. This is because bracelets are more accessible and even being sold online by winners who no longer wish to keep them.
Conclusion
Bracelets won in WSOP events are worth a fortune because they are custom-made by reputable jewelry companies and high-end designers. Similarly, WSOP circuit rings are made of real gold and gems. However, rings and bracelets won by players at smaller tournaments globally are likely not. 
There is still value in these prizes, and they may be priceless to the person that won them. Think of a medal or a trophy – even if it is not made with expensive material, it represents an achievement. Since you can wear poker accolades, they become a status symbol as well.