Solitaire is a game of patience and strategy that relaxes and focuses the mind. While some prefer to play solitaire as a solitary game of one, many enjoy playing it as a group activity online or at get-togethers. Solitaire might be the answer if you're planning a party and need something to keep your guest engaged.
Hosting a great solitaire night at home is easy, since Solitaire is a great party game because you can involve multiple players. It can be as long or short as you like, and how intense or relaxed it is up to you. The game is easy to learn so that everyone can get involved!
Read the article below to learn how to host the best solitaire party possible. 
Most Commonly Played Types of Solitaire
To figure out the best way to throw a solitaire party, you need to know the different kinds of solitaire games and which one works best in a social setting. 
There are over 150 games that have been devised from solitaire, but listed below are the five most commonly played of the lot:
| | | |
| --- | --- | --- |
| Type | Key features | Social aspect |
| Classic | As the most "free" form, you can move cards around from one pile to another. Great for parties and groups. | Easy to teach, fun to play! This is your best bet for beginner groups or if you want a relaxed games night. |
| Tens | Discard four of a kind with pairs of cards that form ten; not the easiest but certainly still easy enough to learn. | More challenging but fun for parties. You might consider recommending the guests read up on the rules beforehand. |
| Pyramid | Remove as many cards from the pyramid as possible by matching them with another card that totals thirteen.  | A fan favorite, moderately challenging but great for groups and all levels of experience. |
| Monte Carlo | Played in a five-by-five grid, this is the most complex form of solitaire and possibly not the best option for a more relaxed game night. | Better for experienced players, suits a more serious or competitive tone. |
| Bowling | Imagine bowling, but a tabletop card game. This is a great way to get guests engaged and competitive. | Fun, easy, social – a great choice if you have a mixed batch of players/guests and want a lighthearted atmosphere. |
Table: Different Solitaire variations
If none of these sound like your cup of tea, check out this Love to Know article about the types of solitaire games and their distinguishing features.
It is a good idea to offer guests some food and snacks. You can even offer them the same kind of food and drinks as I recommend making for hosting a poker night.
Hosting a Solitaire Evening
You will need to consider several things when hosting any social event, especially those revolving around tabletop games.
Here are six steps to hosting a solitaire night to remember:
Utilize your space.
Set the tone for the evening.
Make everyone comfortable.
Set clear rules.
Have the right equipment.
Keep people coming back.
1. Utilize Your Space
Social gatherings rely heavily on space for their effectiveness and level of enjoyment. However, you don't have to have a cavernous living room to enjoy a get-together.
Make sure you have a large enough table and sufficient seating for all of your guests. Every player needs to have room to sit comfortably at a table and have easy access to card piles.
Though you must provide your guests with refreshments, you must ensure that your playing area is clean and clear of obstacles that might hinder gameplay or communication between players. 
2. Set the Tone for the Evening
As noted above, solitaire can be played to varying degrees of intensity and different skill levels.
Guests should be made aware of the tone of the evening; they should arrive knowing how serious the game is going to be so that they know how much they will enjoy it. If you invite a complete newbie to a professional level solitaire evening, chances are they won't have much fun.
Your best bet is to make sure the atmosphere and goal for the evening is lighthearted, beginner-friendly, and geared towards enjoyment rather than competition. 
That being said, make sure there is some level of competition – a small challenge makes playing a game in a social setting much more exciting and memorable. Incentivize guests with bets or prizes that anyone has a chance to win.
3. Make Everyone Comfortable
Make sure guests feel welcome, whatever the tone of the solitaire element may be. Ensure you have enough cards, chairs, refreshments, and whatever else you may need to play with the number of guests coming to the event. Keep the competitive spirit going, but maintain the game as an inclusive one. 
4. Set Clear Rules
Make sure all your guests understand the rules of the solitaire game you have decided to play. There's a strong likelihood that some people will have different understandings of the game or have played by slightly different rules in the past.
This shouldn't be a problem, as long as you establish rules that everyone can agree with for the evening.
Make sure the guests understand the rules, follow them, and play fair – especially if competition and prizes are involved. Even a lighthearted game can be soured by foul play and bad sportsmanship.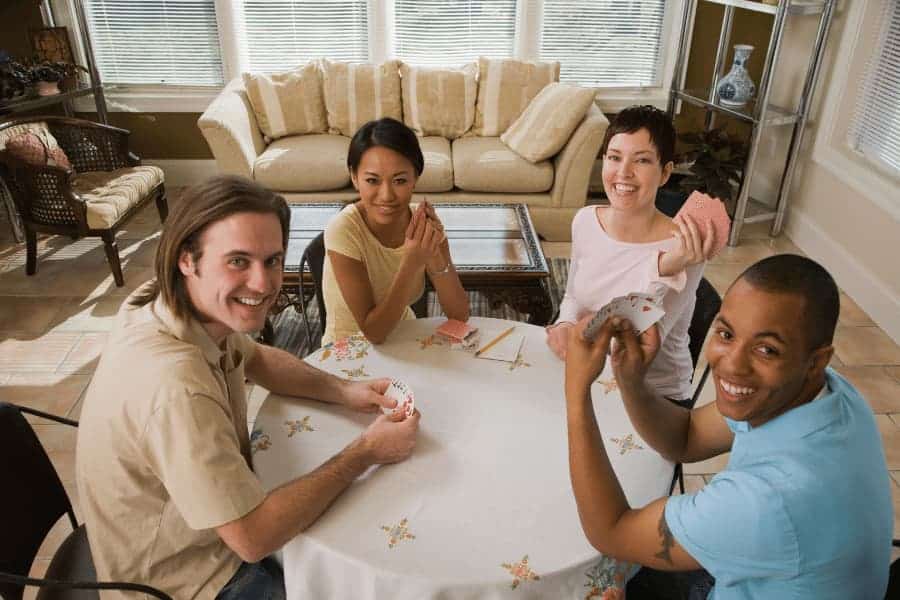 5. Have the Right Equipment 
You will need at least one 52-pack set of cards – standard solitaire uses one of these packs, but some solitaire games require more. 
You should also ensure that you have extra packs if you want to have more than one game going on at the same time, so that regardless of the game you are playing, everyone gets to be involved. 
Read more about the cards you need and the rules for these cards on the Bicycle Cards website.
6. Keep People Coming Back
If you play your cards right, you may have a weekly group gathering to challenge the mind and excite the spirit with a good group of friends. Solitaire nights could be the new bingo nights, provided you show up with a winning attitude.
Create an inviting atmosphere that people want to return to and a circle of guests that keep coming back for more fun and games!
Final Thoughts
Hosting any party is a nerve-wracking experience for many, but if you follow this guide, you'll have no problem impressing your guests.
Solitaire is an excellent way to get together and have a little friendly competition between friends, so you don't have to worry about the entertainment aspect.