There was a time when TV poker was insanely popular. With shows like WSOP, Late Night Poker and Poker Million garnering massive viewership in the late 90s and early 2000s, poker fans got to watch some of the biggest poker stars play live on TV.
While it's common knowledge that poker players get paid to wear merchandise on televised poker shows, not much is known about poker players getting paid to appear on such shows. If you're wondering if poker players get paid to be on TV, this article will help answer your question and satisfy your curiosity.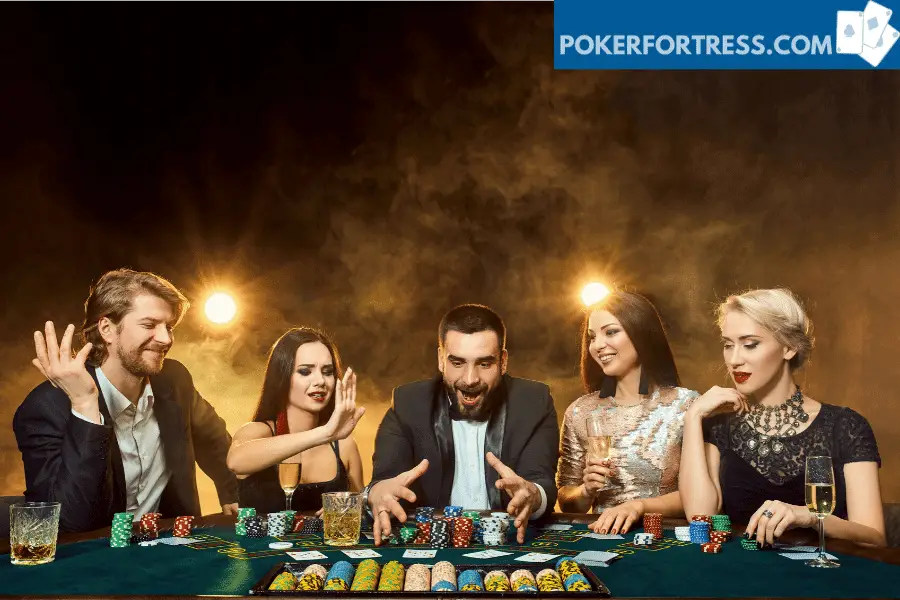 Do poker players get paid to be on TV? Yes, players can earn money from televised show appearances. However, it largely depends on the show and the organizers.
For example, shows like High Stakes Poker were known to pay pros who got invited to play. According to Daniel Negreanu, poker stars were paid $1250 per hour to play on High Stakes Poker. With over 24 hours of filming, each player got paid a total of $30k each. On the other hand, players don't get paid to appear on televised tournaments like The World Series of Poker.
Being on TV is a good opportunity for poker players to improve their stock, but it's not necessarily going to add more money to their pockets. However, poker shows garner decent viewership due to the top poker players they feature. Read further to find out about the dynamics of TV poker and why most players don't get paid to be on TV.
Earning money on TV Shows
To understand how poker players earn money on TV, you first need to understand that there are two types of poker games on TV.
First, we have the high-stakes cash games that features both professional and amateur players and then there are televised poker tournaments where pros do battle.
The two types of TV poker mentioned above features different elements that will give you a better understanding of why players are paid to appear in some while they have to pay to get into others.
High-Stakes Cash Games
High stake cash games garnered huge followership during the poker boom of the early 2000s. These games often featured professional poker players and a few amateurs. At the peak of the poker boom, GSN's High Stakes Poker featured big names like Johnny Chan, Barry Greenstein, and Daniel Negreanu.
Participants were required to enter with a minimum buy-in of $100,000. Daniel Negreanu would later go on to confirm that all pros were paid by the hour to feature in those games. With most of these games being cancelled after online poker was banned in the US, the money seem to have dried up.
Tournament Poker
The World Series of Poker has been on TV since the 80s and it's by far the most prestigious poker tournament in the world.
Most televised poker content features tournaments that see different poker stars slugging it out from one hand to the other. Players who feature in these games are not paid. In fact, they are required to fund their buy-ins to enter the tournament.
How Do Poker Players Benefit From Televised Poker?
While poker players can get paid to appear on TV, the reality is that the chances to do so are few and far between. Apart from tournament poker dominating the screens, High Stake Poker shows took a hit when online poker was banned in the US in 2011.
Unfortunately, a huge chunk of the money that funded televised poker shows were directly from online poker sites.
With the US  accounting for 55% of online poker players at the time, it is not difficult to see why online poker sites decided it was no longer wise to fund televised poker shows. Although It seems like poker players don't get paid to be on TV, there are other incentives that make TV appearance a good deal for players.
As you may know, many players are sponsored by top poker brands and paid to wear their merchandise on televised tournaments. So, if you do manage to get into a televised poker game, your number one compensation is the exposure it brings.
This exposure can help you establish yourself as a top poker player and garner a lot of followers. The more popular you are, the more and better sponsorship you'll get.
Can Poker Players Boost their Income With TV Appearances?
While it is possible, the reduction in the appeal of televised poker means it's most likely not going to happen. Another reason is that most players who appear on TV are some of the best in the world.
TV shows know the only way they can boost viewership is to invite players who already have decent followership.
If you're not a big name, getting invited to televised poker shows might prove difficult.
Also, players who get invited to games like High Stakes Poker can only enter with a buy-in of $100,000 or more. Unless you have a decent bankroll or a sponsor who's got your back, these games may be a bit out of reach.
Lastly, players don't get paid anywhere near their buy-in, so if they end up losing all their money, the appearance fee would be very little consolation compared with what they lost.
No matter how you look at it, televised poker is not a feasible way for poker players to make money.
What is the Future of TV Poker?
A few years ago, the future was pretty bleak for televised poker. Not only were the big shows like Poker After Dark and High Stakes Poker gone, regularly televised tournaments like the WSOP were seemingly losing their appeal. With these shows playing a part in the poker boom, their fall from grace was a true testament of the big setback online poker faced in 2011.
However, a new breath of fresh air seems to be coming to the world of poker with Poker Central earning the rights to bring back High Stakes Poker. Also, PokerGO has revived Poker After Dark and suddenly, it looks like television poker is on the up again.  With this recent development, there's plenty of hope and expectations that poker players can enjoy the benefits of a recent upturn in the demand for televised poker.
Final Thoughts
TV poker was one of the elements that drove the poker boom of the early 2000s.
It all started when Chris Moneymaker defied all odds to win the World Series of Poker in 2003 despite being an amateur player. His story was the nudge most people needed to spark their interest in poker in what is now known as the "moneymaker effect".
Unfortunately, the events of Black Friday have greatly reduced the cashflow that saw some poker players earn decent money to appear on TV.
Although being on TV can put you in a good place to earn a sponsorship deal from some of the biggest poker brands, it's not likely to enrich your pockets as you would like.
Related Questions
What is the first poker show on TV?
The world series of poker main event was the first-ever poker game to air on TV. It started back in the 70s when CBS would air an hour of the final standings of the main event. It wasn't until the late 90s that televised poker became popular amongst fans and enthusiasts.
Can I get Into a Televised Poker Cash Game?
Yes, it's possible to get into cash games and test yourself against professionals. However, the opportunities are few and far between. To get invited, you may have to win a mini online tournament that offers a seat at televised poker cash games. You can check popular online poker sites for similar opportunities.