The WSOP tournaments are among the biggest and most anticipated events in all of poker, and the tournament attendance is through the roof. Many poker players consider entering a WSOP event to be the single greatest challenge for any player – mostly because it involves many hours of concentration.
Contestants in the WSOP play an average of 10 hours daily at the least. However, this is not a given, and players may find themselves participating even longer, depending on how far into the tournament they go.
Playing poker isn't just fun and games. It's a serious sport that requires endurance. This article will discuss how hours of play are spread during the WSOP tournament and provide some concentration tips for players who want to participate. 
How Many Hours Do Contestants Play in a Day?
The World Series of Poker is the biggest stage for poker players, and plenty of things make it so tough to succeed in – one of them being the many hours of play each day.
Preliminary events are held over seven days, and players must concentrate for 10+ hours a day while fighting to a final table. The number of hours played per day depends on how far into the tournament a player makes it.
How Many Hours a Day Do Contestants Play During the Main Event?
The World Series of Poker is often considered the premier event in the poker world, and only a select few players in the world have ever made it to the final table at the prestigious Main Event. Even fewer have gone on to win the coveted bracelet in their respective playing categories.
To be clear, there is only one event officially known as the World Series of Poker Main Event: it's simply called "The Main Event," and it takes place every year in Las Vegas. 
However, many other events are part of the World Series of Poker and take place at casinos across Las Vegas at different times throughout the year.
In 2022, the WSOP Main Event was held over two weeks, from the 3rd of July to the 16th. Players compete to earn a seat in the WSOP Main Event Final Table. During days 1-7, players participate in five 90-minute levels – just over 7 and a half hours of poker daily (possibly more). Participants will find themselves at the Main Event Final Table if they're successful throughout the first seven days of the competition. 
In 2023, the WSOP Main Event will start on July 3rd and finish on July 17th. There will be 11 playing days. Check a detailed blinds increase, structure, and how the first day is split into several Day 1's on the official WSOP Main Event 2023 structure link. Blinds will go up every 120 minutes. And 4.9% of the total entry pool will be withheld for entry fees. Additionally, 2.1% is withheld for tournament dealers & staff.
Players in the Final Table are expected to play over two days to stand a chance at being crowned the Poker Champion of the World and winning the coveted WSOP bracelet.
The World Series of Poker's Main Event is the pinnacle of success in poker. It takes place over two weeks and is watched by millions of people who tune in to see if their favorite player will take home the title of World Champion.
The Main Event starts with hundreds, if not thousands, of players. In fact, the 2022 WSOP Main Event had the second most participants ever with 8,663 entrants. However, only one can be left standing by the end – it's a grueling test of skill, endurance, and mental fortitude.
Want to know more about how long WSOP tournaments last? Read the complete guide where I discuss the length of different tournament types and help you pick the one that's right for you.
How To Stay Focused During Many Hours of Play
The WSOP is the largest and most prestigious poker tournament in the world. It's held annually at the Rio All-Suite Hotel & Casino in Las Vegas, but it's broadcast all over the USA and the world. So as you can imagine, there's a lot of pressure that comes with the WSOP. And with so much money on the line, concentration is key to fighting your way to victory.
One of the most essential skills during a poker tournament is the ability to focus for long periods. It's the one thing that separates great poker players from those who are mediocre. 
If a player's mind wanders even briefly during a match, their opponent can use it as an opportunity to sneak in a win. You not only need to concentrate when playing but also in between hands and during breaks.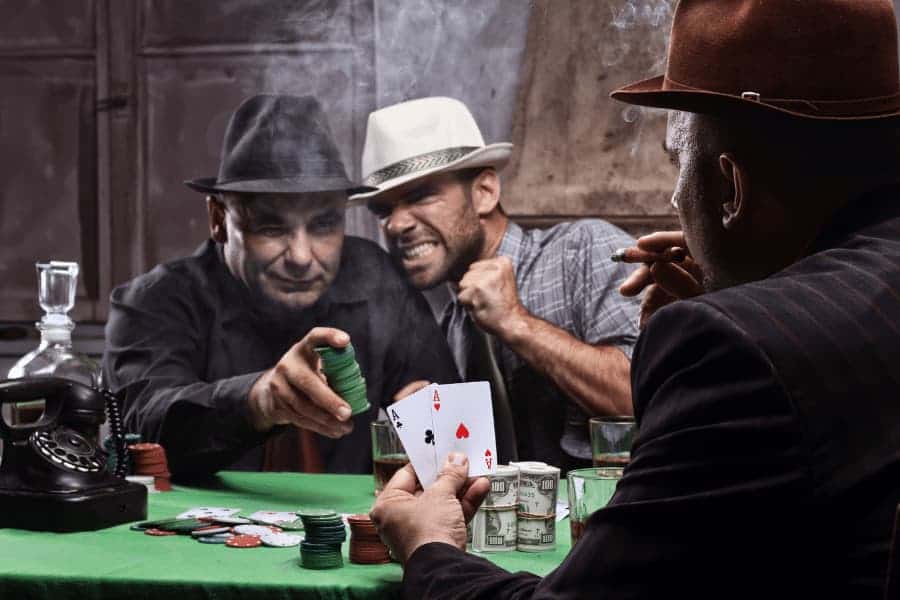 Below are tips to help you focus no matter what happens during a tournament:
Stay hydrated. Drinking enough water daily improves your physical and mental performance, which will help you concentrate for extended periods and keep your mind focused on the task. 
Know your playing style before sitting at a table. It's best to have a game plan rather than just winging it. This will help you stay focused on your goal and assist you in the first couple of hands.
Make sure you're comfortable. You'll be playing poker for 10+ hours a day – it's vital to ensure you're comfortable no matter what. It's common for WSOP rooms to be air-conditioned, so be prepared with warmer clothes if needed. 
Get enough sleep. After playing for 10+ hours, rest will be essential for you to recuperate and focus on the next day of competing. Make sure you get at least 6 hours of sleep each night.
Block out distractions: Yes, you're in Vegas, and who doesn't want to have fun and party? But, if you're serious about your poker, it's in your best interests to keep all your attention on the end goal. 
The key to success in poker tournaments is preparation. If you're ready for anything that might happen, you'll be able to keep calm no matter how tense the situation is. However, if you're not prepared, poker tournaments can be a very frustrating experience.
World Series of Poker tournaments are no easy feat, but it's not an unbeatable challenge. With some research and planning, anyone can make it through the annual tournament circuit.
You can also check my tips on how to play long poker sessions in this article.
Summary
The World Series of Poker is the most important event on the card playing calendar and can set a player's career into overdrive. But as with any tournament that provides an enormous opportunity for contestants, fierce competition prevails at every level.
Only the most formidable players can make it through in a game where luck is essential, but skill and perseverance still trump all else.
It's crucial to be able to maintain concentration at a WSOP tournament. To win the WSOP, you must learn to stay focused for 10+ hours a day.