Getting a poker coach has become a new standard in accelerating your poker game to another level. But how much of this is just the hype that is around on poker world, and how many players do actually get better after poker coaching, to justify hiring a coach? I am a perfect example of letting you know, as I have utilized the services of many poker coaches. I have also done extensive research on which poker players actually get enough out of poker coaching.
I have had more than 10 poker coaches in my poker career, for a total of more than 100 coaching hours. Many of those were just a waste of money, but after I found a few good ones, I kept booking their services.
Is it worth getting a poker coach? It is very worth it for some, and a complete waste of money and time for others. If it will be worth it for you, it depends on a few factors.
At which point in your poker career you are (how much experience playing do you have )
What kind of coach you are getting (which types of games you are playing)
The teaching style of a poker coach
1. How much experience playing poker do you have
Just starting out
If you are just starting, then hiring a coach doesn't make that much sense. As a complete beginner, you will not get that much value out of a personal 1 on 1 poker coaching. You can get much better value for your money by joining a poker coaching website. At the cost of just one coaching hour or even less, you get a whole month's subscription to high-quality learning content. Many coaching websites have tens of hours of videos to teach you the foundations very well.
During your 1 month's subscription watch as many beginner poker instructional videos as possible.
At the same time, apply what you learn at poker tables. My favorite coaching poker sites for cash games for beginners are RunItOnce, with a very friendly cheapest plan of $24.99/month. They have cash games and tournaments (MTTS) videos, so you will found what you like.
They have some free resources and even a specialized NLHE course for beginners for cash games – called From The Ground Up. Currently priced at only $49.99, and you get lifetime access (one for tournaments cost $149.99). I truly believe that month membership and this course get you much better value when starting. It is cheap and good quality, it doesn't get much better if you are just beginning. 
A reliable free alternative is PokerStrategy – that is where I started learning to play poker better. They have many videos, of great value to a beginner, for free (both for cash games, sit & go's and tournaments).
Playing for some time but stuck or losing money
If you didn't get the chance to work on your game, then It is completely normal you will be losing money. I started as a losing player, and it took me a few deposits before I never needed to make a deposit again. Also, if you got the wrong information from your 'poker coach,' it can quickly happen you are bleeding money and not a winner yet. Or maybe players at your tables are more skilled than you. Whatever the reason is, you can get better.
If you are not a winner yet and have played some hands before (at least 25,000 hands), then you will get the most out of poker coaching. 
You already know which hands you should be playing, have an idea of bet sizings, some poker spots are standard for you already. Maybe you even are a member of a poker coaching website, but you just can't seem to win. In this instance, spending some money on a poker coach could make all the difference. Even as little as 5 hours could be enough.
Coaching is usually done in sessions of 1 hour, and then you take a few days in between the next coaching session, so you can apply what you learned. Later in the next meeting, a coach can check how you played again and give you valuable advice where you still lack, and what you are doing correctly.
A coach will also be able to identify fast what the biggest problems in your game are and in which spots you are losing money, where you shouldn't. 
2. Which types of games you are playing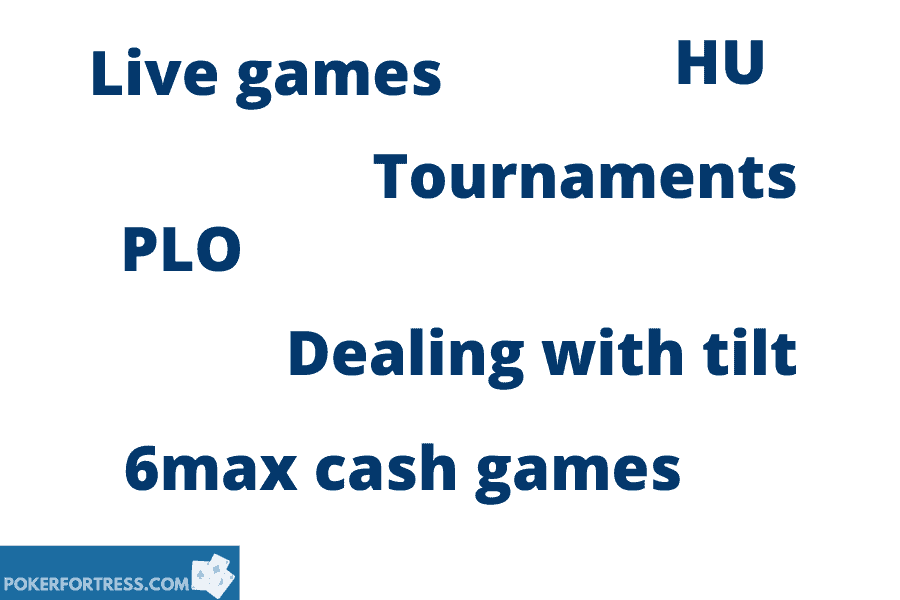 Now that you know if it makes sense for you to get a poker coach or not, it is time to decide what poker coach to get.
If you play HU cash games, then it doesn't make much sense to get a coach that specializes in 6max coaching. The same if you play tournaments, don't get a poker coach that is expert in playing STT (Single table sit & go's). Not only are you wasting your money and time, the principles you will get taught might not work at your poker type at all.
Before you get a poker coach, make sure to do your research. Make sure that the coach actually beats the games in which you want to get better.
It is also vital that a coach doesn't play too many levels above your limit.
If you want to beat NL10 online, then don't get a coach that hasn't played lower than NL500 for years. Not only it doesn't make sense from an hourly perspective, but he also isn't the best suited to give you advice on how to beat micros, as he doesn't know what kind of players play there.
The best coach for you is the one, who a year ago played at your limits, and then quickly moved up, or is playing just 2-3 levels above your limits right now. In this case, it would be either NL50 or max NL100 player for your NL10 games.
3. The teaching style of a poker coach
Believe it or not, teaching methods of a poker coach are crucial. Some poker coaches teaching approach is like reading a boring vacuum cleaner manual. Good luck learning anything from him. While other coaches actually have experience tutoring students and can make the whole coaching a lot more engaging for a student.
On Twoplustwo forums you have a section for poker coaching, where you can also read the reviews of each poker coach. It will be a lot easier to choose the one that would suit you the best. Do you want one that often extends his coaching hour for no extra cost? Do you want the one that records the whole coaching and later sends you the video at no additional cost? Read their coaching application and then decide for one that would suit you the best.
A coach offering to record your coaching session and later sending you the video at no extra cost is a great way to get maximum out of coaching. You can rewatch the video many times.
And to get even more out of coaching, make sure you prepare the questions in advance, so you don't waste your money. 
Different types of poker coaching
There are different types of poker coaching. Some of them work out a lot better at improving your game than others. Also, if your poker coach doesn't record the coaching session, then make sure you do, so you can rewatch it later a few times.
Hand reviews
Hand reviews are the best way to get the most out of poker coaching. You can prepare the toughest hands and then analyze them together with the coach. Avoid suckouts where you lose your stack, as those happen to everybody, they are unavoidable, and you won't learn anything from them.
It is easy to miss common spots where you might be making mistakes this way, as very well you might not even know yet, that you made a mistake. If you book 5 hours or more, then it makes sense to go through your database of hands in the first session. That way, your coach can get the idea of which area is the most problematic for you and how to approach your meetings in the future. You can still do hand reviews in other sessions if you wish so.
Recorded gameplay reviews
They are hit and miss. Sometimes recorded gameplay reviews can be useful to notice leaks in your game. On the other hand, if it is a boring session that you recorded, there might not even be any mistakes shown in your recorded video.
They are good just to get reassurance that you are playing very standard spots correctly. Maybe here and there an interesting spot comes up that you didn't even realize, and coach will notice it. It makes a lot more sense to do hand reviews for problematic spots as you are guaranteed to have them in your large database of hands.
Coaching advice while playing
From this one, you will learn the least. It is hard to learn while playing. It might be good to do here and there when you just want to book a free win. It makes sense to do it when you just want to reassure yourself you are playing correctly and applying new things that you discussed with the coach in previous sessions.
Is poker coaching worth it?
The short answer is it depends. As I said above, if you are a complete beginner, then not. If you are stuck at a limit, and can't move up, then it is very well worth it. But only if poker coaching helps you move up. Coaching is not a magic pill. A poker coach will tell you where you are playing wrong, notify you of a few examples on how to play those spots. But at the end of the day, it is on you to apply everything correctly.
Some poker coaches charge a lot of money, while others are a lot cheaper. If both coaches can teach you the same principles on your low limits, then hiring an expensive coach doesn't make sense.
If getting a poker coach increases your hourly playing poker, or helps you accomplish some other non-monetary goal (tilting less, moving up in stakes, feel comfortable at tables) in a reasonable amount of time, then poker coaching was well worth it.
I consider it money well spent if I was able to increase my hourly as much, that I get the worth of coaching back in 3 months. Let's say I take a poker coach for 5 hours. He charges $175/h (which is a reasonable price for my limits). Usually, we will do 1 coaching hour per week. So after 5 weeks, I have 3 months to earn that $875 (5x$175) on top of what I was winning before coaching. With 140h of playing per month, this comes at 420h playing time in 3 months. Therefore I need to increase my hourly for a bit more than $2/h (875/420) to count it as a success.
How much do poker coaches charge?
I did extensive research on a few poker coaches, and what services they offer, so you get an overview of how much coaching usually costs. Many coaches offer bulk purchases, which make your coaching hour cheaper.
I had used Kazor services in the past when I wanted to learn more about Pot Limit Omaha (PLO), and coaching turned out great for me. Make sure to do your own research before you hire anyone, check their graphs, google their names, read the reviews. In the table below, you can find some of the coaches that offer their coaching services at one of the biggest poker forums – TwoPlustTwo (each of their usernames link to their coaching forum thread on 2+2.
I have also added the last coach from PokerStrategy. He is mentoring micro stakes players and has very affordable prices. His hourly rate is also a lot cheaper than other professional coaches. He might be an excellent option to choose as he plays a lot against the very same types of players than you do at micros.
MTT's in the table stand for tournaments. Cash games, if not stated otherwise, are for 6max online games.
| | | | |
| --- | --- | --- | --- |
| Username | Type | Teaches | Rate/Bulk rate |
| The_Dean221 | No Limit Holdem | Low & Mid and High stakes MTT | $200/75min, $800/5x75min |
| kazor | Pot Limit Omaha | Low & Mid stakes 6max, HU | $175/hour |
| AintNoLimit | Live games, No Limit Holdem | Live low & mid stakes full ring games (good for beginners also) | from $100/h, offers a quiz to expose leaks for only $15 |
| La55i (from PokerStrategy) | No Limit Holdem | Micro stakes 6max cash games (perfect for beginners) | 20€/h and offers individual packages from 25€ |
Table with information on different poker coaches and how much their coaching costs.
Free coaching in exchange for poker profits
Sometimes when you already have some trust with a poker coach, you can enter a very good agreement for both sides. Many different agreements are possible. Let me just give you one example. You may receive 2 hours of free coaching per week, and in exchange, you need to pay 50% of your winnings to the coach. Often the actual agreement will get signed so that both parties stick to agreed terms.
This way, you only pay some money if the coach did a good job, and you learned valuable new skills and won money. There is usually a predefined time duration for this agreement or a number of hands. But such contracts rarely happen between a student and a poker coach that had no prior interactions, as some trust is needed to make it work.
Alternatives to getting a poker coach
Getting a poker coach can be quite expensive. It is hard to come up with big chunks of money to spend it on poker coaches, especially if there is no guarantee getting a poker coach will make you any more money. Luckily there are cheaper and free alternatives.
Join a training poker site 
Joining a poker training site is a cheaper alternative to hiring your personal coach. Some even come with some free videos (good luck getting a free coaching hour from a well-established poker coach). These free videos won't make you a master, but you can learn from them. A monthly fee of just $25 at RunItOnce will give you access to what is now most likely hundreds of hours of videos. You can browse these big libraries of videos and only watch the ones that are the best suited for you at any given moment.
If you prefer to watch instructional videos than talking 1 to 1 to a poker coach, then this detailed article of best poker training sites will be a perfect resource for you.
Buy a whole course
Buying courses is my preferred way to learn nowadays in poker. I don't want to spend big chunks of money on expensive coaches. It is of great value for me if I instead spend $1,000 or a bit more on the right course, where I learn a ton, and then just supplement this with an hour or two of getting a poker coaching from an established player.
Buying a whole course can be expensive, so you need to do proper research before buying one. These courses are a lot more detailed than just training videos that you get by getting a membership to a training site. They often teach you everything you need to master about specific formats (either cash games, STT's, tournaments, PLO 6max, live NL Holdem cash games, etc.). And most of the time, you get lifetime access for them when you buy the course, and more often than not, they come with continuous updates, to stay relevant.
Some courses cost well over $1,000 but were done by coaches who charge more than $500/h otherwise. On the other hand, there are some solid courses out for beginners that cost between $50 and $300, which are of great value. 
Some of the courses that might be of value for you:
Poker Books
You might wonder if reading poker books can be helpful? You can learn new strategies out of them, but be careful that the books you are reading are still relevant in the fast-changing poker world.
Poker Books can be costly. A few thousand dollars even. But most of them are relatively cheap. Not my favorite way to learn, but you will get decent value from more affordable books that cost under $50. Make sure only to buy books that are not outdated. Poker courses are being updated regularly; this is a lot harder to do with a book, especially a hard copy. 
Work yourself on the game
Not the best solution for beginners. But once you already had some coaching and were part of a poker training site, an excellent free option. At that point, you already know how to work on your own game. Getting your hands dirty and learn the proper plays on your own at times, is something every serious poker player goes through.
Discuss hands with your other poker friends
Being a part of a great community is crucial in poker. Often players who play similar limits will join together and be active in chat groups. People are posting hands regularly. While you do get great advice there, you always need to be a bit careful. You are getting advice from people of similar skill level than you. While their advice is well-intended and free, it can very well happen it is wrong. But often just discussing hands and thinking about them will make you a better poker player.
Conclusion
Next time if you are wondering whether to hire a poker coach or not, you will know exactly what to do. You also know of reasonable alternatives, as hiring a poker coach can be a waste of money. Just remember, before you make any decision, do your research. It is better to spend an hour more researching if hiring a poker coach, or which poker coach is best for you, than hiring a wrong coach.
Related Links