The poker boom has led to million-dollar payouts, sponsorships for players, and underground poker clubs. All of these caused a sudden surge in the number of people who want to learn the game, which has led to another market boom—online poker courses and training sites.
As of 2023, some of the best poker training sites include Upswing Poker, Pokercode, Bluff the Spot, Raise Your Edge, and Run It Once. All of these sites will teach you some of the best poker strategies that you can use to take your game to the next level.
If you're looking for effective ways to become a better poker player, learning from the top poker players in the world is the best way to do it. Stick around to learn more about these training sites and find out how they can help make you a better poker player. 
Upswing Poker remains one of the best poker training sites that can help you improve your game. They have world-class poker coaches who are adding new content every month.
It's not a one-time deal that gets outdated over time because these videos will keep your knowledge up-to-date. So, even if you're a new player, you can access old content to start building the foundation for a successful poker career.
Small and mid-stakes players who struggle to win consistently will find the Upswing Poker Lab a course that can make them play better. It's the flagship course of Upswing Poker that offers a holistic approach to playing the game.
Their primary coach is Doug "WCGRider" Polk, who is one of the best online poker players with millions of dollars in winnings from cash games. He's also one of the dominating forces in live poker tournaments, which includes a $3.7 million payout in the One Drop High Roller, 11 WSOP money finishes, 5 final table appearances, and 3 WSOP bracelets.
Aside from Doug, Upswing Poker hired some of the best online high-stakes cash game players, including Dan "Danmerr" Merrilees and Mo "MuckCallOK" Moritz. This move solidifies them as one of the best go-to places for newbies who want to learn from the world's best players and improve their game.
They have a collection of over 250 hours of videos from different coaches, with new content added every month. It also includes various hand selection charts that will serve as a "cheat sheet" to help you play your hands in any situation. These resources will help you improve your game, whether you're playing 6-max, Zoom, full ring, or even live poker tournaments.
Modules of Upswing Poker Lab
There are various courses that you can get into while you're in Upswing Poker, but "The Lab" is the most comprehensive. It covers almost everything that can make anyone a dominating force in the game.
As long as you know the basic rules of poker and apply the principles that Upswing Poker Lab teaches, nothing can stop you from joining the top rank.
They add new content every month, but we can categorize them in 6 different modules, including:
Module 1: Lab Core Strategy – the basic strategies that every player, new or seasoned, should know before hitting the felt.

Module 2: Advanced Lab Strategies – crucial lessons that will take you from a new poker player to a dominating force at any game format.

Module 3: MTT's – strategies that you can use to crush your opponents when playing multi-table tournaments.

Module 4: Live Poker – the core principles that you should know and up-to-date lessons that you can use when playing live cash games.

Module 5: Mini-Courses – apart from the core principles, Upswing Poker Lab also has its mini-courses covering various parts of the game. These courses don't belong to any other modules but can help you adjust and improve your strategies.

Module 6: Plays and Explains – play across the table with Doug, as he explains the rationale behind every move. This module includes the do's and don'ts when playing poker, and how you should play each hand accordingly.
Accessibility of the content and resources from your desktop or smartphone is a bonus. Aside from this, you're not stuck with year-long memberships because you can register for a month, consume all the content, cancel your membership, then start hitting the felt. However, it's highly unlikely that it's going to happen with all the new information that they release every month.
Whether you're a casual poker player who only wants to dominate your friends or someone who's planning to turn professional in a few months, Upswing Poker is the best training site that you can join.
Upswing Poker free resources are, sometimes, even better than paid content that other poker training sites offer.
One poker training site that is quickly gaining popularity is Pokercode. It is still relatively new, but you can already find many excellent quality videos in their library, with more videos coming each week.
Surely you know its leading coach. It's none other than someone that disturbed the scene a few years ago by absolutely crushing the tournaments. Of course, we are talking about Fedor Holz.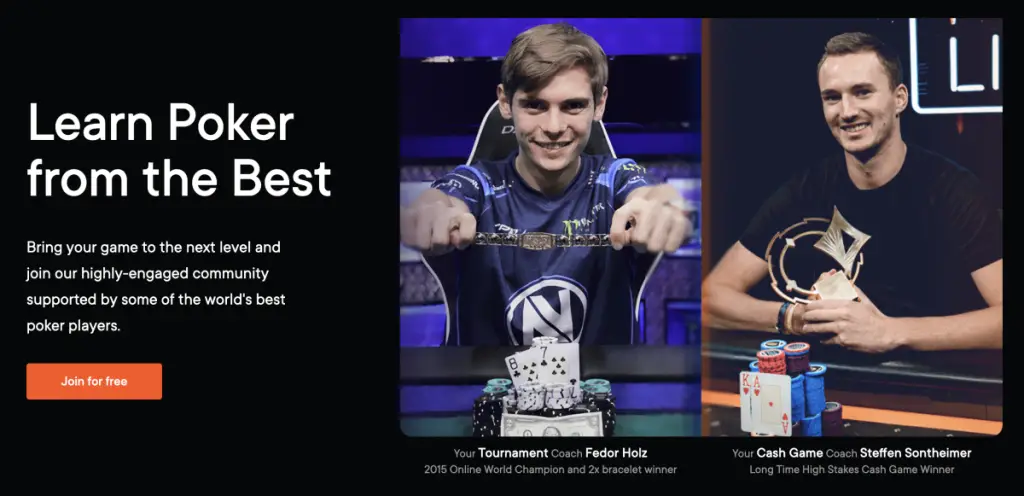 Fedor is a perfect combination of what happens when a wiz-kid works hard at something that he is passionate about. Fedor has spent many hours studying the game, and now we get the chance to access his learnings. On top of that, on the site, you can find cash games training videos made by Steffen Sontheimer, a high stakes NLHE 6max regular. His winrate against arguably the toughest poker cash game field is truly impressive.
These coaches would charge you thousands for private coaching, but by getting a bit less personalized coaching, you still get to learn a ton, and they share all the secrets required to increase your winrate.
Pokercode has high customer satisfaction, and 9 out of 10 subscribers would recommend the Pokercode to their friends.
On the platform, you can find tournaments and cash game training videos. My personal preference is videos focused on getting better at a specific part of the game, such as playing postflop in position in tournaments. But you can follow the whole tournament plan from the preflop fundamentals to the river play and off the table work required for a high winrate in the tournaments.
You will also get access to Rangeviewer, which tells you the correct move given in a particular situation and its frequency.
The same goes for cash games.
You can join for FREE. They have a limited selection of free videos. If you want to get access to the whole library of videos, you will need to subscribe.
Pokercode is more than just a membership or a course site. It is more like being in a private coaching group. You can also attend their live coachings, which are included in the membership.
The biggest pluses of Pokercode membership are:
– Coaches are the very best poker players with a proven track record of drastically improving winrate of their poker students
– Access to Range Viewer
– Selection of free videos to help you decide if their coaching style is for you or not
– Discord community
– 8+ live coachings per month
– Discounted quarterly and yearly subscription plans
What could be better:
– Platform is still relatively new, so maybe you find a bug or two on the website
– Library of videos could be larger (if you need to have an extensive selection of videos to choose from). But what they have is more than enough to catapult you to higher stakes
– only no limit Holdem coaching material (no PLO and mixed games or 6+ coaching)
If you're looking for free, high-quality poker content, one of the best places to visit is BluffTheSpot's YouTube channel. It caught our attention because most of the content posted on their YouTube channel is sometimes better than paid content in some training sites. Their website has a minimalist feel to it, but their courses are, possibly, the best training programs that you can get.
MMAsherdog is their head coach, who may not be familiar to many poker players, but he's been crushing the high-stakes tables for years. He's one of the winners of the biggest high-stakes NLHE on PokerStars and has over $1.2 million of winnings with close to 275,000 hands played.
Their main course is the "Ultimate Course by MMAsherdog," which includes "Pre-Flop Bible Vol. 2." They also have the "BTS Lab," which contains several training videos from one of 23 coaches who specialize in different game formats. They release new content every month to keep their programs up-to-date, allowing you to improve your poker strategies continuously. 
Ultimate Course by MMAsherdog at a Glance
If you're a high-stakes player or dreaming of joining the ranks, this course is one of the best you can have. The topics that it covers include the following:
Various post-flop spots to help you formulate a solid strategy.
Lessons to equip you with skills you can use to study the game.
How to launch a profitable career as a high-stakes poker player
Everything that you'll learn from the Ultimate Course will help you stay ahead in any poker game and keep you up-to-date in today's fast-paced poker world. It's the only video course from MMAsherdog, which includes 12 videos that cover the following topics:
Course Intro
The Fundamentals

Studying with PIO Solver
Live Poker

Theoretical Videos

Out of Position play from the Big Blind
Blind vs. Blind
In Position play
3Bet Pot in Position
3Bet Pots Out Of Position as 3Bettor
3Bet Pots Out of Position as Caller

Live Play

500 Zoom session review Part 1
500 Zoom session review Part 2

High Stakes Hand Review
Wrap Up
We have yet to see a poker training site that is as in-depth as what MMAsherdog covered in the Ultimate Course. On top of that, BTS Lab will serve as a supplement that builds upon the lessons you'll learn from the course. It's like one coherent module that stays up-to-date month after month, allowing you to improve your game at the poker table continuously. 
Run It Once is a poker training site that Phil Galfond started. He's a PLO coach who taught some of the best old school PLO players through his Bluefire Poker videos.
Run It Once is a poker training site with some of the basic courses that a new player can use to improve his game and the most advanced lessons from the best coaches around the world.
If you visit Run It Once, you'll have the option to choose between three courses:
From the Ground Up: A basic course for new players who want to have the right foundation and concepts to improve their game. It doesn't cover the advanced strategies that players use when playing live cash games, but it sets you up on the right path to become a successful poker player.
From the Ground Up – MTT Edition: This course runs on the same concept as the original FGU, but focuses on tournament players. It'll show you the best ways to play different stack sizes, understand your opponents, play GTO, and how ICM can have a massive impact on your decisions.
A-Game Poker Masterclass: The flagship course of Run It Once. It includes everything that you need to know to bring out your A-Game when playing poker. One of their most notable students was Fedor Holz, a 26-year old German poker player with total tournament winnings of $32.5 million.
Modules of A-Game Poker Masterclass
The A-Game Poker Masterclass has six different modules that cover the fundamentals and advanced strategies that you can use for your games. It's in a logical sequence that you can consume to provide you with all the information and foundation that you need to become a world-class poker player.
Here are the six modules in the A-Game Poker Masterclass:
The difference between the mental game and A-Game poker
The Core Mindset Principles of Mental Operating System
The 3 phases of the A-Game Engine in poker and life
The gap in what you can do and what you bring to the table
How you can identify and resolve tilt to get rid of it
The real meaning behind Life Balance
These modules have separate topics that will allow you to bring out the best in all of your games. Many people consider it to be one of the best poker courses that you can get for your career. The A-Game Poker Masterclass is so comprehensive that it's enough for you to shoot your way up the ranks of the best poker players in the world.
Besides their top-tier courses, you can also join their membership site, which includes a total of 5,655 coaching videos. It's the most extensive knowledge base that you can access, and all of them can help you become a better poker player. When you sign up to Run It Once, you can choose between three different membership levels:
Basic Membership: A free version with full access to their poker forum. It'll allow you to pick the brains of poker players with different levels of skills from around the world.
Essential Membership: A paid version that is perfect for low stakes players. It includes full access to the poker forum, 2219 Essential videos, and five new Essential videos per week to keep your knowledge up-to-date.
Elite Membership: The perfect and all-in-one training program for high-stakes players. It gives you untethered access to everything in Run It Once, including the poker forum, 2219 Essential videos, 3436 Elite videos, five new Essential videos, and nine new Elite videos every week.
All of these content, compiled inside one membership site, makes Run It Once one of the best poker training sites. The additional video content they release every week ensures that every information you're getting will remain up-to-date and make you competitive in the ever-changing poker landscape. 
MTT is one of the biggest challenges that Raise Your Edge aims to address. It has the most comprehensive topics that are perfect for players who want to dominate tournaments.
The head coach for Raise Your Edge is Benjamin' bencb798′ Rolle, one of the best performing poker players in MTT. One of his most notable wins was with the $1.1M in WCOOP 2016 SHR. Benjamin Rolle, alone, made it the best poker training site for players who want to get into MTT. It's also starting to get a grip on lessons that will help players win live cash games.
The Tournament Masterclass is the flagship course of Raise Your Edge. It's divided between two versions: the Apprentice Class and Expert Class. Both aim to address the needs of a player, depending on the level of his poker skills.
The Apprentice Class includes Benjamin's range charts with over 20 hours of content. These videos will discuss each hand in detail and the strategies that you can deploy for every situation. The Expert Class includes everything in the Apprentice Class, plus over 50 hours of video content and exclusive access to the VIP discord channel with Benjamin.
Some of the topics that Raise Your Edge covers in The Tournament Masterclass includes the following:
Pre-flop range analysis that covers almost every situation
What to open from each position to hold the upper hand
How to continue against 3-bets and 4-bets
Like the other training sites we have on this list, The Tournament Masterclass gets a constant update from Benjamin to keep the course up-to-date with the changes in the game. You'll also have access to the most recent strategies that you can implement on the table. It doesn't get outdated and is an excellent resource for continuously improving the way you play MTTs.
Despite being aimed for both new and seasoned players, The Tournament Masterclass is a better course for those who already have intermediate-level knowledge of MTTs. If you want to get the most out of this course, you should be familiar with concepts like hand ranges, pot odds, ICM, etc.
Aside from The Tournament Masterclass, here are other courses that you can get from Raise Your Edge:
Mastering Live Cash: This course has everything you need to take advantage of live cash games worldwide. It includes topics that will help you understand your opponents, master pre-flop strategies, isolate and overlimp, and play deepstacked.
Bounty Beast: This course aims to help you understand and improve your game when playing bounty tournaments. It enables you to take advantage of players who are guessing the correct plays, the theory and math behind poker games, and several bounty practice videos that you can use to crush bounty tournaments.
Unchained Poker Mindset: It's more than just a poker training program; it's a course that will help you super-charge your life! It covers different aspects of a powerful mind, including calmness, self-awareness, patience, and focus. It's more of an elite mindset training that rewires your brain to perform better at the poker table and in life.
Elementary Cash Game: A course aimed for new poker players looking for a quick way to improve their cash games and bring more profits in their pockets. It'll help you understand poker rules, how you can use HM2/PT4, and pre-flop and post-flop strategies.
6-Max Hyper SNG: It's a course that minimizes the information you're getting from other SNG courses that can be overwhelming for many players. 6-Max Hyper SNG will provide you with the necessary information to dominate SNG tournaments in 7 easily-consumable courses.
Raise Your Edge is the best poker training site for players who want to be better with MTTs and newbies looking for ways to consistently win cash games. Whether you're new or looking for ways to reach the top ranks, their courses are something that you should consider. 
Advanced Poker Training believes that you have to experience the best lessons in poker, and hard work pays off. That's why instead of creating a poker course, it provides you with a virtual poker trainer. It's so efficient that you can play as much as 500 hands per hour. As you use this program, it becomes more efficient in providing you with information on how you can become a better poker player.
When you sign up for Advanced Poker Training, you'll play with AI opponents in a fast-paced game that goes beyond what you can do in a live poker table. After each session, the program will provide you with detailed information on the hands that you played. You'll also receive some advice on what you could've done better, feedback on the decisions that you've made, and areas of the game that you can improve.
It's a highly customizable program that lets you configure the type of player you want to play against, and the rules when playing the game. Since it has a record of all the games that you've played in the system, the advice and feedback that you get from it get more personalized. It allows you to see your game better and faster than if you were to study it from a live table.
If you want to see what this program can do for your poker games and how it can improve your strategies, you can sign up for a free version. It'll help you figure out the best course of action when you're in a difficult situation. It also shows you the best way to exploit different types of opponents that you might face on the poker table.
Players with an intermediate level of understanding in poker can opt for a premium version, which unlocks more options and features. It even has a "Beat the Pro" feature that will show you how your skills stack up against the world's best players.
Advanced Poker Training is one of the best poker training sites that you can get into if you want to learn from personal experience directly tied to your personality as a player. It won't force you into principles that may not match your gameplay, but rather focus on how you can become a better version of yourself when you're at the poker table. 
Conclusion
There are dozens of different training sites that you can choose from if you want to learn poker. All of them can help you hone your skills up to a certain level. However, the ones that we have on this list will provide you with a perpetually evolving program that grows with you as you learn the game.
If you want to learn the basics of poker, Run In Once is an excellent place to start. If you have intermediate knowledge of the game, you can sign up with Upswing Poker, Pokercode, BluffTheSpot, and Advanced Poker Training. Players trying to get into MTTs will find Raise Your Edge an indispensable site for training.
My personal favourite is Pokercode. Nicely structured coaching videos, allowing you to progress step after step and what is very important, they have a small but very engaged community.
Related Articles