If you are new to poker, I urge you to pay attention next time you are playing it. Primarily focus on how the pot is not the same amount of chips after each betting round. Poker house takes a small portion of each pot to the side. That is called rake, and it is a fee taken by the cardroom. That is how poker providers make money. Often poker players would get some money back, depending on how much they play.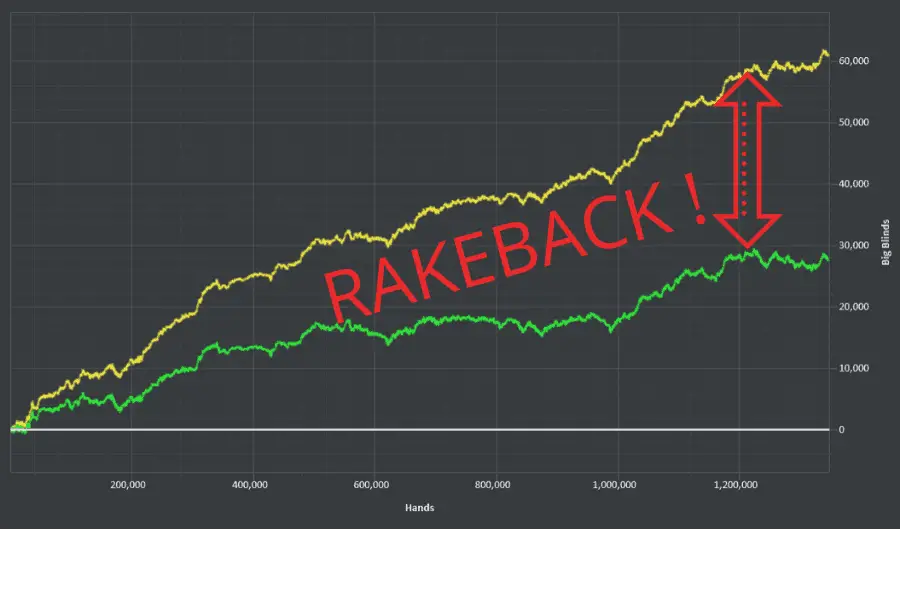 Rakeback in poker is a set amount of money that a poker player gets from the poker site after contributing to the rake. It is often paid out monthly and can be increased or decreased depending on how many hands you rake.
It provides a considerable boost to your winrate. Unlike poker winnings, rakeback is a guaranteed amount of money you will earn if you decide to play poker. Unless you are a sponsored poker player, there aren't many more certain ways that you will earn money while playing poker. After all, even with pocket Aces you aren't guaranteed to win, but you will earn some money back in rakeback if at least flop was dealt.
Some poker sites offer rakeback in terms of points that you exchange either for items in their shop or for real money. While others give you money directly to your poker account or on your money wallet, this is done once per week or once per month. I generally opt for ones that give me money directly. This allowed me to create an efficient money plan for myself.
My approach is as follows. I only cash out my rakeback winnings. Whatever are my poker winnings without rakeback, I leave it on poker account to grow my bankroll:
This way I have a set hourly guaranteed income. Guaranteed income is very important if you are a professional poker player like myself. I wanted to cash out a certain amount each month, and that was my rakeback.
Poker is a very swingy game. It is nothing uncommon if you lose money from playing two months in a year. And that is from playing cash games online. When it comes to tournaments or live games, this stretch can be even more significant. Big variance is one of the factors why some players don't have what it takes to play tournaments for a living, and that is completely ok. There are other types of poker to make good money from.
I knew when I played 150h per month, that I would get $2250. My rakeback added up to $15 per hour. Then every 6 or 12 months, I would take out part of my winnings from games itself, depending on my winrate. Another part was kept to build my bankroll further. This allowed me to move up in limits quite fast at the beginning.
Knowing I make some money no matter what my results are was a great relief. It allowed me to play my A-game even when I was running bad. This way, I am completely unattached to my results. The only thing that matters to me is how many hours I put in. The more I play, the more I make. Maybe it comes as a surprise to you, but playing full time is quite different compared to playing for fun. Poker becomes your only source of income. Imagine going to a job and not getting any money for two or even three months. Hundreds of hours spent working and being in the red in the end. This is statistically bound to happen to every professional poker player someday. Therefore having a good rakeback deal and some payout each month is paramount to succeeding as a professional poker player.
Sites With Best Rakeback Deals
Best rakeback deals are possible to get through singing up with poker affiliates. Poker sites itself don't ofter so good rakeback deals. It's in poker site best interest that they get every day Joe to sing up directly through them and to pay him as little rakeback as possible. While on the other hand, you could receive even up to 50% rakeback signing up through poker affiliate, poker site itself would only give you back as little as possible.
A good example of this is PokerStars in 2019 and beyond. Their reward system is a joke. Deciding if you will sign up to a poker site through affiliate or not is something that cannot be changed later on, so be sure you pick an excellent affiliate with a great rakeback deal before you join an individual poker site.
I am a big fan of great rakeback deals. Good RB (rakeback), together with soft tables, is on what I am on the lookout for. I firmly believe that rakeback deals I am getting are the best possible ones I could get. Not only that, but I also look for live customer support, that is happy to give me the best information possible. It is important to know I always can ask about whatever questions I might have. This way, I can be sure I made the best decision where I will play. It is very annoying if you have questions, but there is no one to answer. I use this poker affiliate service personally and am very happy with them. If you are looking for the best rakeback deals, go here. Make sure to enter Sign up Code WIN50 to get access to the best RB deals.
I went and collected the data from different affiliates, and I came up with the following. Best rakeback deals are on:
BetKings, which is part of the GG network
Guts Poker, which is part of Microgaming Poker Network(MPN)
On both sites, you will find plenty of tables running at any limit. And tables are as soft as they can get. Many recreational players that want to have fun play there, and not so many professional players.
There are a few more sites where you might get a percentage or two more rakeback, but I don't find them so safe to play on. All of this makes these two options the best. I have played a lot on Microgaming in the past. I like the UI on GG tables better. It's more visually appealing. But both sites have plenty of bad players. If I needed to choose where I like to play the most, it would be BetKings coming slightly ahead.
You can find both deals on this poker affiliate specialized website, under Rakeback Deals. Don't forget to enter WIN50 in Sign up code.
BetKings (GG Network)
On BetKings, you will encounter many players from Asia. They are known for their love to gamble. If you signed up through my link and entered sign up code WIN50, you will receive up to 50% from the fish buffet. On top of this, you will also get a 10% welcome bonus. You will also participate in an affiliate's 25k monthly race.
$1000 first deposit bonus (10% rakeback)
Participate in $25,000 Rake race
Up to 50% rakeback. It depends on how much you rake. 
Guts Poker (MPN)
If you signed up through my link and entered the code WIN50, then you will receive the following rakeback; 30% rakeback from their VIP system + 20% from the first deposit bonus (they have reload bonuses of 20% also). On top of all that, you can get up to 18% of their Chase race. This together gives you over 50% rakeback!
30% rakeback
20% first deposit bonus up to $1,000, with reload bonuses possible
Guts Poker chase race (up to 18%)
How Important is Rakeback?
Rakeback is a critical addition to your poker winnings. Rakeback is only 100% sure income you will get from playing poker. While you can approximate how much you will make playing poker when you account in your poker winnings, that numbers vary greatly. It's because of variance. Handling variance is often a determining factor if you can be a professional poker player or not. There will be times when you will run lousy period! Knowing that getting rakeback is only guaranteed fixed income you will make, can help you calm your nerves. Furthermore, it can be the deciding factor in making the plunge to play full time.
Every professional poker player loves having great RB deals. Higher the better. Newer players often don't care about rakeback. But to a seasonal professional poker player, rakeback is essential. Look at my winrate playing full ring games on poker stars. Now account into that I was supernova VIP level (2/3 way to supernova elite actually). At that time, the supernova was worth around 40% RB. It was before the PokerStars ultimately reduced their rakeback system. Such good RB doubled my winrate! So instead of making $12.5 per hour playing micro stakes, my hourly winrate was around $25. Even if I were to lose money for a month, I would still take home $12.5. This was double my average country's income at the time.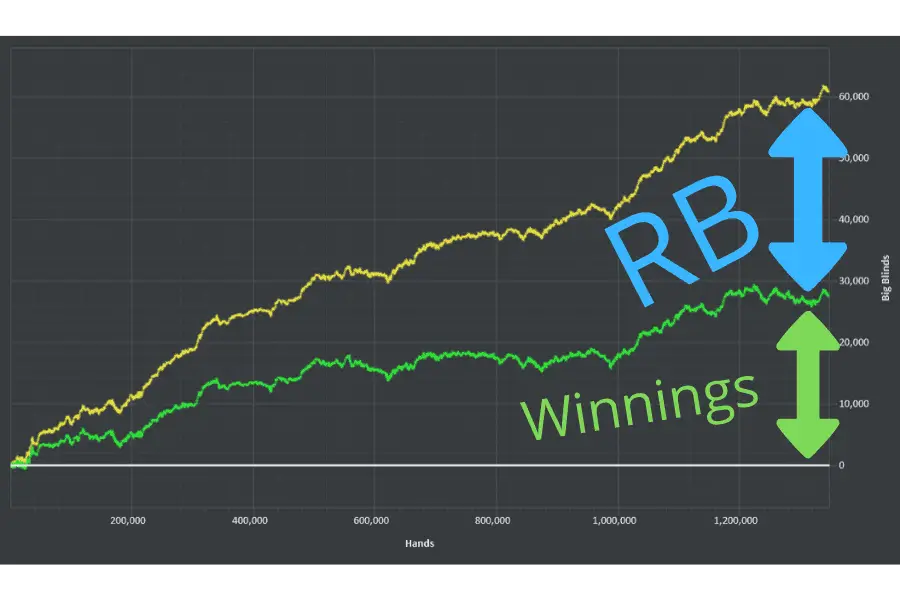 It is a good thing that playing on PokerStars wasn't allowed in my country anymore. I was forced to move to other online poker sites. Now I am most often playing where I get 50%+ in rakeback. This means that for every $100 of rake I pay, I receive at least $50 back. If I ever play on the poker site that has less than 50% RB today, it means that bad players playing there make up for it. As hard as is to believe, I used to play 24 tables on PokerStars. I went for the volume and didn't bother if tables were full of professional players, or players looking to have some fun.
Moving away from PokerStars has contributed to me getting smarter in that regard. Now I play a maximum of up to 6 tables. And table select a lot. I intentionally look for players on whose I have a more significant skill advantage. Two huge factors that improve your winrate the most are:
Many weak players on your tables
Bigger rakeback deal
A combination of those two adds up in your poker winnings. It doesn't just improve your winrate. It can also make a difference between a losing and a winning player.
Rakeback On Micro Stakes
On micro stakes, the RB is most important. On the smallest stakes is where good rakeback deal matters the most. It is no secret that micro stakes have the highest rake. Having a good rakeback deal ensures what every serious poker player wants: to move up to higher limits.
Often rake on micro levels will be around 10bb/100 hands. This means that if you play NL50, for every 200 hands you play, you will need to pay $10 in rake! Wouldn't it be nice if you could receive $5 back? If you play full time, this rakeback can add up to $2500 in 30 days, if you were to play about 100000 hands. For many people, that is an excellent income already. This doesn't even account in how much you make from playing itself.
I am sure you want to move up in limits at micro stakes as soon as possible, and rakeback will help you greatly with that.
If you move up once you have 25 buyins for a higher level, then you could move up in stakes in a month! From nl50 to nl100. It is a high rakeback that will allow you to move up much sooner. I don't expect you to play 100k hands every month, but getting 5bb/100 hands of guaranteed income will most likely allow you to move up in stakes twice as fast (if your win at poker tables at 5bb/100).
Rakeback on Small (Low) Stakes
Rakeback does matter on small stakes also. Rake at low stakes is smaller now compared to micro stakes. But that doesn't mean that RB should now be neglected. It can very easily mean an extra $3000 per month if you play 150h per month. That is free guaranteed money that you might not get at all if you would be playing on a poker site that doesn't offer a rakeback deal.
Rakeback on Mid Stakes and High Stakes
On mid stakes and high stakes is where rakeback starts to matter less. Here far more critical is to find soft tables. On micro and small stakes, soft tables can be found anywhere. But for high stakes, you should be very selective where you play. Rake is now even lower and doesn't matter so much. Having a good RB deal will not turn you from losing to winning player like it would on small and micro stakes. Proper table selecting will be far more important.
Rakeback vs. Soft Tables, Which to go For?
Maybe you are presented with two options. Soft tables or a better rakeback deal. Which should you choose? Well, this firstly depends on which limits you intend to play and the amount of rake you pay. This is followed by how soft tables are together with the rakeback deal you have. On NL50 and higher, it will matter more how soft tables you can find with a few other factors. 
Keep in mind the following three factors when choosing where to play:
amount of rake paid
rakeback deal on the poker site
how soft are the tables you play on
The only thing that matters, in the end, is having the best hourly winrate, with as little stress when you run bad, as possible. Poker site having a very low rake, excellent rakeback deal, and softest tables is every poker player's dream. In reality, you will need to choose. The best combination you can find is playing on softest poker tables, where you would get a good rakeback deal. Followed by that is the softest tables and a smaller amount of rake paid. After that, it is the amount of rakeback you get.
Let me elaborate more on what I mean. On a table full of weak players, you should be crushing it despite the high rake and no rakeback. On a table full of regulars and having a good rakeback deal, together with the low rake, will not make your winrate skyrocket. On a softer table, while a great RB is essential, it is not a deal-breaker. As long as you play on a site with a low rake.
Counterintuitive as it sounds, I would prefer to pay slightly more rake and get a great rakeback deal. This would ensure me to get a high hourly income just from RB. Consequently, I would play better and increase my winrate, knowing I will make decent money no matter what. 
Remember to go for softest tables first, and try to get a solid RB there. If you play micro stakes, then good RB matters the most, as you can find very soft tables everywhere. On micro stakes, the rake is high across all the poker sites. Getting a decent chunk of what you pay back is a great way to move up in limits fast and not be stuck at one limit for too long.
What is Rakeback On Live Tables?
Rakeback on live tables depends a lot on where you play.  Many casinos and poker rooms offer loyalty levels, where you receive points for the amount of time you play. Unlike online, in live games, it is impossible to track how much rake you contributed. That is why casinos offer programs based on the amount of hours play.
For example, in my local casino, I would receive a coded chip, and every hour a guy would walk by and track all those chips of players. This is sort of their database to know how many hours each player is playing. Rarely, a casino would straight up give you money back for every hour that you play. It is the case here and there, but it is not often at all.
The most common rewards program is giving players free or a cheaper stay in a casino hotel room for every specific amount of hours played. Free or discounted food and drinks are also common. Some casinos go even further. If you play high enough, you might get a room for free during your stay beforehand.
Related Articles