Time after time, I say that the best way to start winning in poker is to have a strategy on how to play and stick with it. That is exactly what a Postflop Playbook is.
Postflop Playbook from Upswing Poker lays a solid foundation for newcomers on how to play correctly in 2023 and beyond. It is tailored for those dipping their toes into the poker pool for the first time.
Currently, it is priced at a mere $7, which means you can't expect detailed, in-depth strategies on how to beat poker: it's a basic strategy guide tailored for those new to the game.
The course simplifies the complex strategies required to clinch victories in poker, ensuring that even the most novice players can quickly grasp the fundamentals. However, seasoned players or those searching for a deeper dive into advanced techniques will want more.
That is why even, The Postflop Playbook recommends upgrading to the UPSWING LAB TRAINING COURSE once you are done with this course. In Upswing Lab training course you will find a more comprehensive and advanced training regime.
This becomes even more pertinent for those looking to conquer higher stakes—while the Postflop Playbook is apt for micro stakes, advancing beyond requires the meatier tactics and insights from their Upswing Lab.
So, whether you're a beginner seeking to understand the basics or an intermediate player ready to elevate your game, knowing where to start is key.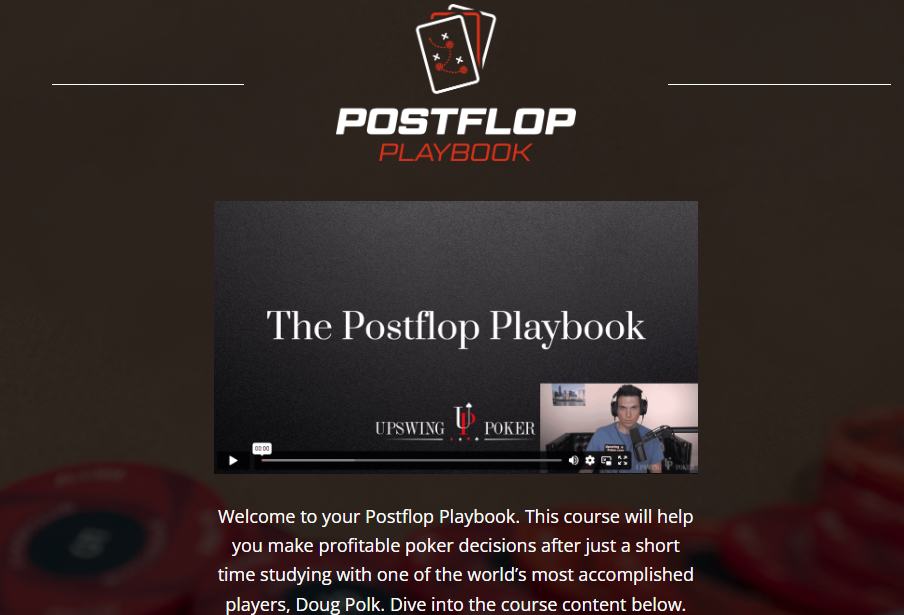 In a hurry? Here is a quick overview of the pros and cons of a Postflop Playbook course:
What Postflop playbook is:
short introductory course to poker strategies
suitable for complete beginners
a very cheap course
good for those that are losing money at micro stakes
Postflop Playbook is not a long poker course. It includes about 2 hours of content. But in that short period, it explains to you how each hand can fit into one of 4 different categories (both preflop and on all postflop streets).
This basic categorizing allows poker beginners to quickly grasp the basic winning strategies that work on micro stakes.
It is, however, very cheap ($7 at the writing of this course). And for this money, you can't expect to get an all-in-one, in-depth solution to crushing poker.
So if you are a complete beginner, have no solid strategy yet in poker, or are a losing micro stakes player (playing below NL10 – NL25), this course will be good for you.
What Postflop Playbook is not:
the course is not suited for intermediate and advanced poker players
it is not your ultimate poker course
it is not in-depth poker course
The Postflop playbook is not suited for players at least breakeven on NL25 and above. For that, I highly recommend jumping straight into Upswing's Poker Lab training course. You can find in-depth strategies for beating low, mid, and high stakes there (cash games and tournaments under the one single subscription).
The course is very simplistic and not meant as your only resource to poker strategy. Eventually, you will want to upgrade to what it could be your ultimate poker course.
Even if you are a losing player and playing above NL25, I wouldn't recommend this course. You are better off jumping straight into the Lab, which I consider the ultimate poker course as it teaches you different poker strategies – from tournaments to 6max cash games and more.
The strategies in the Postflop Playbook are intentionally simple and shallow. The course doesn't overcomplicate and delivers a basic strategy working well on micro stakes.
How is the course structured?
The course has ten different lessons, including a Quiz to test your skills at the end.
It starts with an introduction to why the four category system makes sense.

Then, it continues with a decently in-depth explanation of each category. It also shows you a few of the examples for each category. In these lessons, you will also be given instructions on how to play each category of hands.

As no system is perfect, the same holds true for the 4-category system. That is why the next lesson explains the shortcomings of such system.

After that, you will be given some hand examples and quizzes.

The next lesson is about 3bet pots. Sadly, it mentions them only very briefly.

The course also touches on the very basics of solvers in poker and gives you an example and explanation for one.

The course finally ends with 45 minutes of play and explain on NL25. Explanation is done by the owner, Doug Polk himself. personally, I found this part the most beneficial, as one thing is theory and another thing is seeing how the course works in action.
USEFUL INFO: You will not find a preflop hand chart in this course. However, you can download Upswing Poker's preflop hand chart inside of the My Resources area. Check the image below:
How each lesson is structured:
Each lesson starts with a video, and below the video, you have handy notes of the most important things mentioned in the video.
Testimonials
This course used to be called Postflop Game Plan, but it was recently updated for 2023, and a few lectures have been added. Both versions of the course are extremely popular and were purchased over 50,000 times.
Players with little free time, especially dads with young kids, love this course. Many players also mention how it is excellent for refreshing core concepts and for players new to poker. 
It is also a good course for those who are often lost postflop.
Players also mention that it works for both online and live cash games.
Final Thoughts
Postflop Playbook is an introductory poker course. It is meant to be your first poker course. And it does its job well. It doesn't overcomplicate and keeps things simple.
This basic strategy makes it easy to understand if you are starting in poker. And that is very important. Many new poker players are afraid to learn a winning strategy because all the poker courses are so complicated and go well beyond the understanding of a new poker player. But Postflop Playbook keeps things simple and, at the same time, give you a solid winning strategy that even poker beginners can understand.
But if you already have some poker experience or are playing above NL25, then I highly recommend Upswing's Poker Lab training course. I am a member there myself, and strategies go properly in-depth to give you all the tools necessary to get good enough to beat higher stakes.
FREQUENTLY ASKED QUESTIONS:
How much does the Postflop Playbook cost?
It costs $7.
Who is the course suited for?
The course is suited for poker beginners and players that are losing on microstakes.
What if you are unhappy with the course?
Upswing Poker has an "All-in" satisfaction guarantee. If you are not satisfied for any reason, you let them know within 30 days, and they will refund your investment, no questions asked.
Is it only for No Limit Hold'em cash games?
The course works for No Limit Hold'em cash games, tournaments, and sit&gos. It does work best in normal and deep-stacked (100 bb and above) games, though, so this strategy won't work as well in the later stages of tournaments.