Apart from the lure of a promising bank account, another reason people want to become professional poker players is fame. Depending on how well you know poker world, the name Dan Jungleman Cates may ring a bell. In this article, we'll be looking at who Dan is and how well he's done for himself in his career so far.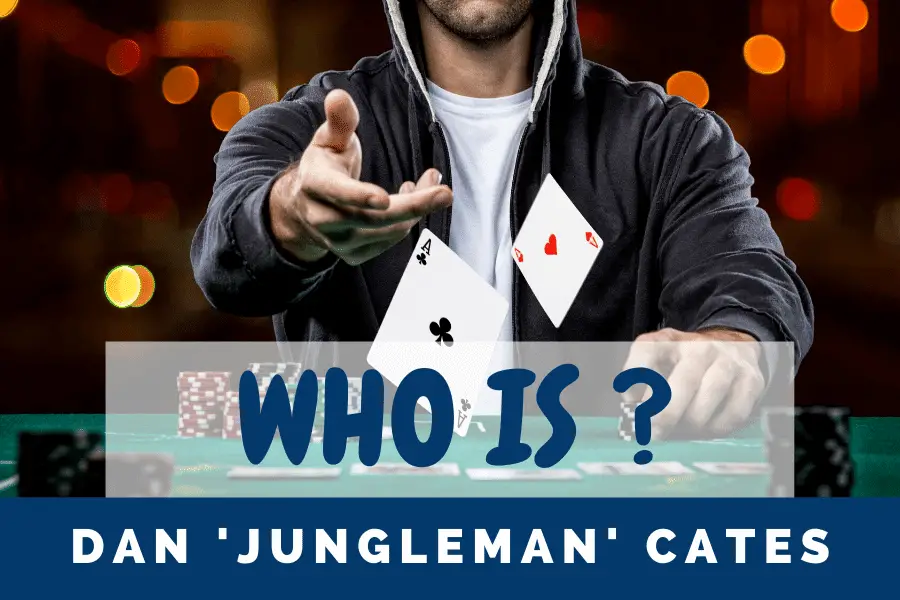 Who is Dan 'Jungleman' Cates? Dane Jungleman Cates is an American professional poker player who is famous for his success in online poker, live tournaments, and heads up cash games. He got the nickname "Jungleman" from his screen name when he first started playing on Full Tilt Poker.
The good thing about the rich and famous pro poker players out there is that they started from somewhere. Most of these guys went from basically nothing to raking in 6, 7 figures on a regular.
Jungleman Cates is one such player, and his story is a true inspiration to up and coming players today.
How did Jungleman Cates Become so Successful and Good at Poker?
We all know Cates as a successful poker player who is good at what he does, how exactly did he get there? Before I go into all that detail, let's dive into his background a bit. Dan Jungleman Cates was born in  Bowie, Maryland. He was already playing poker at age 17, and he wasn't very good at it.
Cates took a job at Macdonald's to support his bankroll when he wasn't winning much.
While learning to play poker, Cates was obsessed with video games and wasn't very sociable. He studied Economics at the University of Maryland for a college degree. While in college, he played No-limit Texas Holdem for $0.25/$0.50 in local casinos and online poker sites. His success story began after he adopted the "reverse game selection."
With this strategy, he was able to study the weaknesses and techniques of his opponents and formulate strategies to beat them at their own game.  When asked by Bluff magazine, Dan Jungleman said he became good at poker by watching videos and reading books. He also claimed he played poker for roughly 4 hours every day to master the techniques.
When Dan was sure he was making enough from poker, he decided to drop out of school to focus on his poker career. With more time in his hands, Jungleman was able to participate in more live tournaments and online cash games.
How Much is Jungleman Worth
Jungleman Cates has made a sizeable amount of money in his career so far. His net worth is estimated to be around the $20 million mark.
Let's take a look at how well he's been doing in the various tournaments he's involved in.
World Series of Poker
For a player who is so successful, it's a bit of a surprise that Jungleman hasn't had much success in a tournament as big as the WSOP. In fact, he has only cashed out once at the tournament, and that was a mere $15,000 payout.
Live Tournaments
Jungleman has estimated earnings of about $6,089,034 in live tournaments. He has got a few big winnings in high stake games that has helped boost his total earnings. His first notable success in live tournaments came in 2012 when he finished 12th place at a $1,500 buy-in PokerStars Caribbean Adventure event. He won $9,085.
He claimed his first 6 figure win in 2012, after coming 2nd place in an $8,750 buy-in PartyPoker Premier League Vienna championship. He earned a total of $300,000 in that tournament. His most significant live tournament earnings came in 2014 when he claimed $1,774,145 in a European Poker Tour Super High Roller €100,000 buy-in tournament.
| | |
| --- | --- |
| Description | Earnings |
| Live tournament earnings so far | $6 million |
| profit in Cash Games in 2010 | $5 million |
| FullTilt Poker earnings 2009 – 2015 | $10 million |
| Biggest single pot won online (PLO) | $375,944 |
Online Poker
Heads up online cash poker duels are what Jungleman is known for. He earned raved reviews and became the envy of all eyes in 2010 when he amassed the biggest total online poker earning in 2010. In total, he earned $5.5 million after playing 145,215 hands.
 He has also raked in about $10 million in Full Tilt Poker. That amount was earned over 6 years between 2009 and 2015. His favorite game online is PLO, and he got his most significant win against Patrik Antonius, claiming a $375,944 pot. He also had a Pokerstars account and has won about $895,834 in that account too.
Is Jungleman autistic
Because of his success in the game and some noticeable behavioral pattern, it's been speculated around the poker world that Jungleman may be autistic. There's even talk that he has a mild form of autism, possibly Aspergers.
From all indications, Jungleman does not have autism. This rumor probably originated from another rumor that people with autism are usually good at poker. Jungleman may be smart, successful, and with a bit of a temper, he's by no means autistic.
Is Jungleman broke
In 2010, Jungleman lost a significant chunk of his bankroll. It was a difficult period for the American born poker player with the spotlight firmly on him. Luckily, he has been able to rebuild his bankroll and is as rich as ever.
To be clear, Jungleman was never broke. He just went through a period where he lost a lot of money. This happens to other pros as well. The most important thing is that Jungle man was able to rise above the darkness that surrounded him during that period.
Is Jungleman a Fish
In case you don't know, a fish is a poker player who is not so good at the game. As such, this player loses a lot of money. While Jungleman has lost a considerable amount of money during his career, he's by no means a fish. He has won several tournaments and earned an insane amount of money in online poker. It's practically impossible for a fish to enjoy that kind of success.
To prove his worth, Jungleman has since recovered from his losses and is back to winning again.
Another significant loss in Jungleman's career that sparked the poker fish talk was when he lost to Phil Hellmuth in a heads-up tournament by Poker Night in America. With $200k on the line, Jungleman went head to head with Hellmuth in the final and was the overwhelming favorite.
While Hellmuth was well known for his massive success at the WSOP, Jungleman had a fearsome heads-up history on his side. To everyone's surprise, Hellmuth took Jungleman to the cleaners.
How old is Jungleman
Jungleman was born on the 14 of November 1989. This means he's 33 years old right now in 2023. It would also mean that he has been playing poker for about 13 years now.
Is Jungleman Married?
Jungleman is single. While it's understood that he has dated a few women, Jungleman isn't exactly open with his private life and has tried to keep his life that way. With his bank account growing bigger by the day, maybe Jungleman is finally ready to commit.
Conclusion
Dan Jungleman Cates is a successful poker player who is famed for his poker skills and huge winnings. In his career so far, the American born 33-year-old has shown that he's one of the best poker players in the world.
Although he's an incredible player, Jungleman has also faced some trying times that threatened his reputation and finances. Thankfully, he has so far been able to glide through the tough times in style.
Jungleman's life is a good model for aspiring poker players who are dreaming of making it big in the game. His grass to grace story has inspired many to take the bull by the horns and get started on a lifelong journey of excitement and money-spinning challenges.
Related Links