Poker is probably the most recognizable card game in the U.S., but many of us believe that we can't play it legally. That's because of the misleading statements from lawmakers that only add up to the growing confusion with the laws that relate to playing online poker.
Aside from a site that operates legally, you also need to be in a state that doesn't prohibit online gambling. Today, only Washington State goes after individuals engaged in online poker. The best poker sites legal in 49 of 50 U.S. states include Bovada, Global Poker, Ignition Casino, etc.
It's not as simple as logging into these websites to start playing poker, though. Certain restrictions apply to individual players, which are in place to protect you from fraudulent gambling operators. We'll discuss all of these in great detail to help you find the best poker sites where you can play legally and safely.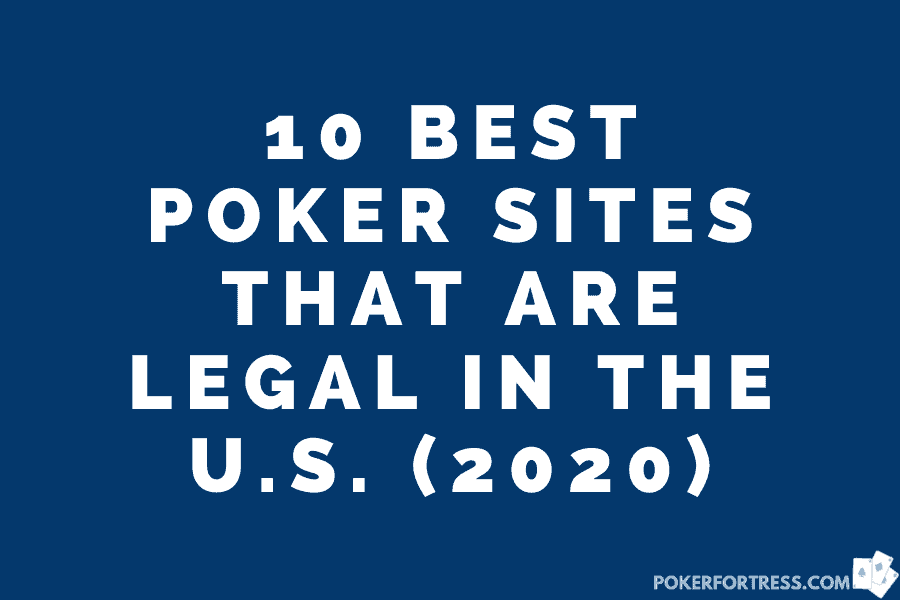 Playing Online Poker in the U.S. Legally
Online poker was a widespread and booming market before the Unlawful Internet Gambling Enforcement Act was passed in 2006. It was a law that further strengthened the 1961 Federal Wire Act, which only aimed to stop interstate gambling and organized crime. Many online poker sites left the U.S. market right after this law, leaving a significant gap in the number of options that U.S. citizens had when it comes to playing online poker.
A handful of large operators, including PokerStars, Full Tilt Poker, and Cereus Poker Network (Absolute Poker and Ultimate Bet), continued to operate and saw tremendous growth of players. However, in 2011, the DOJ forced all of these poker sites out of the country. Today, we now know it as the "Black Friday" or the United States v. Scheinberg.
The Black Friday of Online Poker
The Black Friday brought the U.S. online poker industry to its knees and revealed several flaws in online poker sites—mainly with their liquidity. As soon as the case started, players all over the country withdrew hundreds of millions from their accounts. That happened even before a ruling came out, due to fear that these websites might shut down.
PokerStars was able to pay all of its U.S. customers within two weeks, which had the best outcome of all three. Full Tilt Poker players had to wait over two years to receive their money, which raised concerns about the poker site's liquidity. It was only able to send out the balances via remission from the U.S. government and only happened because PokerStars bailed out Full Tilt Poker from potential bankruptcy.
That's a stroke of luck for the players on both platforms, but those who played online poker with Cereus Poker Network never received their balances. The Black Friday incident is why a lot of people are too vigilant when signing up on online poker sites.
Playing Online Poker Safely… and Legally
Since the legality of playing online poker depends on individual states, it can be challenging and confusing to figure out whether you're allowed to play online or not. So to understand what it even means to play online poker safely and legally in the U.S., we have to categorize each state into three:
States that prohibit any form of online gambling
States that allow and regulate online gambling
States that neither allow nor prohibit online gambling
If you're living in the U.S., there's currently no law that goes after online poker players. As of 2020, only one state, out of the 50 U.S. states, has a law that goes after individuals engaged in online gambling—Washington.
Delaware, Michigan, Nevada, New Jersey, Pennsylvania, and West Virginia have all legalized online gambling businesses. These states are where regulated poker sites are based, but most of them only accept players from the states where they're based. New Jersey was the first to adapt and currently hosts most of the online poker sites in the U.S.
As for the remaining states, there's really no law that goes after the act of playing online poker. Instead, their laws target businesses that are operating within their jurisdiction. So if you're in one of the states that we didn't mention, it's still possible for you to legally play online poker.
However, since you're participating in transactions that are outside the jurisdiction of your state, your safety will depend on the reputation of the site. Although no law prohibits you from participating in online gambling, there's nothing that protects you whenever a fraudulent transaction occurs.
Best Regulated Poker Sites in the U.S.
There are only a handful of poker sites that legally operate in the U.S. Being legal means that the company is paying taxes to the U.S. government, has acquired the license to operate, and follows the regulations that states impose on online gambling operators. In order words, a regulated poker site is the safest place for someone in the U.S. to play online poker.
However, since these companies have learned from the Black Friday incident, they're staying out of the "gray area" and only accept members from states where they operate. 
If you're not from Delaware, Nevada, New Jersey, and Pennsylvania, it would be best to look at unregulated poker sites where you can still play legally. 
WSOP is a household name when it comes to poker. It hosts some of the biggest poker tournaments in the world. It's also the biggest poker site that operates in the U.S., pooling its players from Delaware, Nevada, and New Jersey.
Aside from having the most significant number of U.S. players, WSOP also offers $10 for free to anyone who registers in their system. You'll receive 100% of the initial deposit amount up to $1000 and be part of the Welcome Week Freeroll, where you can get seats in up to seven different $100 freerolls.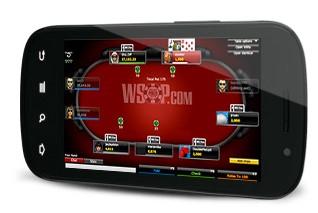 The $1000 bonus will not be released upon your deposit, though. There's a stair-step ladder that you have to achieve before WSOP releases your bonus. You'll earn APP (Action Player Points) at a rate of 1 point for every $0.50 that you spend on rake and points. Here's the conditional release for your deposit bonus:
You'll get your first $1 to $10 bonus at a rate of $1 per 10 APPs.
You'll get your next $40 at a rate of $5 per 50 APPs.
The system will release the rest of your bonus at a rate of $10 per 100 APPs.
You'll receive your full $1,000 bonus as soon as you earned 10,000 APP, which is $5,000 worth of rake and fees. So if you're planning on making a large initial deposit, WSOP.com can give you one of the best deals with its 20% Rakeback or cashback.
888 Poker is another huge player in the U.S. online poker but only currently serves residents of New Jersey. Despite having a lower number of players than the pool of players that WSOP has, it still gets enough traction to be on this spot. That's mainly because of its partnership with WSOP in New Jersey, and a much higher signup bonus.
Upon registration, you'll receive $20 without making any deposit. You'll also be eligible for the Welcome Bonus that matches 100% of your initial deposit up to $1500. The accumulation is the same with WSOP; you'll get 1 B.P. (Bonus Points) for every $0.50 that you spend on tournament fees. However, it's easier to keep track of your bonus with 888 Poker because there are no stair-steps, and you'll get your bonus at a rate of $10 for every 100 BPs.
You can earn up to 15,000 BPs and receive a $10 cashback for every 100 points, effectively giving you back 20% of all the tournament fees that you've paid. If you're from New Jersey and wouldn't mind having a slightly lower number of players, then it's one of the best poker sites where you can play poker legally. 
PokerStars may be the most popular and go-to poker site around the world, but it took a beating with its U.S. market share after the Black Friday. It only got its foothold back in the U.S. in 2016 through the legalization of online gambling in New Jersey.
It currently has the largest reach in terms of poker players, with Pennsylvania and New Jersey, but it doesn't share the pool of players between two states. There's also a rumored signing of Pennsylvania to the Multi-State Internet Gaming Agreement (MSIGA), together with Delaware, New Jersey, and Nevada. So, it's only a matter of time before PokerStars can get hold of the biggest market share in the U.S. online gambling industry.
It also has its fair share of bonuses for new members, including the following:
Use the promo code WELCOME1 and deposit at least $25 to get a 100% initial deposit bonus, capped at $250, and 20 free spins.
Use the promo code WELCOME2 on your second deposit worth $25 and up, to get another 100% deposit bonus, capped at $250, and up to 1000 free spins.
Use the promo code WELCOME3 for your third 100% bonus, from $25 to $250, and another chance to win up to 1,000 free spins. 
Through a partnership with Borgata Hotel Casino & Spa, PalaPoker was able to gain a strong foothold in the New Jersey online gambling market. They're also the operator of Pala Casino and Spa resort in California, which has been in the business since 2001. Despite its solid background in the casino business, PalaPoker is squeezing itself into a highly competitive New Jersey market, with only a population of close to 9 million.
There aren't many players logging into the site to play poker, but it has all the legal requirements needed to operate in the state. Once you register your account, the system will ask you for your Social Security Number, which could be alarming at first, but it's for the assurance that non-U.S. citizens won't be able to get into the platform to play.
There are three promotions currently running for PalaPoker, which includes the following:
A signup bonus of $25 with no deposit required.
Free spins for a chance to win up to $1,000,000
100% bonus from your initial deposit with a release rate of $5 for every 1,250 S.P. (Status Points). You'll earn 50 S.P. for every $1 you spend on rake and tournament fees. 
PartyPoker started its operation through a partnership deal between PartyPoker and Borgata Hotel Casino & Spa. After buying Borgata Casino in 2017, MGM launched its online gambling platform under the brand BetMGM. Today, PartyPoker is operating through three different websites: 
Although they run through different websites, they share the same number of players and offer the same promotions. It was also one of the first two online poker sites to operate in New Jersey legally. With the backing of one of the most recognizable casinos in the U.S., it has become one of the safest sites where you can play poker online.
PartyPoker NJ Promotions
There are two bonuses that you can get from PartyPoker. The first is their $25 no-deposit bonus upon sign up and account verification. Here's what you'll get from them after your registration:
$10 for cash games and fast-fold games
$10 for casino games and jackpot slots
$5 for big money tournaments
You'll also get a 100% bonus that matches your initial deposit of up to $1000. Instead of a stair-step, PartyPoker will release your bonus in ten equal parts. So if you deposit $100, they'll release your bonus in $10 increments until you reach your $100 bonus. A deposit of $900 means that you'll get your bonus in $90 increments.
You'll earn your bonus at a rate of $1 for every 4 VIP points that you accumulate, and you earn 1 VIP point for every $0.50 you spend in rake and tournament fees. 
Bet MGM Promotions
Like PartyPoker NJ, you'll also get a signup bonus of $25 after verifying your account. The bonus consists of the following:
$10 for cash games
$15 for tournament play
Their 100% matching bonus is perhaps the best that you can find online, with a 27.5% Rakeback rate. The system matches your initial deposit up to $1000, and they'll release it at a rate of $1 for every 20 iRewards points. Every dollar that you spend in fees and rakes earns you 5.5 iRewards points, making it the best bang for the buck deal in terms of signup bonuses.
BorgataPoker Promotions
BorgataPoker has the smallest signup bonus of all the three websites under the PartyPoker network with only a $20 signup bonus and a 100% matching bonus for your initial deposit up to $600. The process of earning your bonuses is similar to PartyPoker NJ, but with a smaller bonus cap. All three websites share the same pool of players, so if you're planning to deposit more than $600 for your initial deposit, you're better off with either PartyPoker NJ or BetMGM.
Pros and Cons of Regulated Poker Sites
Regulated poker sites are your best options when looking for a site where you can play safely. However, you have to be in a state where they legally operate because, right now, these poker sites have minimal reach and offerings for U.S. poker players.
Here's a table that summarizes the pros and cons of using regulated poker sites:
| | |
| --- | --- |
| Pros | Cons |
| 100% protection from fraud | Less players and only within the state |
| Taxes go straight to the U.S. government | Less game selection while waiting |
| Faster, hassle-free deposit and withdrawal | Slightly lower deposit bonuses |
Pros and cons of regulated poker sites.
Best Unregulated Poker Sites in the U.S.
If you're not from one of the states where regulated poker sites operate, you can still play poker legally—unless you're from Washington State. However, these websites operate offshore and are outside the jurisdictions of the U.S. government, so there's really no way to protect yourself from fraudulent transactions other than to pick the best of the bunch.
Lucky for you, we've done the research and compiled the best and safest online poker sites where you can play poker legally. This list includes the most prominent platforms with the most number of payment options available and a more extensive collection of games that you can play. 
It operates with the license from MGA (Malta Gaming Authority) and has been in business since 2004. It's currently ranked as the #1 most popular poker site in the U.S. because of its responsive gaming platform that you can play on your computer, tablet, or mobile phone. It's one of the biggest poker sites, and if you're looking for some real competition, you'll find some of the best online poker players playing in Bovada.
If anonymity is a huge concern for you, Bovada should be on top of your list. It has anonymous tables where you can play without revealing your identity. You can also anonymously deposit and withdraw your money through various cryptocurrencies that it supports.
Aside from the 100% initial deposit bonus of up to $500, Bovada Poker also runs promotions for Bad Beat bonus up to $1000, a royal flush bonus, and new members automatically become eligible for the $100K New Player Qualifier. Aside from all of these, there are also seasonal tournaments for poker players, including the Black Diamond Poker Open, King of the Felt, and $15K Monthly Freerolls. 
If you're worried about your location, then Global Poker is one of the best poker sites you can play. It's open and legal in every U.S. state, except for Washington, and is the only poker site that can deposit money directly to your bank account. It also has a license from MGA (Malta Gaming Authority). Malta is one of the countries with the strictest protocols for regulating online gambling sites.
It only ranks #5 in the United States, but it has the biggest pool of players worldwide. You may even find it rewarding to play with because the tables are, based on our experience, full of rookies. With enough experience, it's one of the sites where you can make a lot of money playing online poker.
There are no complicated bonuses for you to worry about when you sign up with Global Poker. After verifying your account, you'll receive a $20 no-deposit bonus and 1000 SC freerolls. Sure, there are no matching bonuses when you sign up on their platform, but what you're getting in return is a massive pool of players that never sleeps. 
Ignition Casino is relatively new in the online casino industry and has only started in 2016, but it already has a strong foothold in the U.S. market. If you prefer to play using cryptocurrencies, Ignition Casino has the fastest confirmation time for Bitcoin, Bitcoin Cash, and Bitcoin S.V. deposits. They're also the quickest to send payouts, with Bitcoin transactions completed in under 6 hours.
The only downside to playing with Ignition Casino is that it still doesn't have an official license to operate in Costa Rica. It runs under the PaiWangLuo (PWL) network and shares its pool of players with other websites. There are also some rumors that Ignition Casino operates under Bovada.
It offers new players a 100% initial deposit bonus of up to $1000 for poker, and another 100% up to $1000 for other casino games. There are no no-deposit signup bonuses, but it remains one of the most popular poker sites for U.S. players who don't have access to regulated poker sites. 
BetOnline
If you're an avid Ethereum or Litecoin user, then BetOnline is one of the best ways for you to play poker legally. It has been in the business since 2011 and is currently #3 in terms of U.S. traffic. In fact, this poker site is busy up to their highest blinds of $5/$10, which is impressive and unmatched by any online poker platforms.
It's operating in Panama City with a license from the Panama Gaming Commission but is open to all U.S. players except those from Washington State. It has one of the most payment options available, including Bitcoin, Ethereum, Litecoin, Visa, Mastercard, Skrill, Neteller, Wire Transfer, and even Cash Transfer.
New members can enjoy a signup bonus that matches your initial deposit for up to $1000. However, you won't get it automatically, and you still need to email poker@betonline.ag, then use "BetOnline Poker bonus code FISH200" as the email subject, then your account username in the body. Your BetOnline poker account will get the bonus within 48 hours, and you'll have up to 120 days to spend all of it. 
They're not #1 in the U.S. as they claim on their website, but a smidge lower at #2 based on their U.S. traffic and #5 for real-money players. They're also one of the oldest online poker sites, having started in 2001. Americas Cardroom operates under the Winning Poker Network, which has a massive pool of online poker players.
Americas Cardroom operates in Costa Rica with a license to operate from the Cyprus Gaming Authority. Despite the discrepancy in their license and location, it's still the preferred poker site for many cryptocurrency users. If you're planning on using cryptocurrencies to play poker, Americas Cardroom can provide you with the most lucrative promotions for your deposits.
They're offering a 200% matching bonus for up to $1000 if you use Bitcoin, Bitcoin Cash, Ethereum, Litecoin, Dash, etc. in making your deposits. If you use Visa, Mastercard, Ria, Western Union, and MoneyGram for your deposits, you'll be eligible for a 100% matching bonus up to $1000 for your initial deposit.
Pros and Cons of Unregulated Poker Sites
Unregulated sites may not have any form of protection from fraud, but these websites are the most trusted sites for years and are some of the most popular amongst poker players. With their robust security system, you can expect to have the best online security for your online account.
If you want to play online poker and live in states where regulated poker sites don't operate, you can opt to the websites we shared above. Here are some of the pros and cons you can get from unregulated poker sites:
| | |
| --- | --- |
| Pros | Cons |
| Available for players all over the world | Zero Fraud Protection |
| Slightly better signup and weekly bonuses | Taxes aren't going to the U.S. |
| More game selection | Withdrawal of funds may take longer. |
Pros and cons from unregulated poker sites.
Conclusion
Playing online poker is legal for almost everyone in the United States. Right now, online Washington State goes after individuals who are participating in online gambling. Here are the top 5 regulated poker sites that you can get into if you're looking for the best and safest regulated poker sites in the U.S.:
WSOP (Delaware, Nevada, and New Jersey)
888 Poker (New Jersey) 
PokerStars (Pennsylvania and New Jersey)
PalaPoker (New Jersey)
PartyPoker (New Jersey)
If any of these websites don't operate in your area, you can still sign up in unregulated poker sites. You only need to pick the best of all the platforms available. Here are the five best poker sites that you can legally access even if you're in the U.S.:
Bovada Online Poker
Global Poker
Ignition Casino
BetOnline
Americas Cardroom
Related Articles