Ludwig or Lud, for his "Twitch bros," is one of the most entertaining poker streamers to watch. If you're trying to set up a poker match with your friends or play poker with real money, then he's got some of the best poker sites you can use.
Ludwig Ahgren uses 2 poker sites whenever he's live-streaming: Poker Now, a casual instant-play site that allows you to play with friends, and Americas Cardroom, one of the biggest real-money poker sites in the world. Both are great for varying formats, and you can access them on mobile or desktop.
These sites may have sponsored Ludwig's streams, so before you hop into these poker platforms, it would be best to learn more about them. We'll discuss both poker sites in great detail, including the perks and perils of using each of them for your games.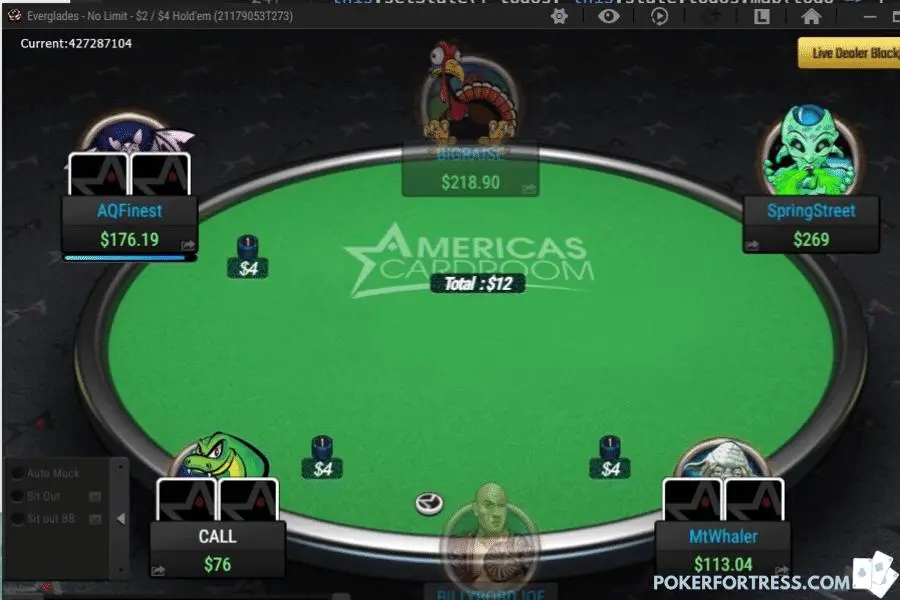 Poker Now in a Glance
Poker Now is a non-profit poker app that allows you to create, host, and share your poker games with your friends. There's no money involved and is the perfect site for you to test how your skills stack up against your friends. You can even join other people's tables for casual SNG tournaments, but there's also no money involved.
You don't have to download anything, and there are no complicated controls that you have to figure out to play. You also don't have to pay for any fees for hosting your games. Poker Now uses the Mersenne Twister algorithm with a sequence of random seeds to shuffle the decks. Despite its relatively basic design, it'll always be fair for all players.
If you're only looking for a site that allows you to play online poker with friends or other people, Poker Now, is, perhaps, the most accessible, lightest, and fastest poker site that you can try.
If maybe playing for play money is not for you, and you prefer to get a taste of real money tables, then I have this extensive guide for you. It goes in detail where it is best to play if you are from the U.S.
Perks of Poker Now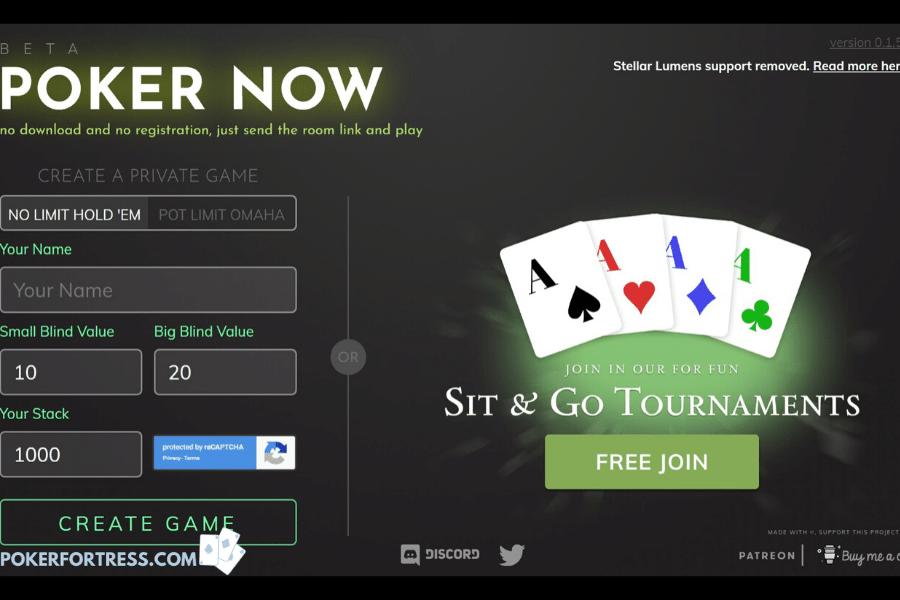 Poker Now, a non-profit poker app, is surprisingly packed with features that enhance your gaming experience. It's a perpetually evolving technology that, as of April 2020, has peaked 9,600 online players with 1,000 games running simultaneously! Aside from their robust platform, here are other features that you can get from using Poker Now:
You're not required to download, register, or log in to play. You only need to visit their website, and you can already play it directly on your browser. It works well on your computer and mobile phone, so it's easier for your friends to join your games.

Easily customize table rules according to your liking. As the host, you can adjust the rules and customize several facets of the game, including changing the decision time, and initial stack for players.

Join other people's Sit & Go tournaments for a quick game. You don't have to wait for your friends to respond to your invites. If you're in a hurry, you can join any public table for a quick poker match.

You can choose between No-Limit Hold'em or Pot-Limit Omaha. It's a site dedicated to playing poker with no other games available. But they made a wise decision to allow players to choose between two of the most popular poker variations that people prefer to play.
Perils of Poker Now
Like other poker sites, Poker Now also has its fair share of perils that you may encounter whenever you start using their platform. Here are some of the things that may change your mind about using it for your poker games:
A limited number of players. Poker Now is still in its beta phase, so they don't have as many players as you might expect. However, if you manage to visit their website during peak hours, you can play with around 10,000 players around the world.

Slow to roll out upgrades, updates, and fixes. Since it's a non-profit platform that only aims to fill the gap for casual players looking for quick games, upgrades and updates on the system and bug fixes aren't a priority.

No support for money games. The developer of this platform clearly stated that they don't have any intention to engage with real money games at the moment. However, this stance could change once the platform gains more traction from poker players.

Solely for poker games. If you're looking for an all-in-one gaming website, then this platform isn't for you. Poker Now only supports poker games with only two variations available to players.
Americas Cardroom in a Glance
After spending some time roaming around Poker Now, Ludwig switched to Americas Cardroom to play poker. It's not clear whether they sponsored him to play on this platform, but it's the site that he uses when playing poker with real money and tournaments.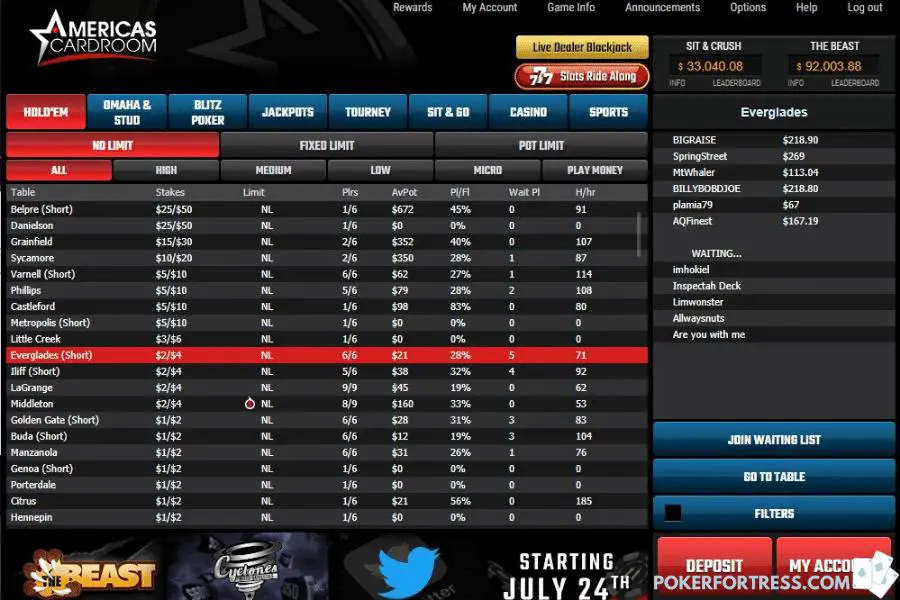 Americas Cardroom is the #2 most popular website for U.S. players and #5 for real-money players. This poker site is a member of the Winning Poker Network (WNP) and has been in operation since 2001! It's legal for U.S. players to use their platform, but they have one of the highest withdrawal fees compared with other poker sites.
If you want to play poker with real money, Americas Cardroom is one of the best platforms that you can use. It's also one of the oldest poker sites that still operates today, and has an active license from the Cyprus Gaming Authority.
Perks of Americas Cardroom
As one of the most popular poker sites globally, Americas Cardroom should have the best features in the industry. Here are some of the perks that you can enjoy from using their platform to play poker with real money:
You can play games on their native mobile app. Some poker sites only released mobile apps on top of their website, which may not run smoothly on your phone. Americas Cardroom has its native mobile app, a stripped-down version of its website, which allows you to play games smoothly.

They have one of the biggest collections of games available. Americas Cardroom allows its members to play poker, bet on sports, and play casino games—all with real money.

Multiple payment processors for deposits and withdrawals. One of the challenges when playing poker with real money is the process of deposit and withdrawal. But Americas Cardroom supports several payment processors, including Bitcoin, Bitcoin Cash, Ethereum, Litecoin, Dash, Visa, Mastercard, Ria, Western Union, and MoneyGram.

Get to play with poker players around the world. With their massive pool of players from different countries, there's no waiting time to find your table. You can already start playing as soon as you log in.
Perils of Americas Cardroom
Since Americas Cardroom deals with real money, it's more prone to fraudulent transactions and other issues associated with cash. Aside from that, here are other problems that you may encounter when you decide to use Americas Cardroom:
0% fraud protection for U.S. players. Americas Cardroom is based in Costa Rica and operates with a license from the Cyprus Gaming Authority, both of which are outside the jurisdiction of the U.S. government. So U.S. players don't have any form of protection from fraud or an added security level for their account.

High withdrawal fees that may take days to complete. The high withdrawal fee is one of the reasons why it turns some poker players off. However, it's only the case if you were to withdraw small amounts from your account frequently. Transferring from your account to your bank may take 1 to 3 days, which still has huge room for improvement.

Minimal traffic outside of their poker platform. Americas Cardroom is excellent if you are playing poker, but other than that, there are very few players that access their games. Their traffic is minimal, and you may even log in without anyone playing in the casino or betting in sports.

Off-limits to residents from Delaware, Louisiana, Kentucky, Maryland, Nevada, New Jersey, and Washington State. If you're from a state that has explicitly legalized or banned online gambling, then you won't be able to use their platform to play poker.
Conclusion
Ludwig uses Poker Now and Americas Cardroom because both are great options for playing poker. These sites cater to different types of poker games that you want to play. Poker Now is excellent for quick, casual poker games, while Americas Cardroom is one of the best for playing with real money.
Although they're also associated with some disadvantages, these platforms are still two of the best options for you. You can even use both sites to practice playing poker and improve your game before you start playing with real money.
Related Articles