Did you know PokerStars is not the biggest poker platform anymore? It was overtaken by this popular network. Head here to get the best first deposit bonus. Games running all the time, great offers and on top of that plenty of juicy players with deep wallets :) .
Listening to digital audio can be difficult when it's talking about a visual game like poker. However, there are a handful of podcasts that do really well in conveying the message to teach you more about the game. So, of all the poker podcasts available, which are the ones that will really be beneficial for you as a player?
Red Chip Poker is the best poker podcast that you can tune into and is evident by over 2.5 million downloads. Thinking Poker and Smart Poker Study are other great resources with hundreds of episodes. The Rake is relatively new, but it has the backing of one of the best training sites—Run It Once.
These four podcasts are some of the best options, but others can also provide you with valuable resources. We'll discuss all of them in great detail and provide you with more information about why these podcasts will serve you well.
After three seasons and hundreds of episodes, Red Chip Poker podcast continues to be one of the best resources for poker enthusiasts. It has over 2,500,000 downloads on all of its broadcasts, covering a variety of topics, including high-level strategies and interviews with some of the best poker players and coaches.
Why Is Red Chip Poker the Best Poker Podcast?
Most of us remember when TwoPlusTwo announced that they're putting podcasts on hold because it puts a financial strain on the company. Red Chip Poker is in a very different position and will most likely keep pumping out interesting podcasts for years.
Its podcast is one of the many resources that Red Chip Poker produces, and they're running a profitable membership site that allows them to fund their podcast sessions. It's using these resources to attract people to their business, so their releases fit new and experienced players.
It also hosts various episodes that talk about different game formats, limits, and strategies that are fit for many people. We think that it's one of the best places that enthusiasts can visit when it comes to excellent information and up-to-date strategies that they can use for their games. 
What Can You Learn From Red Chip Poker?
There's a wide variety of topics that you can get from Red Chip Poker, but here's a quick summary of what we think will be interesting for you:
High-level strategies that you can use to crush the tables.
Overcoming the most common difficulties for poker players.
Interviews with celebrity players and coaches.
Taking your career from cash games to tournaments.
Discussions about poker's current events.
Poker is an ever-changing industry, but it has some exciting topic choices that remain relevant. If you're a poker enthusiast who wants to stay up-to-date with everything that's happening in the industry, you definitely need to subscribe to Red Chip Poker.
Thinking Poker has one of the biggest archives of podcasts today with over 330 episodes. We're putting it this high on the list because it has the most balanced topics that you can get from one channel. They're discussing strategies, lifestyle, news, gossip, interviews with celebrity players and coaches, and events that you won't hear from anyone.
Why Is Thinking Poker the Best Poker Podcast?
Thinking Poker is the quintessential podcast; they've been consistently releasing one episode every week since 2012. Some of the broadcasts that they released years ago were so valuable that it remains relevant and current.
Another reason why Thinking Poker is an excellent resource for enthusiasts is that they have the foresight to create evergreen topics. The majority of their releases provide the listeners with new insights that can help them improve their game. They even have episodes that allow you to discover hidden gems in the industry, most of which are from interviews with players and coaches who experienced it firsthand.
What Can You Learn From Thinking Poker?
With so many topics on this podcast, it can be overwhelming at times, especially if you're new to playing poker. Here's a quick summary of the things that you might find interesting:
Strategies that can help new and experienced players improve.
Current events, book reviews, and interviews that will be beneficial for enthusiasts.
Poker's history and how you can use it to become a better player.
A day in the life of professional poker players.
Interviews with celebrity players and coaches.
Whether you're new, intermediate, or professional, you'll find high-value content from Thinking Poker podcasts. They have some of the best broadcasts available for enthusiasts, and they did a great job of making their topics as evergreen as possible.
Sky Matsuhashi isn't a celebrity player that you'll always see at the felt. However, he has a massive contribution to the improvement of many poker players by managing the Smart Poker Study podcast. With over 300 episodes that started in 2016, Sky was able to create one of the best resources for poker players single-handedly.
Why Is Smart Poker Study the Best Poker Podcast?
Smart Poker Study earned this spot because it focuses on the things that new and intermediate players can do to improve. It discusses the fundamentals of the game, ensuring that anyone who has come across his broadcasts will be a step ahead of everyone else. Since it talks about poker's fundamentals, most of his releases are evergreen topics that can help anyone improve.
Many podcasts focus on topics that may not be interesting for new and intermediate players. However, Sky made it a point to build something that'll serve as a guide for beginners in developing habits, goals, and etiquette needed to become great players.
Smart Poker Study is an excellent resource for anyone who's starting to learn the game and wants to be on the right track to success.
What Can You Learn From Smart Poker Study?
Over the years, Smart Poker Study created an arsenal of broadcasts that are perfect for beginners. Still, it's also covering bits and pieces of information that are interesting for professional players. Here's a quick highlight of the things that you can expect from it:
Learn the right fundamentals of poker.
Strategies that beginners and intermediate players can actually use on the table.
Develop the right habits and set proper goals for playing poker.
Interviews with celebrity players and coaches.
Unbiased book, program, and product reviews.
If you're only starting to learn the basics of poker or want to become a professional, Smart Poker Study is the best podcast for you. It'll help you build the right skills, develop the right mindset, and understand the basics of poker that no other podcast can offer!
If you're a poker enthusiast and you've been looking for ways to improve as a player, you probably have heard of Phil Galfond. He's one of the most prominent poker coaches today through Run It Once. When he launched The Rake in November 2019, many were excited about the value that they can get from it.
Why Is The Rake the Best Poker Podcast?
The Rake only has over 40 episodes so far, but they have some of the best content in terms of random discussions, strategies, and releases. Most of the topics they're covering are about online games, the status of live poker games, and the lifestyle of players.
They're also releasing sensible reviews about trending products that you may have heard in forums. It's a very young platform with some of the most valuable insights into the game and backed by one of the best poker coaches today.
What Can You Learn From The Rake?
The topics that The Rake covers are still too diverse, probably because they're still trying to find where they can add real value. So, if you're new to their program, it can be confusing how they can help you play better. Here are some of their topics that you might find interesting:
Advanced strategies that intermediate and professionals can use to improve.
Status of the poker industry, both live and online games.
How the new norm has shaped poker and its future.
Interviews with the biggest names in poker.
It's interesting to see how The Rake will take shape in the future, but right now, it's already one of the best poker podcasts. If you want to stay up-to-date with everything that's happening in the poker industry, you should subscribe to The Rake!
The Poker Life podcast has, perhaps, the most unorthodox approach to podcasting. It doesn't have a regular schedule for its new releases, making it even more important to subscribe to it. Joey Ingram hosts the show, and when he starts broadcasting, you want to be the first to hear it.
Why Is The Poker Life the Best Poker Podcast?
Joey Ingram may not have a regular schedule for his podcast, but he's the go-to for celebrities players whenever they want to have a no holds barred discussion. Some of the personalities that he's interviewed include Jason Koon, Phil Helmuth, Doug Polk, and Fedor Holz. These names, combined, have earned close to $100 million in tournaments!
If that's not enough, he's also a poker player who's crushing the tables when he's not broadcasting, so he can provide you with unique insights into the game. He also covers topics related to online and live poker, making it a valuable resource for anyone who wants to move up the ladders and start playing professionally.
What Can You Learn From The Poker Life?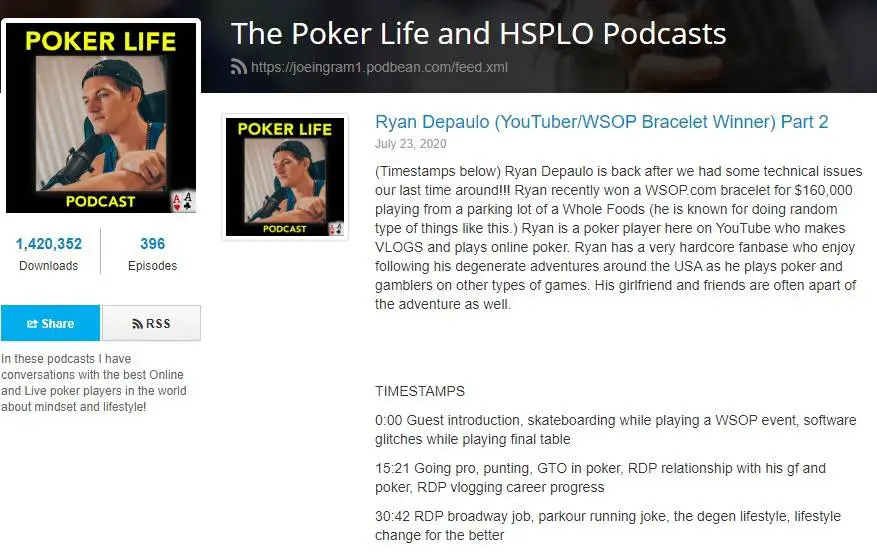 The irregularity of his broadcasts and unorthodox approach to podcasting made it even more essential for anyone to subscribe to his platform. Here are some of the categories that Joey Ingram covers in his podcasts:
Interview with high-stakes Hold'em and PLO players.
In-depth discussions on current events in the poker industry.
The lifestyle of poker players; their routines, preparations, and work off the table.
Strategies that new and intermediate players can use in online and live poker games.
The Poker Life always leaves all of their discussions open-ended, making it easier for the listeners to pick up the gold nuggets and use it to improve as a player. It may not have a regular schedule, but when Joey Ingram broadcasts something, you definitely want to be the first to access it!
Poker is a mind game—you beat the other player by being more experienced and mentally equipped. That's why training your mind to perform better when playing is crucial if you want to succeed. Many of us don't know that there are specific steps that we need to take and habits that we need to develop to be a dominant player. Those are the things that Poker On The Mind covers in their podcast.
Why Is Poker On The Mind the Best Poker Podcast?
Dr. Tricia Cardner & Gareth James are the hosts of Poker On The Mind. Instead of focusing on strategies that players can use for their games, they tackle different habits and mindset that can help a player improve. It won't help you develop skills on the table, but rather the skills that allow you to prepare for your games.
Many players agree that being a successful poker player requires a combination of skills, strategies, habits, and mindset.
Most of the training sites that we have today talk about developing strategies and skills, but almost none of them talk about habits and mindset. That's one of the things that made Poker On The Mind one of the best podcasts.
What Can You Learn From Poker On The Mind?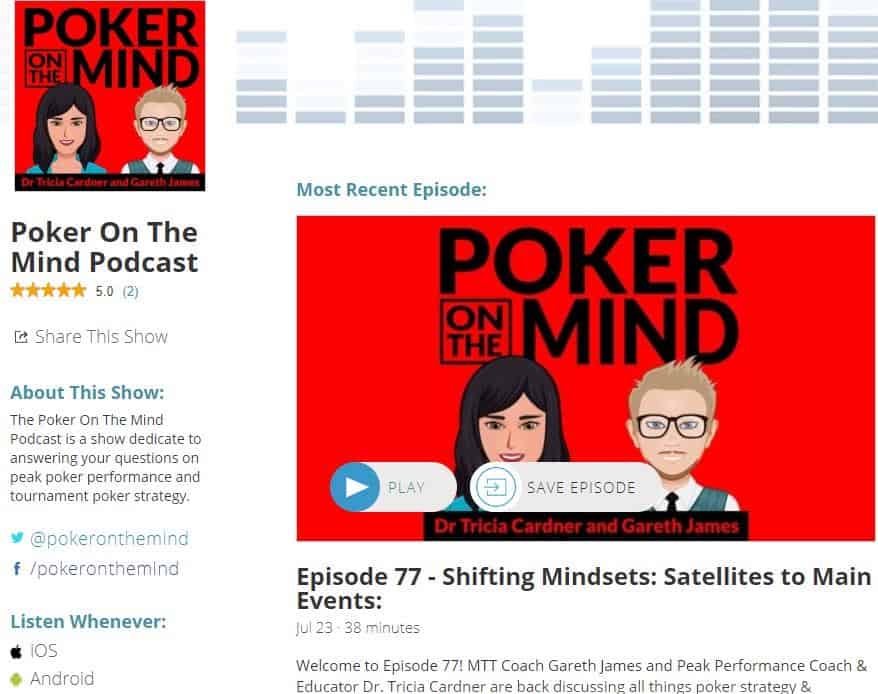 Despite a highly targeted topic, it can still be daunting for many players, especially with the depth of their discussions. Here's how we categorize their episodes and why it'll be useful for you:
Developing powerful habits that successful players need.
Changing the mindset from casual games to the big leagues.
Dealing with mental obstacles that prevent you from being successful.
Setting goals and developing the mindset you need to hit them.
Making yourself unbeatable through your habits and mindset.
Whether you're already an active MTT player or considering upgrading your game from casual to professional, we highly recommend that you subscribe to this podcast. They're releasing new episodes every other week, but most of their topics are evergreen and will always be a valuable resource for anyone.
Chasing Poker Greatness isn't your average podcast that specifically talks about a subject. What they do is to interview legendary figures in poker and let them talk about their lifestyle.
When you subscribe to Chasing Poker Greatness, their episodes don't have titles, and it only carries the name of their guests. That's because when they interview someone, anything goes. They talk about their lifestyle, what they do off the table, training themselves, and everything related to what they're doing to excel in poker.
Why Is Chasing Poker Greatness the Best Poker Podcast?
Chasing Poker Greatness is one of the best podcasts because it takes you to a joyride of what it takes to start winning the big leagues. It walks you through the effort, persistence, patience, and failure required to become one of the best players. 
Subscribing to their broadcasts will give you a glimpse of everything you need to know and what you can expect as soon as you hit the big leagues.
Many players believe that playing poker is one of the best ways to chase the American Dream, but Chasing Poker Greatness podcast will get in-depth to prepare you in your journey to playing professionally.
What Can You Learn From Chasing Poker Greatness?
The topics that Chasing Poker Greatness covers are broad because it's about everything that big-name players have experienced in their journey to achieve "poker greatness." If you want to have a glimpse of what it took for Phil Hellmuth, Alex Fitzgerald, Fedor Holz, Sky Matsuhashi, Jon "Apestyles" Van Fleet, and other celebrity players to articles to succeed, this is the podcast for you!
Be sure to subscribe to the podcast, to get an insight into how the best poker players make it to the top.
Here's a quick summary of the most common topics that Brad Wilson discusses with his guests:
The lifestyle of a professional poker player.
How they study the game and be better at poker.
The level of work that they do when they're off the felt.
The routine, habits, and mindset that they get into when preparing for tournaments.
Their insights on the future of the game, both live and online.
No other podcast can provide you with the same insight that you can get from Chasing Poker Greatness. This podcast may have a few bits and pieces on how you can become a better player. However, its focus is to prepare you with what lies ahead as you chase poker greatness.
DAT stands for Daniel, Adam, and Terrence. Those names may not mean anything, but they are Daniel Negreanu, Adam Schwartz, and Terrence Chan. The channel started in 2018, which explains why they only have less than 100 episodes. However, we can't deny that the insights they discuss in their broadcasts are a goldmine for any poker enthusiast.
Why Is DAT Poker the Best Poker Podcast?
Negreanu is everywhere; we agree. He hosts the Full Contact Poker podcast, a YouTube channel, and he's on every social media. Despite this, his insights and artistic approach to the game are some of the best resources that you can get. Adam and Terrence are veterans in poker podcasting, so when the three teamed up for DAT Poker, everyone knew that it'd be huge!
It is one of the best poker podcasts because they have the #3 on the all-time money as a regular host of the show. Would you be willing to listen to two players who've made combined earnings of close to $45,000,000 from poker tournaments? Many people would, and it's evident by the number of downloads that their episodes get.
What Can You Learn From DAT Poker?
DAT Poker is a podcast that covers a variety of topics related to poker, but it doesn't end with the strategies, current events, and lifestyle discussions! They also have a voicemail where their listeners can leave questions that they answer impromptu! Aside from that, here are other things that we think will be interesting for you:
Interviews with celebrity players and coaches.
Gossip and scandals within the poker industry.
Tournament and participant discussions.
There aren't many podcasts out there that are as interesting as what this trio can offer you. The insights and candid discussions that they're having make all of the information they're trying to convey easier to digest.
Postflop Poker is a podcast that focuses on the strategies you can use to crush the table post-flop. There aren't that many podcasts that talk about the complexities of post-flop, but if you're looking for one, you definitely should subscribe to Ben and Merv, and their weekly broadcasts.
Why Is Postflop Poker the Best Poker Podcast?
Ben Hayles is the author of post-flop strategy books that many players use to crush the tables. Most of their episodes talk about what you can do to become a better player, so they have a bit of distinction when compared with other podcasts.
If you're having some challenges with your strategies post-flop, Postflop Poker Podcast is the channel that can help you!
They don't usually interview poker players, so most of what you'll get from them are tips on how you can become a better post-flop player. However, when they have a guest, they make sure that they get their listeners excited. The last interview they did was Episode #82 with Scott Davies, a WSOP bracelet winner. It's a goldmine for anyone who wants to learn how they can handle two contrasting villains at the same time.
What Can You Learn From Postflop Poker?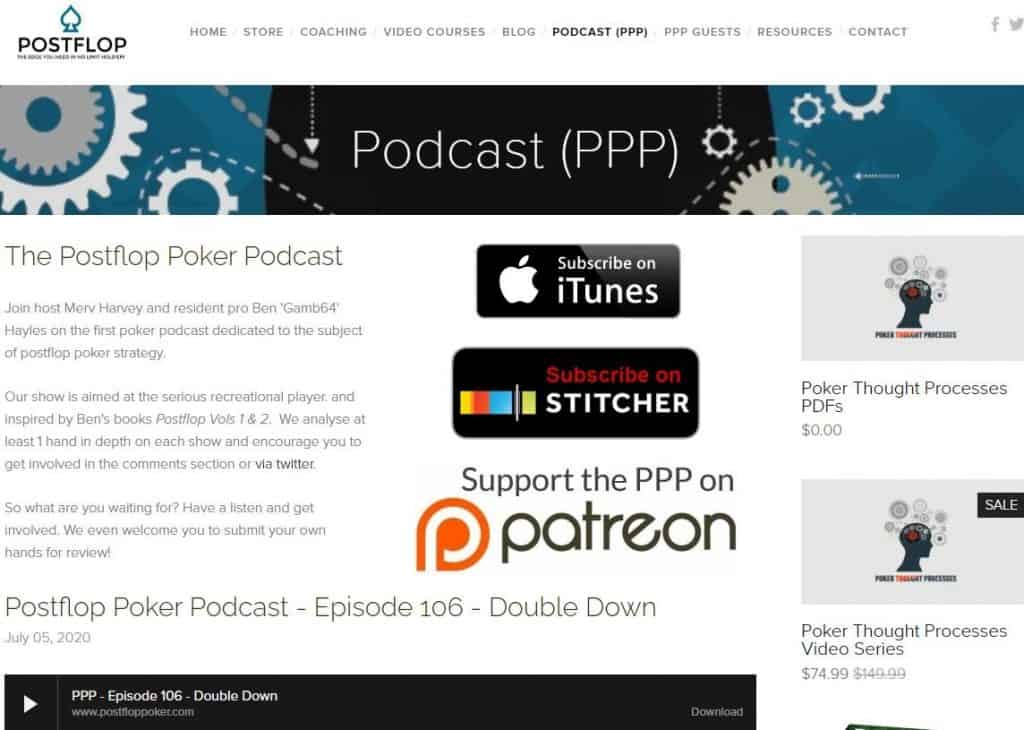 If you subscribe to Postflop Poker, there's only one thing that you want to achieve—develop better post-flop strategies. Here are some topics that they covered to give you a better idea of what you can expect:
Pot control, effective stack sizes, and thinking multiway pots.
Opinions on different poker programs that you can use.
Post-flop strategies that allow you to manage risks and extract value.
They have over 100 episodes now, and most of them will help you improve your post-flop strategies. If you're still new to the game or want to understand what you need to do to start crushing the tables, you need to subscribe to the Postflop Poker podcast!
Poker podcasts always have their way of making themselves distinct from everyone else, and that's what Just Hands Poker does. Instead of talking about anything related to poker, their episodes are all about analyzing hand histories, how you can play it correctly, and extract value from different situations.
Serious players who want to get better at different spots can get real value from Just Hands Poker podcast. Jackson Laskey and Zach Resnick always go through an in-depth analysis of varying hand histories from actual games.
Why Is Just Hands Poker the Best Poker Podcast?
We consider it the best poker podcast because it doesn't cover too many things at the same time. Many programs cover too many topics that, sometimes, make their listeners feel overwhelmed. Just Hands Poker was able to establish its brand so well that it's the go-to for players who want to listen to hand histories.
Most of the hands that they're analyzing were from live games, so you don't have to worry about complicated information and HUD stats that other pros or broadcasters use. It was a slow start for them because analyzing hands usually requires visual aid. However, as they get more traction, they get better at what they do. The more you listen to them, the easier it is to keep all the information you need in your head.
What Can You Learn From Just Hands Poker?
They cover hand histories from live games, streamers, tournaments, and even controversial hands. It's a valuable podcast for many poker players because it allows them to use other people's experience to develop better strategies. It will also allow you to visualize yourself in the same situation and equip you with the analytical thinking that you need when playing live poker. 
Just Hands Poker has over 180 releases, with each episode lasting for at least 45 minutes. With their unique approach, you can listen to all of their broadcasts, and none of them will ever be outdated. They're not spreading themselves too thin, so even new visitors to their channel know exactly why they should subscribe.
Conclusion
Podcasts will remain vital sources of information for poker enthusiasts. Whether you're only looking for a reliable source of news and current events or want to improve as a player, podcasts can serve you well. However, you might find some channels a bit too overwhelming at first. In fact, some of the podcasts on this list are covering too many topics that may be intimidating for many players.
When looking for poker podcasts, be clear with your intention and only subscribe to those that piqued your interest. If you're a new poker player, it would be best to start with the ones that cover specific topics, like Poker On The Mind, Just Hands Poker, and Smart Poker Study.
Related Articles