Do you remember the good old days when reading a poker book and playing an ABC game on a poker website was enough to make money on full-ring tables? However, after playing it recently, I realized that the large influx of new players has changed poker trends tenfold. 
The best poker training sites for online cash games are UpswingPoker, Poker Coaching, Run It Once, and PLO Quick Pro. These websites provide some of the best courses with quality content from pro players and the best coaches in the poker industry.
In the rest of this article, I'll take a deeper look into these websites, their packages, and courses, so you can decide which is the most suitable option for you. 
1. PLO Quickpro
Many players have been switching from Hold'em to Omaha as there is less competition, which means you can make more money. Plus, the game is also exhilarating. 
PLO QuickPro is one such website, probably one of the best, that teaches poker in the Pot Limit Omaha style.
PLO QuickPro was started by John 'KasinoKrime' Beauprez, a WSOP gold bracelet winner. The website offers a host of free materials that you can learn from and improve your skills. 
However, the most prized information is offered in the paid courses, which start from $297 up to $1797. The website also allows you to pay the monthly fees for the course in six installments of $97. However, it is advised to pay the one-time fee as this will cost you less in the long run. 
PLO offers content for players at every level, from beginners to the most advanced players. Their Win$1K program is specially designed for more advanced training in PLO. The course has almost fifteen hours worth of content, pdfs, and PowerPoint that explain the details and strategies of PLO.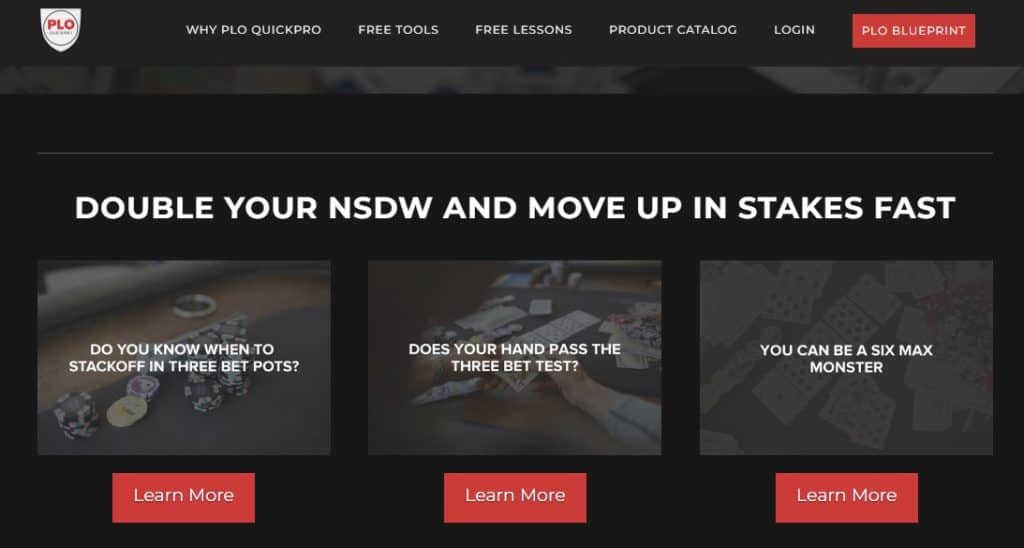 PLO QuickPro is undoubtedly one of the most expensive websites that offer training in PLO, but it's definitely worth the price.
John was at one point in my poker career, my PLO coach. I really liked his aggressive play style combined with a methodical approach to beating the games. Because of his teachings and his course, I went from barely breakeven at PLO5 to beating PLO100.
If you are interested in poker coaching and not just consuming poker courses or being a member of training sites, then you know some coaches might not be as good as they say. I give you the best tips if coaching will be worth it for you and what to look out for in this article: Is poker coaching worth it?
A great and cheaper alternative is PLO Mastermind by well-known high-stakes grinder Jnandez. In fact, when I was grinding PLO for a living, I was a member of the Jnandez site for months. It truly does have a lot of valuable content.
2. Upswing Poker
Upswing Poker was founded by Doug 'WCGRider' Polk and Ryan Fee in 2015. It soon became one of the most talked about poker training sites due to the popularity of its founders.
They offer discounted courses, starting at a price as low as $7. They also offer no-cost resources like a list of twenty secret poker rules when playing three bets, a list of twenty rules for playing flush draws, and many more.
Upswing Lab is the course most talked about at Upswing Poker. This course features in-depth theory modules about each section of the game. This course is suitable for players at any level as long as they are aware of the poker rules. 
Upswing Lab is divided into six modules, making it easier for the learner to understand and progress through the course. Furthermore, the course is updated monthly and comes with a 30-day back money guarantee.
One of the best things about Upswing Poker Lab is that it uses the hand range viewer tool. This practically eliminates the guesswork one has to do during pre-flop decisions. Plus, a PLO Lab version is available for players who want to deal in four cards instead of two. 
Most of the courses offered at Upswing Poker are expensive, ranging from $299-$999. However, these courses are a small price to pay, considering how they can level up your game.
When I played No Limit Holdem cash games I was often subscribed to Upswing Poker Lab. If you are serious about learning NL Holdem cash games then I really recommend it.
3. Run It Once
Run It Once is an online poker training website founded by Phil Galfond in 2012. Phil is amongst the best poker players in the world and one of the best poker coaches of all time. Several old-school Pot Limit Omaha players recall getting their initial lessons through Phil's videos at Bluefire Poker.
Run It Once offers a huge library containing more than four thousand poker training videos for all levels – basic, intermediate, and advanced. 
Additionally, they also release two new videos every day. RIO has over 110 top-level coaches like Ben 'Sauce123' Sulky, Jason 'NovaSky' Koon, Jennifer Shahade, Brian Rast, Jeans89, Phil Galford, and Joni Bustoville' Jouhkimainen. 
Run It Once offers membership at three levels: Basic, Essential, and Elite. Joining RIO with the basic membership is free, through which you will get access to their poker forum, where the players and coaches post all the answers and comments about the poker game and its strategies. 
Through the essential level membership, which costs $25 per month and is targeted toward low stakes, you get access to five videos per week and access to the library containing 1533 poker training clips. 
With the elite membership (costing $99 per month), you get access to nine elite videos per week and access to the elite library containing 2405 poker training videos. You also get access to watch the first two minutes of the training videos free of cost before you make the purchasing decision.
However, the downside of this website is that the videos are not arranged in an organized manner. The viewer would have to sift through the videos to get his desired video. Hence, there are many chances a beginner could get lost in the quest to find his beginner-level video.
4. Advanced Poker Training
Allen and Steve Blay founded Advanced Poker Training in 2007.
APT is one of the most unique and distinctive poker training websites. They offer a more immersive experience in learning poker and its strategies. It teaches through live playing with computer opponents, providing you with live advice and feedback on your game.
Advanced Poker Training also has features available where you can choose to set the type of hand you want to play.
For example, if you play with maniacs or weak, passive players, you can set the training to include those specific kinds of AI opponents. APT also generates personalized training plans based on your weekly reports helping you to identify and assess your weaker areas. 
However, many choices and options are locked until you upgrade to a premium account. The premium account costs $39 per month, but the price can be reduced to $20 per month if signing up for a year. 
With a premium account, you get access to various hand types, rotated or fixed positions, choices in difficulty level, blind levels of $2 to $1000, and game choices of a full ring, multi-table tournaments, single-table tournaments, and much more.
Advanced Poker training also hosts live tournaments from time to time in which APT members can play against each other. Every hand in the game is saved for later review and to produce weekly reports and other types of data. 
To wrap up, Advanced Poker Training is one of the best learning sites for people who learn by performing hands-on.
5. Red Chip Poker
Red Chip Poker was founded by Doug Hall and James 'Splitsuit' Sweeney in 2013. Other coaches at Red Chip include Ed Miller, Christian Soto, Mike Gano, Adam Jones, and more.
The website offers a Pro membership of $50 per month with a free 7-day trial. They provide access to hundreds of training videos, podcasts, and articles by strong core professionals, providing you with optimal knowledge and training. The Pro membership also allows access to crash courses and core courses with the ability to participate in the website's forum.
This kind of membership allows the player much freedom in terms of what and how they want to learn. If there is a certain topic they wish to study, they just have to pick a video explaining that topic and start with it. 
However, this approach is not feasible for beginners or people not well versed in poker.
Therefore, a Core program is available for a beginner in poker, which starts with explaining the basics and gradually builds its way up. It only costs about $5 per month, making it the cheapest option in training poker. 
6. Poker Coaching
Jonathan Little founded Poker Coaching. He is a well-known coach and one of the best poker players in the world. Apart from him, Poker Coaching also has the valuable teachings of prominent poker players such as Faraz Jaka, James Romero, Tristan Wade, and more.
Poker Coaching differentiates itself from other poker training websites by providing a hands-on approach to poker. They encourage their players to test their knowledge learned from videos, courses, and webinars by providing them with loads of quizzes and homework.
Poker Coaching offers three kinds of plans on its website. The free membership allows the player to access some of their videos, hand quizzes, preflop charts, and homework. This helps the player to get an insight into the courses he would be investing in.
The Standard membership costs around $40 per month and provides access to 800+ quizzes, homework, video classes, preflop charts, live group webinars, and much more. The premium membership costs $99 per month. It provides access to all the things available in the standard membership, along with two live coaching webinars, more video classes, and a cash game masterclass every month.
Related Articles
If you still play micro stakes and struggle, then maybe more suited is the article about the best poker training sites for micro stakes that I wrote.