Professional poker players are well-known for raking in astonishing stacks of cash after hard-earned winnings. Other than these earnings, poker players can make massive amounts of money through sponsorships and endorsements. But, just how much money do they make off these endorsements?
The majority of sponsored poker players make between $40,000 and $300,000 per year, while top tier players with valuable sponsorship contracts make millions in annual income, excluding bonuses, paid appearances, and perks. Buy-ins and expenses are usually covered, which increases players' profit.
With the decline of the poker boom, many poker brands have become far more strategic in choosing who to sponsor or endorse, but these sponsorships would still amount to a great source of income for someone who is skilled at the game. Those who are sponsored are often unable to disclose the details of their contracts, so it's tricky to figure out how much money can be made. Stick around to find out just how many figures are up for grabs through poker endorsements.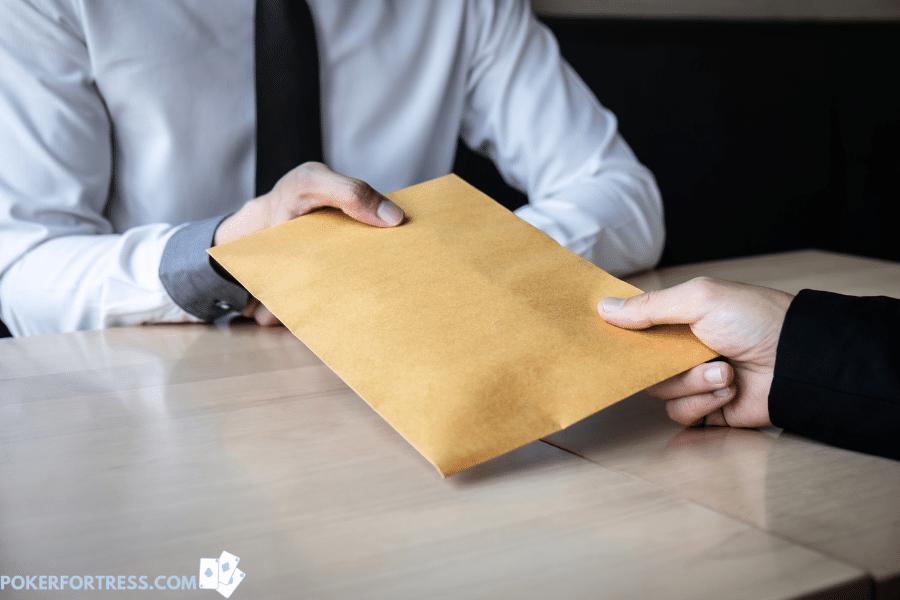 How much do professional poker players make?
It should be noted that any professional poker player is only able to achieve these monetary heights through practice, dedication, and hard work.
Factors like having a consistent track record, being a long-term winner, having meticulous bankroll management, and having incredible poker skills as a whole greatly impact these figures.
The overall income of any professional poker player without any sponsorship, brand deals, or endorsements, will vary, to begin with. Depending on the poker player's skill, experience, and the stakes being played, a professional poker player can make a profit of anywhere between $10,000 and $1,000,000 can be made annually.
Top tier professional poker players who are not sponsored can rake in over $5,000,000 per year in winnings alone. However, it should be noted that figures are not consistent, and factors like buy-ins, stakes, swaps, and other bets that are made throughout the year would affect the annual fluctuation of these figures.
Very few players have struck gold throughout their poker careers. Bryn Kenney became the highest-earning poker player in history by scoring multiple 7 figure wins throughout 2019. Kenney raked in approximately $30,300,000 by the end of that year and now stacks over $56,400,000 in live tournament earnings.
Phil Ivey, one of the world's best online and live poker players, makes approximately $1,000,000 – $5,000,000 per annum, and his lifetime winnings from the WSOP alone equate to over $7,000,000. Ivey and Kenney are both on our list of best poker players ever.
The level of skill and expertise that would require such winnings is absolutely astonishing. It should be noted that factors affecting poker players who are sponsored include the fact that one makes money when opponents slip up.
With there being an excess of poker coaching since the poker boom, and poker games being much more challenging than a few years ago, the ability for professional poker players to reach this tier of proficiency in relevant skills requires them to focus and work even harder than before.
If you would like to know the best resources possible to level up your game and start making serious money, then check this article.
How much do sponsored poker players make?
As brands and companies invest in online marketing, the digital era has resulted in social media sites being plastered with a plethora of sponsorships for a variety of audiences. Being 'sponsored' by popular or well-established brands has become infamous for large payouts across these platforms, and this is often the case when it comes to pro poker players.
Generally speaking, poker players who are sponsored can make a profit ranging between $40,000 and $300,000 annually. This is a rather large range, and the amount of money that sponsored poker players make will vary between each poker player, the brand that is behind the sponsorship, and the agreement that they have signed.
However, these sponsorship agreements are mainly comprised of professional poker playing, the creation of original and promoted content, and the promotion of the brand to the poker player's audience.
Some brand sponsorships reward money, and some reward perks for professional poker players – such as 100% rakeback and tournament buy-ins, which are still beneficial and increase profitably in various ways. There are many poker players who have received such contracts, such as Joseph Cada.
PokerStars Top Three Sponsored Poker Players' Contracts
Three of the best sponsorship deals at PokerStars undoubtedly belong to Daniel Negreanu, Rafael Nadal, and Neymar Jr.
In cases such as these, the millions being made is as a result of the sheer talent and skill of all three of these men as well as the success of PokerStars as a brand.
While the contract signed by Rafael Nadal and Neymar Jr. are mostly top-heavy cash, they do reward some benefits such as being entered into the European Poker Tour and online tournament events which they will be contractually obligated to participate in. Daniel Negreanu, on the other hand, has a much more lavish and beneficial contract with PokerStars.
As well as an excess of 7 figures in annual revenue and small perks like 100% rakeback, Daniel Negreanu most likely receives perks such as paid travel expenses, paid appearances, a large budget for live and online tournament buy-ins, and bonuses. He is one of the most infamous names in the world of poker and the face of the world's leading online poker brand, and it's been estimated that the value of his contract with PokerStars alone is no less than $3,000,000 per annum.
Additional PokerStars Sponsored Poker Players' Contracts
There are numerous poker players who receive a combination of cash remuneration and a blend of various perks through sponsorship by PokerStars in particular, including pro players like Bertrand Grospellier and Vanessa Selbst. The value of such contracts is estimated to be approximately $500,000 per annum, which does not include bonuses for making the final table or winning a major tournament or event.
The general rule of thumb when it comes to determining the monetary revenue of a sponsored poker player is more of an 80/20 rule.
The top-level of poker players usually receive the majority of the money that's allocated to sponsored poker players by the sponsoring brand, while the majority of sponsored players receive far less.
Do professional poker players have sponsors?
Some professional poker players have sponsorships, but certainly not all of them. Since the poker boom in the early 2000s, the industry's overall revenue, the number of poker players, and the number of good poker players have increased drastically. As a result, brands have become far more cautious in establishing sponsorship contracts with players.
As the popularity of poker increased, as did the revenue that was available for use by poker brands, which enabled platforms such as PokerStars to sign many players to sponsorship contracts. But, a lot has changed since then, and sponsorship deals are no longer as easy to come by for professional poker players, even the really good ones.
This is not to say that poker players no longer get sponsored, as they still do – it's just far less often as opposed to a few years ago, and poker players have to work twice as hard in order to land a sponsorship within the current dynamics of poker and the industry.
Some of PokerStars' infamous players like Joe Hachem and Greg Raymar made the final table of the World Series of Poker's Main Event and got a sponsorship deal as a result of this respectable accolade. In more recent years, it's much harder to impress brands – let alone impress them enough to throw cash at you.
In the current day, receiving sponsorship from any well-established poker brand will most likely be as a result of a solid and consistent run throughout one's poker career, coupled with a huge following across social media platforms.
Many of these sponsorships are seen as easy work by the masses, but in reality, it entails much more than a simple post. Those who are sponsored have to make commitments to the sponsor, promoting the sponsor's products or services, and finding a balance between original content as well as promoted content.
Understanding the target audience while holding steadfast in character and aspiration throughout one's career is certainly a challenge. This is coupled with the fact that those who are sponsored by brands often have confidentiality agreements, which hinder them from revealing information to the public – information that often becomes part of the poker player's daily life.
Sponsored pro poker players have said that it's a challenge to restrict oneself from going 'crazy' living this lavish yet demanding lifestyle, and a consistent, sustainable balance needs to be found in order to really be successful in this market.
If pro poker players make so much money, why does sponsorship matter?
More often than not, the public is only exposed to the final figure gained at the end of a massive win. While it's true that a talented and focused pro poker player can make a cash stack in next to no time, there is often very little talk about the money that goes into the game beforehand.
Poker players have to spend money to make money, it's not as simple as rocking up with a high intelligence level and walking away with millions, even if the player has the skill to do so. Poker players need to consider the buy-in expense before being able to participate, and establish budgets for bankroll management.
In addition, in order to participate in these events and potentially profitable opportunities, money has to be spent on traveling, accommodation, and other basic human expenses. These costs are some of the primary reasons why pro poker players have switched to online poker as opposed to live tournaments.
Players who have sponsorships, while obligated to participate in certain events, have the peace of mind that comes with relative expenses and buy-ins being covered by their sponsors. With poker being such an unpredictable game, winnings are never guaranteed, regardless of talent, skill, or hard work.
For many pro poker players, having a sponsorship is a great way to make a decent living as a professional poker, as opposed to the risk of making a massive loss or potential annual fluctuations in earnings that will be faced by unsponsored professional poker players.
A popular option for poker players who are not sponsored by established brands has been to switch to online and cut out on expenses for live tournaments.
Some of these online poker platforms also offer VIP programs that may increase winnings and produce high rewards for players with the highest loyalty levels. Although buy-ins are mandatory, platforms and options such as these allow players to potentially get by from winnings in the safety and comfort of their own homes.
Check our article on the best legal poker sites in the U.S. to find the best online poker room for you.
Poker brands sponsor poker players in order to ultimately make more money than they are spending, and those who are sponsored become a massive influence with regard to the marketing strategies of the brand. As a poker player, there are generally a few different ways in which one could get a sponsorship contract from a brand, each of which will come with unique terms and conditions.
Success and Following
This is one of the most common ways to get attention from poker brands and hopefully get a sponsorship. Coupled with being a long-term poker winner and having an overall successful poker career, a large audience or social media following is certain to attract established brands, and potentially impress them.
Exclusive to the Brand
Once a sponsorship contract is signed with the poker brand in such a case, the player will be contractually obligated to exclusively play poker through the brand, and show committed loyalty to the brand for the duration of the contract.
The brand will use the presence of the player on their sites and throughout their marketing in an attempt to attract new players to the platform – this is either due to the prospect of being able to play against a pro or as a result of familiarization with the player through online presence.
In cases such as these, the poker player being sponsored is able to earn money on the side, while building their personal poker brand and audience by playing against recreational poker players.
Sponsored players are expected to not simply play via the brand's platform but engage with other players by interacting or chatting with them via the platform from time to time. This also includes providing advice, tips, and entertaining poker related topics posed by other players or fans. The merchandise also needs to be worn during appearances, advertisements, and poker tournaments.
Winning a Satellite Tournament
Gaining a sponsorship through these means could be done in the past by winning a Full Tilt Poker World Series of Poker Satellite tournament, for example. In a case such as this, the winner will have both buying and entry fees fully converted by Full Tilt Poker, and expenses such as airfare and accommodation bills may be covered.
Although this type of sponsorship is on a much smaller scale, it's still a good opportunity to get some exposure within the industry, recognition for your developing skills, and some perks such as free gadgets, merchandise, and a meal with other pro poker players.
Sometimes, professional poker players manage to land profitable sponsorship contracts with brands that are not related to poker, such as Phil Hellmuth, who appeared in a commercial by Carl's Jr. and a few other non-poker commercials in 2008.
While landing a solid sponsorship with an established poker brand is certainly desirable for any professional poker player, only a small portion of players actually receive these deals. It's worth noting that the opportunity to land a good sponsorship with an unrelated brand can still be beneficial.
Becoming Famous in Another Industry
Going back to the need for huge followings and online marketing strategies used by poker brands, another way to receive a sponsorship may not even involve poker skills at all. Although this is extremely rare and challenging, one could land a really good contract without even being a poker player.
Celebrity athletes such as Cristiano Ronaldo, Neymar, and Rafael Nadal have all landed massively profitable sponsorships from established poker brands as a result of their reputable position in their respective fields, and colossal followership from all over the world. Celebrity comedian and actor, Kevin Hart, was also a recipient of such an opportunity.
This route is certainly no easier than working extremely hard at poker playing in the hope that landing a solid sponsorship will one day be within reach. It would require essentially becoming famous within another area of expertise, and allowing an overwhelming reputation and audience within that industry to potentially result in a poker sponsorship contract.