Brynn Kenney, Justin Bonomo, and Daniel Negreanu are some names that are absolutely killing it on the all-time poker money list. Time and time again, professional poker players have proven that playing poker is a great way to get rich. So, how exactly do these players climb to the pinnacle of poker success? Is it really possible to become rich from playing poker, or is there something they're not telling us? Let's find out! 
How do poker players get rich? Poker players get rich by winning online games, live cash games, and tournaments. Depending on their skill-set, some players may choose to focus on either online poker or live tournaments. If they are versatile enough, they can earn a living from both. Also, poker players can make money from sponsorship by online poker sites and amassing huge followership on Twitch.
Amassing wealth from poker is not as straightforward as we'd all like. In this game, you can become a millionaire in one night, but there's a process. One night could be the result of 3, 4 years of hard work. Believe it or not, there are no shortcuts.
How do People Become Rich from Playing Poker?
Poker is a lucrative game, but not everyone is going to become rich from it. So, here's what you must do to get a piece of the cake.
Be a Good Poker Player
If you're hoping to become rich from poker, you need to be good enough to win as many pots as possible. As you may already know, playing regular poker doesn't necessarily translate to success.
While big-time pros like Daniel Negreanu keep raking in millions in earnings, there are an awful lot of players who aren't making nearly as much as a respectable income despite huge investments. The difference between the regular winner and the guy who goes home with nothing in his pockets is quite simple: skill. If you're going to become a success in poker, you need to horn your skills to a level where you can compete with the best.
Here's the thing, big stars like Justin Bonomo aren't always winners. However, their excellent poker skills mean they'll end up with money finishes two or just once out of every 5 tournaments they take part in. There's a reason these guys regularly earn money finishes in live tournaments, and if you hope to earn as much money as they do, you need to sharpen your poker skills.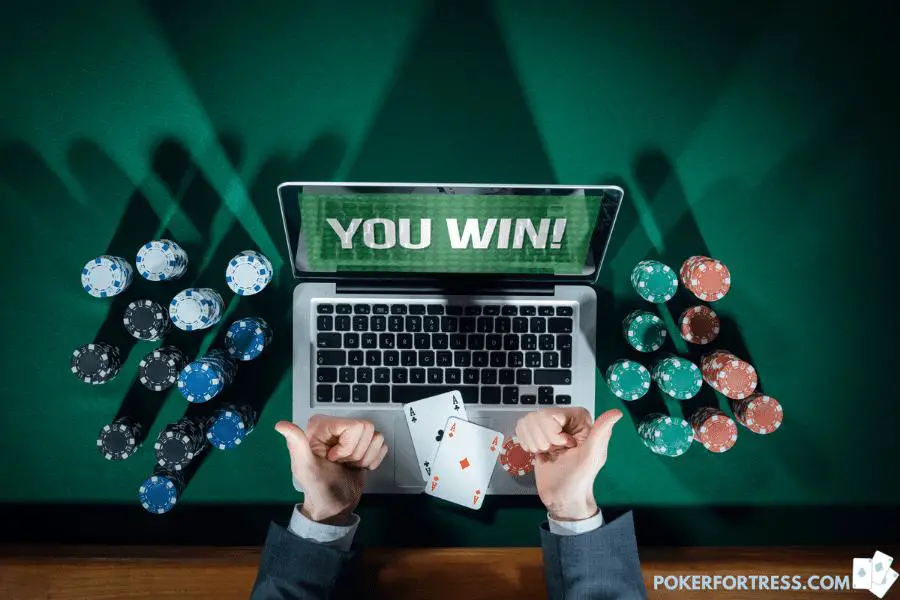 Play Regularly
The more you play, the more money you're likely to make. Every successful poker player plays regularly whether online or live cash games. With multiple chances to earn a big payday, players who play regularly can make a sizeable income. A good example was Daniel Colman's exploits in 2015.
That year, the American born pro enjoyed the biggest rush in the history of poker. His exploits include winning over a million dollars on two separate tournaments within 10 days. Like Colman, successful poker players are always gunning for big money tournaments and other high stake games.  This keeps the money rolling in and helps them build a healthy bankroll.
Check how other famous poker players started in this article.
Win a Major Poker Tournament
 For players who want to earn a big payday, poker tournaments are definitely the best place to be. Tournaments such as the WSOP presents attractive opportunities for players looking to boost their bankroll significantly.
With many events up for grabs, you can earn between a few hundred thousand to over a million dollars depending on the buy-in amount and number of entrants. If you're especially good, you may even be able to snatch the WSOP main event, which should land you a 7 figure prize money (sometimes even 8 figures – Wikipedia). Apart from the WSOP, there are many other lucrative poker tournaments held across the world that you can participate in.
Play High Stake Games
The bigger the stakes, the bigger the prize money. It's that simple. Low stake games might help you get by and maybe fit your small bankroll, but if you hope to become rich from poker, you need to go high. Also, you don't necessarily need a limitless bankroll to get into these big games.
Many pro poker players have backers who pay their buy-ins in tournaments and high stake games. If you're good enough, it shouldn't be hard to find people who'd back you.
Success attracts many friends, and one of the many privileges poker success attracts is backers.
Once you get a backer or the means to get into high stake games, you can finally take a massive step towards making some serious money from poker.
Get Sponsorship
It's not always talked about as much as you'd like, but poker sponsorship is another great way to boost your finances. Right from the days of the poker boom of early 2000, top poker stars have enjoyed lucrative sponsorship deals from big poker brands. Earning a sponsorship deal may not be as easy as it used to be, but many players today still get paid between 6 to 7 figures by sponsors.
Nowadays it is harder to get sponsored. But if you follow the steps outlined in this article, your chances will increase tenfold.
Another way players are earning the extra money is by amassing huge followership on streaming platforms like Twitch. Players with many twitch subscribers earn big money from Twitch partnership programs. The more subscribers you have, the bigger the money you earn.
With time, you should be able to grow many followers and make money from their subscriptions (but this is very time consuming and I wouldn't recommend it).
Can Poker Players Make a Regular Income from Poker
Unlike most 9-5 jobs where a paycheck is guaranteed, poker players get only as good as their wins. For some players, good days do not come nearly as much as they would like, so they end up quitting the game in search of a steady income.
Poker players can and do make regular income, and a number of them have successfully done this for years. However, every poker player knows that winning money at poker is never guaranteed, unlike the monthly paychecks earned at regular jobs. A number of things beyond your control could go wrong. One bad day is all you need to lose a bankroll running into hundreds of thousands.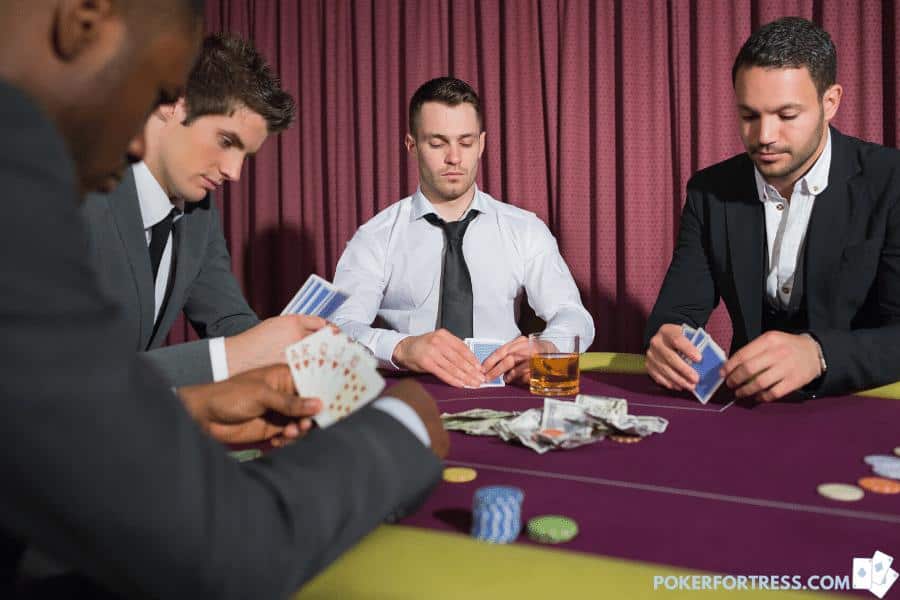 If you play online poker, then there is one way how to make guaranteed hourly at poker tables. It is called rakeback, and it is very important. I can make between $25 – $35 per hour just from rakeback. So I know no matter how bad my day at the poker tables is, I will at least make some money if I put in the hours. But to achieve such hourly, it is essential you find yourself the best rakeback deals possible.
Making a regular income from poker is difficult, not impossible. In fact, only a few players can boast of regular earnings from poker. Trust me, players who make regular income aren't lucky players. These players have at their disposal, proven winning techniques.
If you are open to making a regular income from poker, what you need to do is become remarkably good at it. Now, don't think this is an unattainable feat. You can become really good at poker. Well known poker players did not start off playing high stake poker and winning every tournament, everyone started from somewhere. With the right effort and mentality, you, too, can get to the top.
4 Steps to Making Regular Income from Poker
If you're hoping to improve your game, here are a few steps to follow:
1. Read a Poker Book
There are many books out there that give you all the information you need to improve aspects of your game. Some will help improve your basic knowledge, some will work on your range of starting hands, while others will help improve your strategy. The more, the better. Just make sure you're buying the right book. The best poker books are usually written by players who have enjoyed considerable success in their careers.
2. Hire a Coach
Hiring a coach will save you from many avoidable mistakes. If you won't be playing poker just for fun then you should think seriously about hiring a coach. A coach will point out the mistakes you make that will cost you money or teach you moves that will earn you more. Coaches can analyze your hand history, identify your weakness, and help improve your technique.
But you need to be careful, that you chose the right poker coach for you. There are many coaches out there who claim their results are great when in reality they haven't had any success for years. So, it is no surprise many players claim that getting a poker coaching is not worth it. If you follow the steps I write in detail about, then getting a poker coach will be worth it for you.
3. Join a poker training site
Joining a poker training site is an excellent investment(if you join the correct one). Monthly memberships cost less than one hour with a good poker coach. For this money, you can watch hundreds of videos. Joining a poker training turned me from a losing player to a winner. But, if you have more money to splurge, then the great idea is to invest in buying a poker course.
Poker courses are great when you want to truly master a specific poker format. Often they cost a lot more than just a monthly membership in a training site, but you get a more detailed strategic plan. But whichever way you go, I am sure you will get better if you put in the work.
Here is a list of our top poker training sites that we recommend – including the ones with live poker tournaments and live cash games.
4. Be Consistent
You don't win at anything if you don't keep at it. If you don't want to leave your monthly paycheck to luck, then keep at it. Players who regularly earn money from poker keep playing because they understand how important it is to stay consistent. Making a regular income from poker will never be possible if you play only when the mood strikes.
Poker Players Who Went From Rag to Riches.
Everyone has a story. The rich and famous poker players who rule the game today were not always that good. Their journey started a long time ago, and they have had to climb to the top, applying maximum effort. To give you a feel of what it takes to become a rich poker player, here are the stories of 5 famous players who had to dig deep to earn millions of dollars playing poker.
· Daniel Negreanu
Born on July 26th, 1974, in Toronto, Ontario, in Canada, this Romania heritage champ has had his fair share of failures before hitting it big.
As a high schooler, he was deemed "unserious" owing to the several seeming distractions that got the best of him.  He frequented pool houses, sports bettings and was seen playing cards.  At 15, he learned how to play poker, and this fanned his love for the game.  He left high school short of some credits, but Daniel didn't break a sweat, academic credits weren't needed in the poker games anyway.
Equipping himself with local wins, he left home at 21years for the big stage, Vegas.
But life had other plans.  He soon exhausted his bankroll and saw himself back home.  But Vegas was too appealing to give up, and Daniel was no quitter.  He went off to Vegas, repeatedly and soon he made his debut WSOP in 1998 cashing out $169,460 in the $2,000 pot-limit hold 'em. Daniel landed as the youngest person to cash out in WSOP. 
And Fortune smiled ever so brightly at him,  he has gone to win even 5 other bracelets and has achieved 132 money finishes. With many awards to his name, including twice claiming WSOP Player of the year. In 2014, he was named the best poker player of the decade. With a net worth of $42million; It could be said that it truly pays to endure until you hit your break.
· Erik Seidel: 
A man given to intrigue, Erik was born in November 1959 in New York City.  He is known to be competitive,  so much as a kid, he quickly got bored playing simple games. His inquisitive and competitive nature found him playing Backgammon until he became a professional, making some wins.
As responsibilities found their way to him, he turned to American Stock Exchange and became a trader.  Soon the Wallstreet crash happened, and Erik found himself back to Backgammon game.
Probably bored of Backgammon,  his inquisitive nature saw him pursue a career in Poker.  His friends pushed him to partake in his debut World Series Of Poker Event in 1988.  He came out in the second position.  Persuaded that poker was for him,  he went on to participate in move events. In 1999, he got to the WSOP Main Event final table clinching 4th place.  Not deterred,  he went for another and claimed his first  WSOP bracelet in 1992. 
Having a total of 8 WSOP bracelets, Erik has a net worth of $35million dollars as of 2018.
· Justin Bonomo
From childhood, Justin showed promising game feat. At 9, he played Magic the gathering, and by 12, he was ready to compete at different games. Soon,  his quest for a breakthrough led him to his first WSOP tournament in 2007.
Known as the youngest person to play online poker,  he went on to make his first bracelet in 2014 in Event #11 No-limit  Hold'em Six-Handed. He went home with a cash prize of $449,980. He added 2 other bracelets to his name, and a total of 55 money finishes.  Born September 30, 1985, he has gone on to make a mark in the Poker world.
With a whopping net worth of $49million, Justin has set a goal for many other young players hoping to make their mark. 
· Bryn Kenney
He was born November 1, 1986, from Long Beach, New York.  Bryn knew what he wanted out of life early on.  He played Magic the gathering before veering to Poker. Determination got the better part of his passion for Poker, and at 16, he was willing to quit school and chase his dreams.
But his parents thought otherwise and made Bryn get into college, which he soon deserted to focus full time on Poker. At 17, he played online using his Mom's name. Then at 18, he changed to his own account.
The online games gave him time to sharpen his skill, and then,  he moved to live games.  He had his big break in 2014 when he won his first WSOP bracelet.
He had a significant career breakthrough when he got 2nd place in Triton Million, where he won the grand price due to the deal in the top 2 position.  He got a whopping $20.5m, which he doubled in winnings and skyrocketed to the top position of the poker money list with about $46million in career winnings. Currently, Bryn has 1 Bracelet, with 32 money finishes.  
· Fedor Holz
Fedor is the youngest on this list. Born on 25th July 1993,  he is of German origin. His mother raised him as a single parent. He had it rough as a child; at home due to poverty and in school due to bullying.
Determined to make something out of his life,  he went on to the university to study Informatics. Fortunately, in this case,  he found the course boring and stumbled on poker.  He lost mercilessly to his friends, and surprisingly, these losses heightened his interest in poker. 
At 18, he got online and played poker even to the detriment of his classes.  But he was consoled when he began earning an average of $350 per month.  At 19, he made up his mind to focus fully on poker.
In 2012, he played €500 No-Limit Hold'em GPT II Deep-Stack Series Main Event, coming 2nd, and he won €15,320. This was just the beginning of his many successful wins. He got his biggest cash in 2018 at the $1,000,000 No-Limit Hold'em -The Big One For One Drop for $6,000,000.  
Before officially retiring in 2018, having earned around $32m; He left with 12  WSOP money finishes and 1 bracelet, which he won in 2016 in the $111,111 High roller For One Drop, winning  $4,981,775. With superior poker skills, Fedor liberated himself from the chains of poverty.  
Final Thoughts
Amassing wealth from poker might seem like a tall order, but it's not impossible. Many people have managed to pull it off. There's no reason why you too can't. However, one thing that's clear from all I'v said above if that you have to be a good player to make money.
There's no way to get around it. If you want to win big money, you need to be good enough to beat your opponents. Sponsors don't throw money at just anyone. You need to be really good and successful to have the sponsors knocking at your door.
So, if you're hoping to become a rich poker player someday, you need to roll up your sleeves and put in maximum effort to improve your game. As far as poker is concerned, the better you are, the richer you become.